How Bea Alonzo, Alden Richards stay strong for loved ones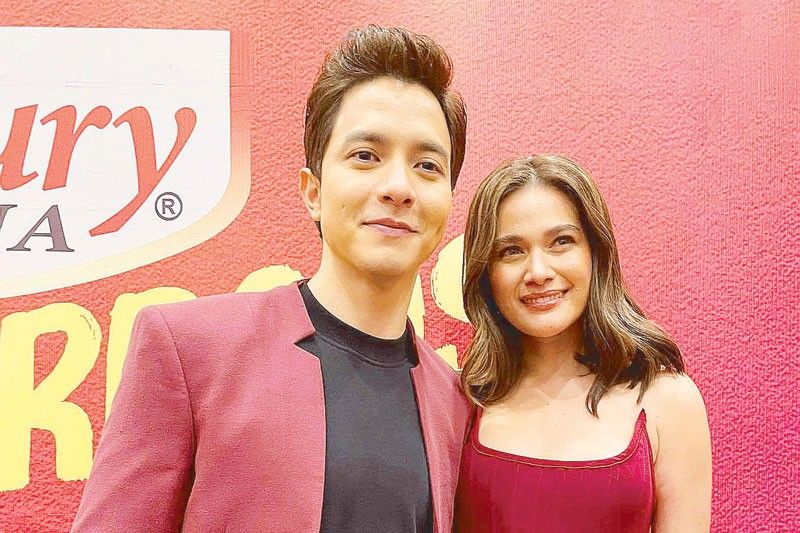 Both clad in red ensembles, Alden Richards and Bea Alonzo led the launch of the search for the next Century Tuna Superbods 2022 last week at the Sofitel Philippine Plaza Manila.
After presenting the Superbods 2022 finalists on stage, the Century Tuna celebrity ambassadors, Alden and Bea, proceeded with a media interview where they talked about their fitness journey and how they stay strong for their respective families as breadwinners.
The actress shared that she has been working out five times a week even during the pandemic as there are people who have inspired her to live a healthier lifestyle. "Marami tayong realizations during the pandemic. I realized that aesthetics would just follow eh, having a beautiful body will just follow, but your main priority really is having a healthy lifestyle and having a healthy body," mused Bea.
She added, "One should have a healthy lifestyle, it's one way to fight off the virus, alam mo na hindi ka agad-agad makakapitan. Almost every day, you eat right and you know that you are taking good care of your body. Kahit man lang yun. Alam mo na somehow you did your part." She also stressed how "mental health is just as important as physical health."
Bea's decision to pursue an active lifestyle "became clearer and concrete during the pandemic." She told The STAR, "Because I want to have a healthier body in these challenging times. Because I'm a breadwinner. Siyempre gusto ko na talagang may panlaban ako sa sakit, alam ko na parang healthy yung katawan ko and mabubuhay ako ng matagal for the people that I love."
Alden, on the other hand, admitted that he was working out for the sake of aesthetics before. "For the look lang because it was necessary for work. Visually, OK ka and all aspects eh. But in my 11 years in the industry, I've been with different trainers, I've done a lot of different programs, eating habits, diet, etc., etc., parang somehow I've learned to create my own (routine) sa tagal," shared Alden.
He then added, "And when I say come up with my own, you know what to do and what to eat, the way I don't feel deprived. I became my own trainer and dietician. So talagang experience lang. I know what works for me and does not work."
When asked about how he has kept himself motivated and disciplined in terms of his fitness journey, Alden answered it's all about self-love. "It's also about thinking about yourself. Self-love. Kasi nga ganun siya eh. That's the foundation. How are you gonna be able to take care of these people that you love if you don't take care of yourself? Stay strong to love strong," he told this paper.
Likewise, the two actors shared that the seafood brand's campaign message, "Stay strong to love strong," resonates with their personal lives as family breadwinners, apart from being health and fitness buffs.
Bea said, "(The campaign is) very close to my heart. As you probably know, I can totally relate to the campaign. It's very important for me to have a healthy body for the people who depend on me. Tama talaga yung sinasabi dun sa commercial, you have to stay strong to love strong."
Alden concurred by saying that he appreciated how the campaign found resonance with what people have been going through this pandemic. So, we really have to take care of our body, we have to take care of our health because there are a lot of people depending on us."
Century Pacific Food, Inc. VP and GM for Tuna Division Carlo Endaya said Bea and Alden are the "perfect ambassadors for the brand" because they have "strong influence and role models to the people around them."
Meanwhile, Bea and Alden lauded this year's batch of Superbods finalists. "I saw that meron tayong member ng LGBTQ community, also we have single moms, students and nakakatuwa because it's inclusive, so diverse, and they have such amazing and inspiring stories. I really want to get to know them more," commented Bea.
Alden shared that he's in his second year with the search. "I've seen the candidates in the past na sumali sa Superbods and right now actually, binibigyan kasi ng Century Tuna ng inspiration itong mga fellow Filipinos na really to live a healthy lifestyle for them to be able to take care of their loved ones. Like what B said earlier, very inspiring stories, very diverse (batch)." With that, Alden is happy and proud to be part of the campaign and hopes to inspire others.
The event was hosted by Sam YG and Gelli Victor. The 16 finalists in the female category are: Andrea Abalos, Christelle Abello, Michelle Arceo, Xandria Bautista, Sherlyn Doloriel, Lovely Elazegui, Querubin Gonzales, Pearl Gonzalez, Julia Mendoza, Nadia Mostoles, Chrystalle Omaga, Kerri Reilly, Selena Reyes, Mia Salisbury, Vienne Shirin, and Kim Velasco.
The 16 male finalists are: George Baker, Herson Barias, Kirk Bondad, James Borja, Wani Manotoc, Rj Lund, Paul Pedley, JC Perez, Gee Plamenco Jr., Patrick Ramirez, Lourd Ramos, Anjo Resurreccion, Julian Roxas, Jaime Santamaria, Daryl Soriano, and Erik Visser.
The finals night will happen on July 13.