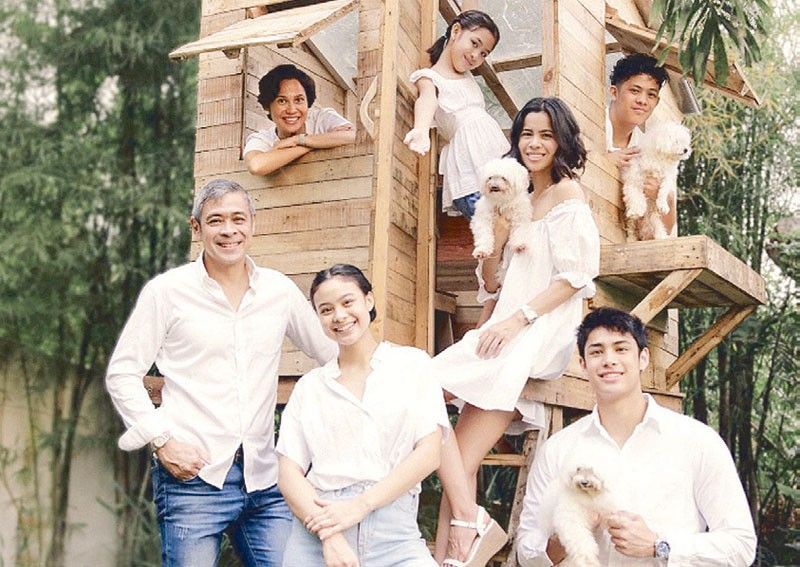 Maricel Laxa and husband Anthony Pangilinan with their five children Ella, Donny, Hannah, Benjamin and Solana
Celebrities talk about the unconditional love of mothers
Ilaw ng tahanan refers to a mother for thousands of reasons.
For many of us, our mother is the most important woman in our lives. She is the light that makes every corner of the home bright and full of life. She exactly knows how to cheer up every member of the family no matter how gloomy one feels. Her smile makes the day a lot better.
A mother's love is immeasurable. She, too, has a magic touch that lessens the pain, if not completely heal, of our wounds either physical or emotional. The mother is truly the emotional backbone of the family as she always tries her best to keep her child from being hurt.
Maya Angelou once said, "To describe my mother would be to write about a hurricane in its perfect power. Or the climbing, falling colors of a rainbow."
Words simply fall short when it comes to describing her, yet we still try by coming up with lots of superlatives for us to be able to sincerely put into words how we see our mother. It would be absurd not to say that our mother worked hard and made sacrifices so our lives would be better.
Stories about mothers protecting their children are often told in books, films and stage plays. They reflect how the world sees mothers as selfless — ready to do sacrifice for their children at all times.
In showbiz, we see celebrity moms on TV expressing unconditional love to their children during interviews. Several weeks ago, Maricel Laxa-Pangilinan, Bing Loyzaga and Beauty Gonzalez responded with so much love to the question, "What are you willing to sacrifice for your children?" They topbilled the recently-concluded drama series, Paano ang Pangako?, aired on TV5.
"Of course, when it comes to our children, we will sacrifice everything at lahat ng kaya natin ibigay sa kanila," said Beauty. "But I also believe that as a parent, we should also guide them to (do) their best in their life, na hindi sila sasandal sa amin na mga magulang nila. So, we should also be responsible as parents to guide them through life but as I promise her (referring to Olivia, her daughter with husband, art curator Norman Crisologo) that I'll always be here for her to hold her hand and I'll always have her back just the way that I know that she has my back also."
For her part, Maricel said, "I think my life. I'm willing to sacrifice my whole life for my children but I agree with Beauty that we should be able to raise our children in a way na magiging self-sufficient sila kasi 'yun ang pinakamabuting magagawa natin sa kanila, na maari silang tumayo sa sarili nilang paa para p'wede rin sila tumulong sa ibang tao at hindi lang 'yung nakasandal sila. You know, it's a very amazing blessing to be a mom and at the same time it's a gift to be able to give them wings so they can fly."
Maricel and husband Anthony Pangilinan have five beautiful children namely, Ella, Donny, Hannah, Benjamin and Solana.
Bing is likewise willing to give her life to her and husband Janno Gibbs' daughters Alyssa and Gabby. She, too, knows to help guide her children in figuring out their goals and values in life as well as teach them the importance of putting their trust in God.
"Gusto ko nakakapit sila sa Diyos apart from them knowing how to stand on their own two feet and extend help to other people," she stressed.
Cheers to all the mothers out there. Happy Mother's Day!