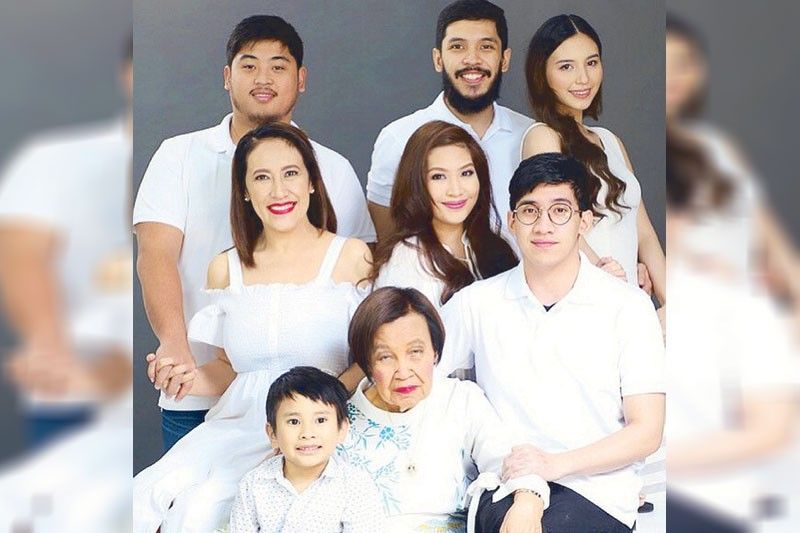 Ai-Ai delas Alas and husband Gerard Sibayan with children Sancho and girlfriend Shana Retuya (top), Sophia and Nicolo (middle), Seth Andrei and Ai-Ai's mom Justa delas Alas. 'I'm thankful that all of us are safe,' says Ai-Ai.
STAR/ File
FUNFARE
-
Ricky Lo
(The Philippine Star) - January 14, 2021 - 12:00am
Curtain-raisers:
• Showbiz denizens have a lot of lessons to be learned, such as...
1. Avoid displaying your house on social media, showing every nook and cranny of it because it invites evil minds to enter uninvited. What happened to Xian Lim is an eye-opener for other stars (paging Derek Ramsay, Bea Alonzo, Rocco Nacino, et al). Xian's "mansion" was ransacked by thieves who got in by breaking a grilled window with a hammer and carting off a big TV set, gadgets and other valuables. It's not good to showcase your big house at this time when there are hundreds rendered homeless by calamities. It makes them more miserable than they already are.
2. Avoid getting advance TFs (talent fees) or bale (usually by the millions!) because in the long run it will make you lazy since you have nothing more to expect. A TV host must have hopefully learned this lesson. Avoid living beyond your means or else you will be forced to, ouch, tighten your belt.
3. Look before you leap. In the mad rush for jobs during this pandemic, some stars grab the first opportunity that comes along, oftentimes mindlessly, only to realize that they might be better off where they are coming from. You know, ang hindi marunong lumingon sa pinang-galingan...what's that saying again?
***
"I don't plan anymore. Hindi na ako nagpla-plano. I live by the day. It's up to the Lord to decide for me."
That, according to Ai-Ai delas Alas (full name: Martina Eileen Hernandez delas Alas Sibayan), is the best lesson that she learned from 2020.
"I also realized na kaya pala natin mabuhay na Diyos lang ang kailangan," added Ai-Ai during the sixth renewal of her contract with Hobe Bihon the other day at Eduard dela Cuesta's studio on Roces Avenue where Ai-Ai was having an all-purpose pictorial (for Hobe, her new GMA show Owe My Love, etc.). "Many people lost their jobs. Even if you have savings, mauubos din if you have no job. Thankfully, our family is able to eat three times a day."
Like many people, Ai-Ai confessed that she also suffered from anxiety but she was in denial.
"I lost hair. Nalagas ang buhok ko. It lasted for four months. It was due to stress. It wasn't obvious because I have thick strands. But I am okay now."
It was prayer that got her through.
"Kapit kay Lord. I said, 'Lord, Thy will be done!' I didn't have any projects so I learned how to bake ube pandesal. Business was good. You have to be resourceful. May paraan. But I am thankful that we are all safe, walang maysakit sa pamilya namin."
Her work resumed in September last year when The Clash started re-airing, with co-hosts Christian Bautista and Pops Fernandez who replaced Lani Misalucha who had to beg off after she got sick of bacterial meningitis (reportedly caused by streptococcus pneumoniae bacteria) that resulted in the loss of her sense of hearing and frequent dizziness. (Unfortunately, it happened while Lani's husband Noli was recovering from a triple bypass surgery. Lani thanked her Clash co-hosts and Willie Revillame for helping her when she needed it most.)
During the virtual presscon, Ai-Ai became emotional when asked about Lani.
"I saw her when we shot for the GMA Christmas special," related Ai-Ai as she wiped her tears. "She couldn't hear yet on her right ear, medyo nabibingi pa siya ng kaunti. She couldn't hear herself yet, so she kept on repeating her song while apologizing to us, 'Sorry, na-de-delay because of me.' Instead of thinking of herself, kami pa ang iniisip niya. We assured her that everything was all right. I really feel for her. She's better now. If that happened to me, knock on wood, I would be depressed. Si Lani, malakas ang loob."
The pandemic has also taught Ai-Ai to downsize her needs.
"I buy only what is essential, 'yung importante lang. Mahilig ako sa big houses, di ba? Not anymore. I sold the big house with 13 rooms. I asked myself, 'What do you need 13 rooms for?' I have moved back to my old house (in a Quezon City subdivision). That house is my lucky charm."
She has put her health top priority.
"I have a gym at home and I work out every day. I also get some sun for 20 minutes. I take Vitamin C, B-Complex and probiotics. I make sure that I get eight to nine hours of sleep every night."
Those are the "essentials" she will bring to a resort in Bulacan when she reports on Jan. 25 (after having a swab test six days earlier) for the 55 days lock-in shoot of Owe My Love with co-stars that include Lovi Poe, Ruby Rodriguez and Benjamin Alves. There are around 100 of them in the group, counting the crew members. She will be accompanied by husband Gerard Sibayan who takes care of her organic diet.
"We will finish the episodes for one season," said Ai-Ai, "tuluy-tuloy kaya walang uwian," adding, "you know, 2019 was a bad year for me. I said, babawi ako sa 2020. And then, the pandemic happened. I have already gone to church in Manaoag. As I've said, it's not for us to plan...sabi nga nila, man proposes but God disposes. So, I leave it all to the Lord."
(E-mail reactions at rickylophilstar@gmail.com. For more updates, photos and videos, visit www.philstar.com/funfare or follow me on Instagram @therealrickylo.)