What scares Lav Diaz
September 16, 2020 | 12:00am
Does practice make perfect? To paraphrase that oft-quoted line, in the case of Lav Diaz who has the remarkable "habit" of pocketing awards in international film festivals, has it perhaps become an oh-so-familiar routine...you know, been there done that.
Surprisingly, it doesn't happen that way.
"Honestly," confessed Lav who has just won Best Director in the Orizzonti Horizons Section of the 2020 Venice International Film Festival (VIFF) for his film Lahi, Hayop (Genus, Pan), "I am more nervous about the festival protocols than the competition itself, such as the press conference, the red-carpet walks, the interviews, the introductions, the Q&As, the pictorials and even the parties."
Lav made that confession in a The New Current interview, explaining that "I have a withdrawn personality on account of my growing up in the boondocks. I agonize with my shyness, my primitive ways that I can't shake off up to now."
Fortunately, that "shyness" and those "primitive ways" haven't hindered Lav from creating socially-conscious films that invariably impress jurors from Venice to Cannes to the other world film capitals.
The soft-spoken, self-effacing former entertainment editor of a Philippine tabloid is so unlike most filmmakers who are long on gobbledygook but short on performance. Lav does more "doing" than just "talking."
The VIFF, now on its 77th year, has become a familiar territory for Lav (who is just as "at home" in other major filmfests), who first competed in 2007 with Kagadanan sa Banwaan Ning Mga Engkanto (Death in the Land of Encantos), the closing film of the 64th VIFF and was awarded with a Golden Lion Special Mention. The next year, his film Melancholia won the Orizzonti Grand Prize. In 2016, he won the Golden Lion Best Director for Ang Babaeng Humayo (The Woman Who Left).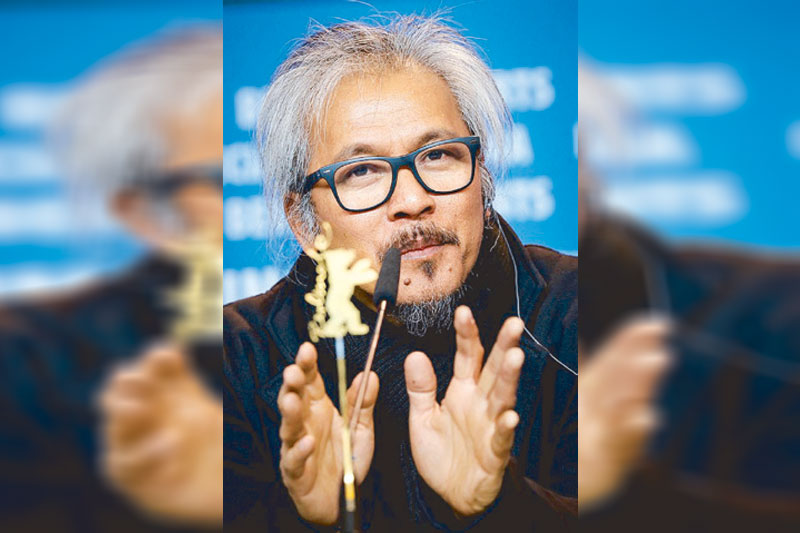 Lahi, Hayop is about three illegal miners (played by Nanding Josef, Don Melvin Boongaling and Bart Guingona) who journey back to their Hugaw Island after months of toiling in hellish conditions, and their "struggle to behave like human beings in the face of the beast-like violence, egoism and greed displayed by almost every inhabitant...in a society that one century after the 1898 Declaration of Philippine Independence from the Spanish colonizers remains feudal and predatorily exploitative in nature."
Some critics see a parallelism between the 1975 Lino Brocka classic Maynila sa Mga Kuko ng Liwanag and Lahi, Hayop in the sense that both films depicted unfair labor practice.
Said Lav, "It is an endlessly-repeating cycle that we Filipinos are unable to break."
With Lav's permission, I am printing excerpts from his revealing New Current interview.
Ahead of a major festival like Venice, do you ever get nervous about screening one of your films?
"Oftentimes, I'd be more nervous of the festival protocols, they give me the fright, to be honest. I am thankful for the space given to my works, and I feel lucky for that, but what really makes me anxious are the responsibilities tasked to the filmmaker, albeit I understand they're part of the quid pro quo — the press conferences, the red-carpet walks, the interviews, the introductions, the Q&As, the pictorials, even the parties.
"I really struggle doing those things as I have a very withdrawn personality on account of my growing up in the boondocks. I agonize with my shyness, my primitive ways I can't shake off up to now. That's why if it were up to me, when attending festivals, I just want to be away from the madness, hide, be alone, and just watch and watch cinema."
In 2016, you won top honours at Venice, what was that experience like for you?
"It was surreal, getting up the stage, not knowing what to do, not knowing what to say. It was a surprise and I was grateful for the recognition but then again, I wished I was somewhere else, just having coffee with my loved ones or walking in the woods or even planting rice in my father's farm. It was so visceral and horrifying at some point, when I got hold of the heavy Golden Lion. All I could hear, while the belligerent klieg lights incessantly cordoned off my eyesight, were voices goading me to smile, to wave, to look right, to look left, to look straight, lift the Lion, wave. What saved me from collapsing from the confusion was seeing the grins and nodding heads of Jury member, Laurie Anderson, and Jury head, Sam Mendes."
What does it mean to you to be back at the festival?
"The Orizzonti took me back and it's great, I'm happy. That section of the festival feels like home really. My early works were warmly nurtured and screened by the Orizzonti; back in the days when only a few brave souls dared to touch my works."
Can you tell a little bit about Lahi, Hayop (Genus, Pan), what was the inspiration behind your latest film?
"It's a narrative that I'm very familiar with growing up in a similar setting and milieu. Again, the lives of the marginalized are in focus, this time it's the story of the lumpen-proletarian of the rural underbelly."
What were the challenges you faced making Lahi, Hayop (Genus, Pan)?
"The making of the film was relatively smooth. The island was remote but there was ample transportation to reach it. The harsh climate, especially the always present unbearable humidity, was the thing that I really dread during the production. Extreme humidity could easily destroy your will to move and capacity to think clearly."
Looking back at Lahi, Hayop (Genus, Pan), do you think there is anything you would have done differently?
"In every work, you see those things, the things that you could have done to improve it, the things that must be given more attention to, e.g., adding more details, or discarding and changing some parts, with the acting, the design, the nuances, especially when watching and experiencing it after you've had detachments and withdrawals from it already. I haven't had that chance with this film yet."
Where did your passion for filmmaking come from?
"It's in my DNA, I supposed. Growing up in a very remote part of the country, and witnessing and experiencing the harshest human conditions there, my refuge was cinema, radio dramas and comics magazines. Lucky for me, my late father was a true-bloodied cinema addict, and so, on weekends, we'd go to a town, two-hours away by bus from our place, and there were four cinema houses there then, showing double-bills, and we'd watch and watch all the movies."
Does you background as an actor allow you to build closer connections to the characters you create as well as your actors?
"Yes, having an understanding of the process definitely helps. The arduous task of writing and creating the characters entails both painful and exhilarating attachments. And then you hand the application of delineation to the actors, and they will experience the same thing. The process runs the whole gamut of birthing and nurturing a fulfilled character. It's not easy."
(Note: Lav Diaz is in the last stage of shooting Servando Magdamag, scripted by Ricky Lee, which marks the comeback of John Lloyd Cruz as the titular character.)
(E-mail reactions at [email protected]. For more updates, photos and videos, visit www.philstar.com/funfare or follow me on Instagram @therealrickylo.)