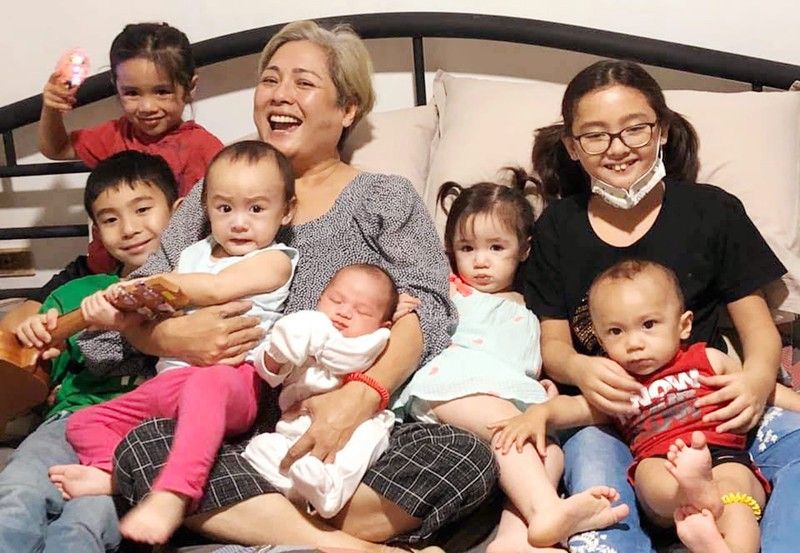 Gina Alajar with her grandchildren: She is happiest as grandma.
Gina Alajar in the time of coronavirus
Like everyone else during the early part of coronavirus, Gina Alajar found herself locked up at home.
Some ongoing dramas where she is director (Prima Donnas, etc.) have been temporarily shelved.
When she heard the news about the virus in Wuhan, she thought it would not last long. "Remember we had SARS, African Swine, bird flu and the like. But as it infected a lot of people almost every day, I felt then this was going to be really serious. I took the initial lockdown calmly and stayed home without complaints. But then the fear that we could be the next victims really caught up with me."
Middle of March she had fits of recurring coughs and had herself checked. She couldn't thank God enough when she tested negative! But she had to undergo another 14-day quarantine after being discharged from the hospital.
"It just felt nice to be back home and interact with my family," she said.
A good two weeks of quarantine really felt like war-time for her. "Only one person is allowed to go outside to buy what we need. When they get back home, you have to disinfect what you bought including shoes and slippers. You get conscious that you need to do many things to cope. You get used to new health habits or else you lose the war against the virus."
The lockdown just became the perfect time to reflect on her life and what has become of it.
The child actress (Wanted: Perfect Mother) has collected more than 20 acting trophies (Brutal, Salome, Moral and other landmark films) and yet she is still at a loss how to define that talent.
Interviewed in a show called Inside Cinema, she confronted her acting process thus: "It is not something easily described. I face the camera, I review my lines, I anticipate ahead of time how I'd react to co-actors and then I just do it. I like to think the talent is not just mine. It is, I think, God-given. Because while I give my best and you get good results, I don't think I can do it solely on my own. It is something coming from the Divine."
She likes to think that those award-winning films are her stepping stone to where she is now. "I never thought I'd end up a director since I don't have formal training in it. But they got me because of my body of work. I am happy to be still active in something I love to do."
Well into her sixth decade more than half of which was a consistent and colorful acting life, she is far happier in her role as grandmother of seven by her sons Ryan, Geoff and AJ Eigenmann.
"It is the best part of my life now," she said. "The best part of it is that I can actually treat them as my barkada. But seeing them at least once a week, you wonder where the magic of it all comes from. Every time I see them, I feel pure joy and I get more than my share of excitement. Especially that moment after you have gone to church and we eat out together. True, grandmothers tend to spoil. Some of them are not allowed to use phones but I give it to them on this occasion. When you are grandma, parang lahat gusto mo ibigay sa kanila basta hindi makaka sama."
The special occasions are birthdays where they get to know each other. She couldn't have enough of them even after a long outing in Palawan. "When you are grandma, you wish for a longer life because you wanted to see the milestones in their lives."
On Day 23 of the lockdown, Gina thinks something really good can actually come out of it not just for herself but for everyone. "You feel that special sense of gratitude for being alive and with it that certain level of spirituality that we don't get to see every day. Suddenly, people are more kind, you see compassion and kindness and good empathy for not so fortunate people."
Gina's parting words: "This lockdown has actually allowed us to see the true meaning of why Jesus had to suffer being nailed on the cross. It also allowed us to see a new life after his resurrection."