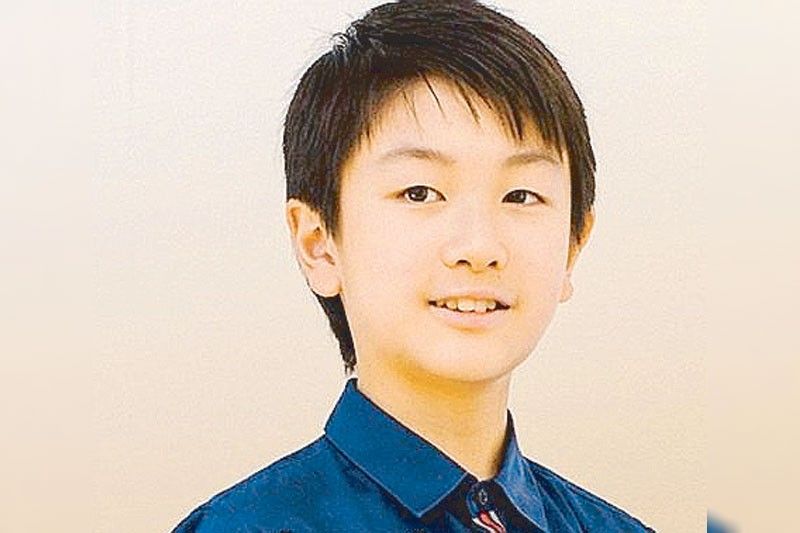 Li is the youngest artist ever of Decca Classics and now a member of the Melbourne String Ensemble
Christian Li: A classical idol of the 'tween' set
We are familiar with the term jaw-dropping. That is what is said to happen when we encounter something or someone so astounding, shocking, impressive, beautiful or in this generation's favorite adjective, amazing. I have never felt my jaw drop although I have come across quite a lot of wondrous things or sights or people in my life. Then last Monday, it happened. While in the midst of quarantined isolation, I felt my jaw drop.
It all started when I got news about Decca Classics signing up a 12-year-old violinist, Christian Li from Melbourne, Australia. At almost a hundred years old, Decca is one of the most venerable of labels and has recordings by Judy Garland, Bing Crosby and Louis Armstrong in its catalogue. Decca Classics is home to the likes of the albums of the Three Tenors and lots of excellent recordings symphonies, operas, concertos, etc. But now, it has signed up a kid as its youngest recording artist ever.
Nice, I thought, maybe he will do some fiddling for the nursery listeners. He also looks cute. Maybe he will be the David Garrett, or a sort of classical idol of the "tween" set. So I decided to listen to his debut recording. It is no kiddie tune. Li recorded La Ronde De Lutins or Dance of the Goblins. I listened and that was when I felt my jaw drop literally. Li did this!
Written by the 19th century Italian composer and violinist Antonio Bazzini, the Dance of the Goblins is one difficult piece. It mirrors the imagined erratic movements of a goblin and requires incredible manual dexterity. Other versions now available are by the great contemporary artists like Yehudi Menuhin, Itzhak Perlman, Maxim Vegerov and Garrett, all of them older and of many years' experience when they tackled the showpiece. But Li, a puny pubescent boy aced all 16 minutes of it.
Now a member of the Melbourne String Ensemble, Li is actually no ordinary violinist. He was only five years old when he fell in love with the violin and has been winning competitions ever since. Two years ago, at only 10 years old, he became the youngest artist ever to win the first prize at the Yehudi Menuhin International Competition for Young Artists held at the Victoria Hall in Geneva. The contest is considered the Olympics of the violin and only the best contestants from all over the world are accepted.
Make sure you also check out Li's prize-winning performance at the Menuhin on YouTube. It is also jaw-dropping. He did the Summer part of Vivaldi's Four Seasons and it is so wonderfully perfect. Not on one note did he falter and his facial expression and body language show an artist in complete harmony with the piece.
While you are at it, do take note of the violinist seated behind Li. See how his expression changes while the boy is playing. He goes from a confused "What is this kid doing here?" to interested and then to total delight. In the end, the orchestra gave Li a well-earned standing ovation.
Incidentally, Li shared the first prize with Chloe Chua from Singapore who was then only 12 years old. Such talented kids.
Speaking of Decca Classics, here is an update on another famous contract artist on its label. Remember Sheku Kanneh Meson? He was the handsome young man who played the cello at the wedding service of Prince Harry and Meghan Markle last May 19, 2019 and became an instant heartthrob. He just won Best Classical Artist at the prestigious 2020 Global Awards held in London. This came on the heels of his Member of the British Empire (MBE) and the Queen's New Year's Honours List early this year.
Meson is only 21 years old and is a student at the Royal Academy of Dramatic Arts. He is now known as the Cello Superstar. He has become the youngest classical artist to ever make the Billboard Charts. His debut album Inspiration made No. 13 in the Top 200 Albums list. Now making waves and expected to also enter the hit lists soon is his Elgar Cello Concertos with the London Symphony Orchestra conducted by Sir Simon Rattle.