Julio Nakpil found inspiration in Jose Rizal
December 30, 2019 | 12:00am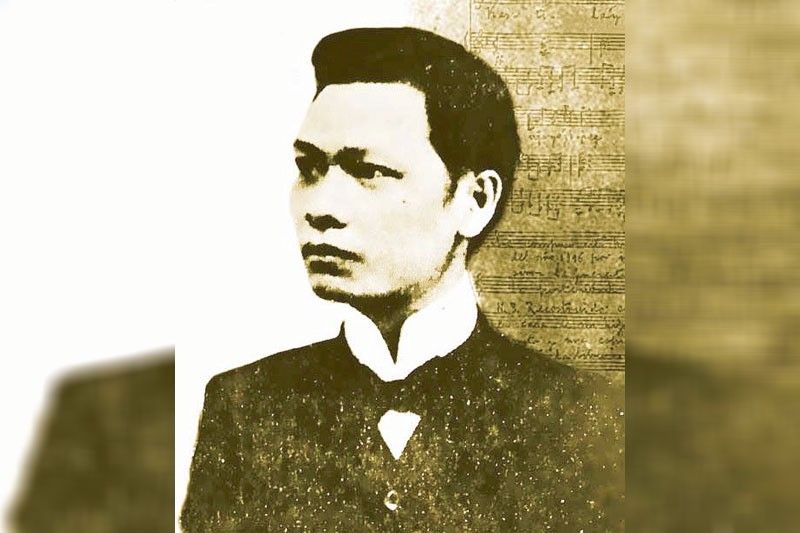 As the nation commemorates the execution of Jose Rizal in Bagumbayan on Dec. 30, 1896, I would like to turn your attention to Julio Nakpil. He was a musician who so admired the martyred hero that he immortalized Rizal in two of his best-known works.
It was the quest for democracy and freedom from foreign invaders or oppressive regimes in other countries during the 1800s that inspired many Filipinos to demand the same from Spain. But it was a Filipino named Jose Rizal who with his ideals, would provide the impetus that spurred them into action.
Among those revolutionaries were the future first president of the Philippine Republic Emilio Aguinaldo and the founder of the Katipunan Andres Bonifacio. Alongside them were daring young patriots, some of whom would later give up their lives in the fight for freedom from the Spanish regime just like Bonifacio did.
We now know them all as heroes of the Philippine Revolution against Spain. Among them are Antonio Luna, Gregorio del Pilar, Emilio Jacinto, Apolinario Mabini, Marcelo H. del Pilar, Melchora Aquino, Sultan Kudarat, Juan Luna, Teresa Magbanua, Graciano Lopez Jaena, Miguel Malvar, Procopio Bonifacio, Jose Ignacio Paua and the musician Julio Nakpil, who later married Bonifacio's widow, Gregoria de Jesus.
Though seldom mentioned in the same breath as the other famous freedom fighters, Nakpil was no less heroic. With Giliw as his nom de guerre, his heart burned with revolutionary fervor. He worked quietly as recruiter for soldiers and as procurer of armaments for Bonifacio's army. He also never shirked from battle and bravely fought alongside his Katipunero brothers.
Then just as Luna expressed his anguish over the enslavement of his country through his paintings, Nakpil did the same with his music. In fact, Bonifacio asked him to compose a Filipino National Anthem. The result was Marangal Na Dalit ng Katagalugan, which unfortunately was never used. As we all know, it was because Aguinaldo who became president, commissioned Julian Felipe to also compose an anthem, the Lupang Hinirang which remains in use to this day.
Nakpil was born in the district of Quiapo in Manila on May 22, 1867. He was the son of the successful musician and jeweler Juan Nakpil Luna and Juana Garcia Putco. Because he was a precocious boy who often got into trouble, he had minimal education. He spent only two years at the Escuela de instruccion Primaria and was given the task of taking care of the family's carriages and horses.
But Nakpil turned out to be intelligent and persevering. He taught himself to read and write in Spanish and after only a few music lessons became an in-demand violinist, pianist and composer. Like most Filipino musicians of the time, he started writing music in the manner of the westerners like polkas, mazurkas and waltzes.
But Nakpil soon found ways to use Tagalog in his works and to incorporate Filipino rhythms and themes. Some of these are Ilang-Ilang, Recurdos de Capiz, Lulay, Balintawak, Pamitinan, Biyak Na Bato and Kundiman. Because of this, Nakpil is considered a pioneer in the field of Filipino popular music.
In 1893, Nakpil, a member of the organization La Liga Filipina, was so disheartened by the exile of Rizal to Dapitan, that he composed a song titled Amor Patrio (Bayang Mahal). As his tribute, he set to the music lyrics based on Maria Clara's Song from Rizal's novel Noli Me Tangere. A pop arrangement of this composition with Tagalog lyrics was recently recorded by the group Acapellago and is now available online.
In 1896, his emotional reaction to Rizal's death resulted in Pahimakas (Farewell). Introduced as The Sound of Mourning, Nakpil composed the powerful piece as a depiction of what Rizal might have felt during his final moments. Just like Amor Patrio, Pahimakas was recently recorded by pianist Raul Sunico in its original arrangement. This is part of efforts to document and to introduce to today's generation the works of this great patriot and musician.
Nakpil lived in Quiapo in the legendary Nakpil-Bautista house in the old Barbosa street, until his death on Nov. 2, 1960. He and his wife Oryang had six children. One of them was the late National Artist for Architecture, Juan Felipe Nakpil.