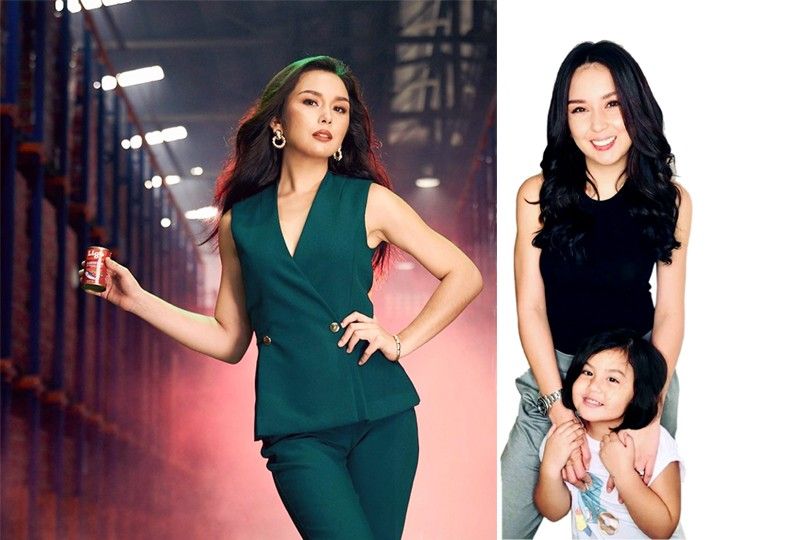 As Ligo endorser and with daughter Olivia Ines: I will not put art ahead of reputation. Family is always my priority.
During her stint at the 2008 Pinoy Big Brother (PBB): Teen Edition Plus, Beauty Gonzalez was tagged as "Rebellious Beauty." She's the opposite in real life.
After PBB, she got her big break as Zanjoe Marudo's leading lady in the ABS-CBN soap Dream Dad and then headlined her first major lead role in Pusong Ligaw. It was only last year did she sign a contract with ABS-CBN. She received rave reviews for her performance in Kadenang Ginto (that started airing in October last year) as the wife of Albert Martinez and the mother-in-law of Dimples Romana. The two feisty ladies often engage in slapping and hair-pulling scenes that invariably go viral.
Born Christine Marie "Beauty" Gonzalez to a prominent family in Dumaguete City, where she attended Silliman University, she's half-Filipino/half-Spanish, married to Norman Crisologo by whom she has a daughter (Olivia Ines, born in Feb. 2016).
Beauty was recently launched as endorser of Ligo sardines.
You were good as the girlfriend (of Sen. Ronald "Bato" Dela Rosa) in the Bato movie. Don't you think it needs a follow-up?
"Yes, why not? I'm very much open to it. Anything is possible. But this time, maybe, I'd like to be the one doing all the shooting and punching! Similar to what I did in the Ligo Sriracha Episode! It was a great experience and I'd surely love to do it again."
Tell us more about your role in the iWant movie Abandoned.
"I play a mother experiencing post-traumatic stress syndrome after a bloody shootout at work. The movie revolves around her relationship with her son and how her mental health condition manifests itself. This gives the director a great chance to play around with jump scares and other fun things for the viewers to experience while getting an insight into a very serious and real problem."
As a wife and mom, do you have limitations (do's and don'ts) in accepting roles?
"As a general rule, I will not do anything that I can't show or explain to my daughter. I will not put art ahead of reputation nor will I compromise my core values. Admittedly, I am quite conservative. However, I see nothing wrong with kissing scenes and wearing bikinis as long as they are necessary in the development of the story."
What are your aspirations as an actress?
"What every actress wants I guess is to make at least one great critically-acclaimed and award-worthy film, walk the red carpet in a prestigious international film festival like Cannes or Berlin in a show-stopping gown, and, of course, have at least one blockbuster movie."
Showbiz puts a big premium on looks. How do you maintain yours?
"Eat less and exercise more has always been my mantra. But lately, the opposite has been happening. Working almost every day, puyat and pagod are taking its toll on me. So I try to eat a lot of fruits, vegetables and seafood, cook them in a healthy way and drink lots and lots of water."
Describe your diet, workout, beauty regimen (if any).
"I just stick to healthy choices. Usually fish is my main protein source such as sardines. That's why I was happy when Ligo got me as endorser. I get to enjoy sardines in many ways.
"As for workout, I try my best to squeeze in some gym time or a few exercises whenever I find time. Rest is important for me, too. No matter how busy my schedule gets, I make sure I get sleep as much as I can."
What recipes (such as sandwich spread, ingredient to pansit, etc.) can you do with Ligo sardines?
"There's a lot of variants to choose from so the recipes are endless. There's the classic red and green flavors and, of course, Ligo's newest variants of Calamansi, Sriracha and Fried Sardines in Oyster Sauce. Personally, I love pairing the red and green variants with rice. They're just the perfect combo. Even the Sriracha. But recently, I've learned all three taste as great when cooked with miswa, too!
"I've also used the Calamansi and Fried Sardines in Oyster Sauce for my pasta dishes and as toppings to our salad. My husband loves them so much, even my daughter. They're also a great option to try, especially for those looking for meat-free alternatives."
Are you as "beauty-ful" as your name implies (what do you think is beautiful about you aside from the obvious)?
"I am beautiful because my husband and daughter think I am. I always try to look at myself the way they do. He says I am kind, trusting, thoughtful and childlike. If that's true, then I think that's beautiful."
(E-mail reactions at rickylophilstar@gmail.com. For more updates, photos and videos, visit www.philstar.com/funfare or follow me on Instagram @therealrickylo.)