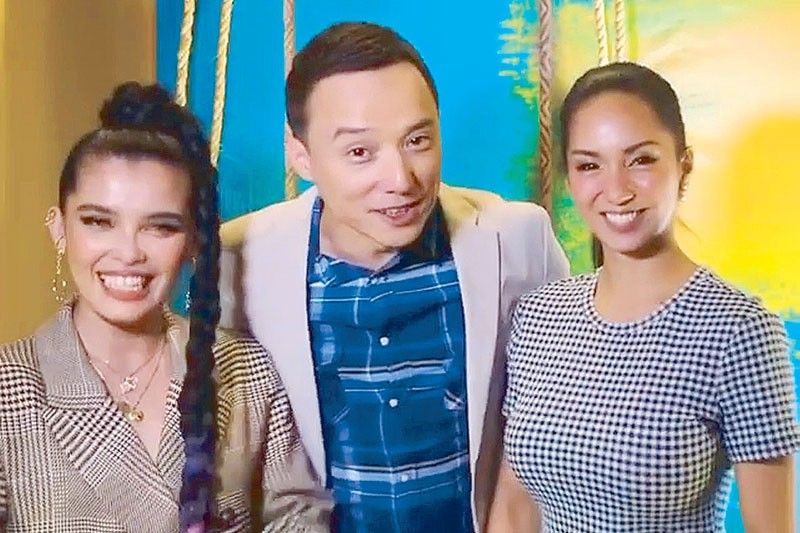 The stars of CoreMinds' The Art of Ligaw: Epy Quizon sandwiched by KZ Tandingan (left) and Roxanne Barcelo
Video grab from Cornerstone's Instagram
Why KZ cried not once, not twice but thrice
FUNFARE
-
Ricky Lo
(The Philippine Star) - October 15, 2019 - 12:00am
The recent presscon for The Art of Ligaw turned into a weepy event when KZ Tandingan cried not once, not twice but thrice.
In the movie that marks the directorial debut of Jourdan Sebastian (and produced by CoreMinds), the petite singer who impressed Jessie J in Singer 2018 in Hunan, China, plays Carisse, a well-guarded and feisty call-center girl who catches the fancy of Jake (played by Epy Quizon), a 40-something guy who is done with flirting and wants to fill up the void in his life. Then he meets Carisse.
According to direk Jourdan, he chose KZ as Carisse because she reminded him of durian which, he said, "looks magnificent and majestic" and, like his favorite fruit, KZ hails from Davao which is the setting of the story.
"I was looking not for a typical super-ganda model-type but somebody somewhat new and somewhat weird who speaks Visayan," noted Jourdan who produced indie films (the Judy Ann Santos starrer Ploning, etc.) before he gathered enough guts to try directing. "KZ is 'it'."
• First time KZ cried: when she was shown a video about her struggles and rise in the (singing) industry, followed by the lavish praises from Epy and the CoreMinds guys.
• Second time: when Epy tagged her as "the next Nora Aunor" because, like Nora, "KZ can do wonders with her expressive eyes, maliit, Pinay na Pinay" and, like Nora, "KZ started in the industry as a singer," only for Epy to qualify, "I should say that KZ has the makings of a superstar," lest he incurred the ire of Noranians who are possessive of their idol. To that, KZ replied, "I consider that a challenge na nakikita nilang may ganoon akong potential, pero nakaka-pressure."
In the movie, KZ gets to sing her original hits Quicksand and Walanghiyang Pagibig, plus a duet with Epy of the kundiman version of Buwan, the hit song of JK Labajo who appears in a cameo role.
• Third time: when she was asked about her recent "abortive" concert tour due to the promoter's failure to meet certain requirements (financial, etc.). Just the same, KZ single-handedly performed in three of the six playdates (two in Canada and one in New York) but not in three more (Houston in Texas; and Stockton and San Jose in California).
There was more crying, this time by Roxanne Barcelo (as Epy's past girlfriend) who recalled how her father encouraged her to sing before he died last June in the States.
"It was only my father who liked my singing, siya lang ang nakikinig sa akin kumanta," related Roxanne who finally had a chance to make the world listen when she did an emotion-filled rendition of Somewhere Over The Rainbow in It's Showtime's Tawag Ng Tanghalan Celebrity Champions, moving to near tears judges Zsa Zsa Padilla and Dulce, as well as the audience both in the studio and at homes. (Reminder to TNT: Please stop using the "gong" that has become passé, because it embarrasses the star guests and exposes them to ridicule.)
Now, it can be told: Roxanne has given up her career and was set to join her parents in the States…until her father met an untimely death that burdened the family with an awesome medical bill. That was in June. Anyway, Roxanne and her mom (who survived leukemia when she was 12) came back, with Roxanne's brother left behind. And that's when Roxanne was swamped with offers — Panti Sisters (shown in the recent Pista ng Pelikulang Pilipino/PPP), The Art of Ligaw and the Kapamilya soap starring Richard Gutierrez and Bea Alonzo.
As a stanza from Roxanne's winning song goes: Somewhere over the rainbow/Skies are blue/And the dreams that you dare dream/Really do come true…