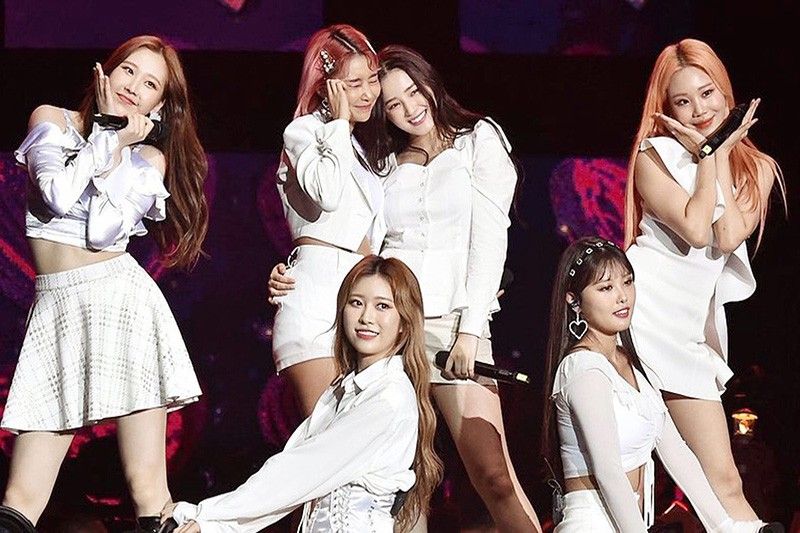 K-pop girl group Momoland headlines Good Friends in Manila at the SMART Araneta Coliseum. Photo credit: SMART Araneta Coliseum official Facebook page
Momoland's 4th visit more memorable with benefit show
MANILA, Philippines – Pinoy Merries got their early Christmas gift with Momoland's fourth visit in the country. It was made more memorable when the K-pop group held a benefit concert as its expression of love for Pinoy fans via Good Friends in Manila, last Oct. 5 at the SMART Araneta Coliseum.
Momoland's management MLD Entertainment announced last month that the group's proceeds from the concert will benefit less fortunate Filipino children in barangays San Jose and Calawis in Antipolo City. The girl group will donate clothes and other necessities to the children on Oct. 25.
MLD Entertainment said it was an opportunity they've been looking forward to do as a way of giving back to the Filipino community that has welcomed Momoland. It also added that it's not just a one-time charity act but a yearly event. The charity event is organized by Miraean Smart City, which also sponsored the Saturday concert.
"We're very thankful and glad that we can give back something with love to Filipino fans," Hyebin told The STAR through an interpreter during a one-on-one interview prior to the concert proper.
"Well, every time we come back, they — our Merries — always welcome us with the same loving heart," said Momoland's youngest member Nancy, adding, "It's always such a fun time and I guess we have the best times here."
Momoland, which was here in town last January for a fan meet, was back sans members Taeha and Daisy, confirming what the group's agency already announced last March. It was quoted as saying, "It was judged that it would be best if Momoland members Taeha and Daisy take a break from this album due to health and personal reasons, so this upcoming comeback will be made with seven members." Momoland's fifth album titled Show Me includes I'm So Hot and Falling U, which the girls performed at the concert.
Despite the absence of Daisy, Taeha and Yeonwoo, the remaining members made sure the night was memorable and fun as ever for their thousand adoring fans that came early at the venue with their children in tow.
Filling up the Big Dome with their signature hits and dance moves, Nancy, Jooe, Ahin, Hyebin, Jane and Nayun wowed the audience with a repertoire that included Baam, Boom Boom, Welcome to Momoland, Uh Gi Yeo Cha (EDM version), Wonderful Love, and their version of Yeng Constantino's Salamat as their finale song.
Hyebin said she and her fellow members appreciate their fans who continue to embrace and support their songs.
"We're very thankful and (we are) enjoying because the Filipino fans are also enjoying our songs and dances. And also the Filipino fans, they are really good in singing and dancing so they are having more fun at the same time," said Hyebin.
Fans will be happy to know that Momoland is gearing up for its new album soon.
Hyebin said, "We are actually putting an effort in preparing for a comeback but we don't know when will it be, but we're actually (aiming) for the last month of this year."
When asked if there's a chance for them to shoot a music video in the country, the girls answered excitedly, "If we have (the) chance, we would love to shoot our music video in Boracay."
The girls have been looking forward ever since to spend some of their time at the famous island. "We'd love to. That would be awesome! If we can…" said Nancy. Last year, the Momoland members were able to tour Vigan when they staged a mini-concert (for free), spearheaded by the Ilocos Sur provincial government.
Momoland said it would also love to collaborate with Filipino artists.
"Anyone in the Philippines," said Hyebin, adding, "It would be really great and (we're) thankful (if we could have a) collaboration with all of the artists… Philippine singers."
It probably wouldn't take long to happen, especially now that Momoland is already a Kapamilya after signing up a co-management deal with ABS-CBN last Friday. It was also the day when Nancy officially met her co-star and leading man James Reid. They will work together in a TV series titled Soulmate directed by Antoinette Jadaone.
The girls are admittedly having fun every time they are in Manila that's why they also enjoy eating Pinoy food. Banana cue is a favorite of Hyebin and Ahin, who revealed that they have tried cooking it on their own.
"Ahin and I have (eaten) banana cue the last time and we have tried to make one, and it was really good," Hyebin shared, as Jooe butted in, "(Miss) Sandara Park has recommended one of the famous Manila shabu-shabus here in the Philippines and we haven't (been there) yet but we really want to go."
In behalf of the group, Jooe gave her parting message to their Pinoy Merries through an interpreter: "Thank you always, thank you for giving great memories to Momoland and we are always glad to come back here in the Philippines for the concert and other songs."
Good Friends in Manila also featured Ha Sungwoon and Kim Jaehwan, K-pop artists and WannaOne former members who went on a solo career, respectively. They performed their respective songs as the crowd tirelessly sang, danced and cheered with them.