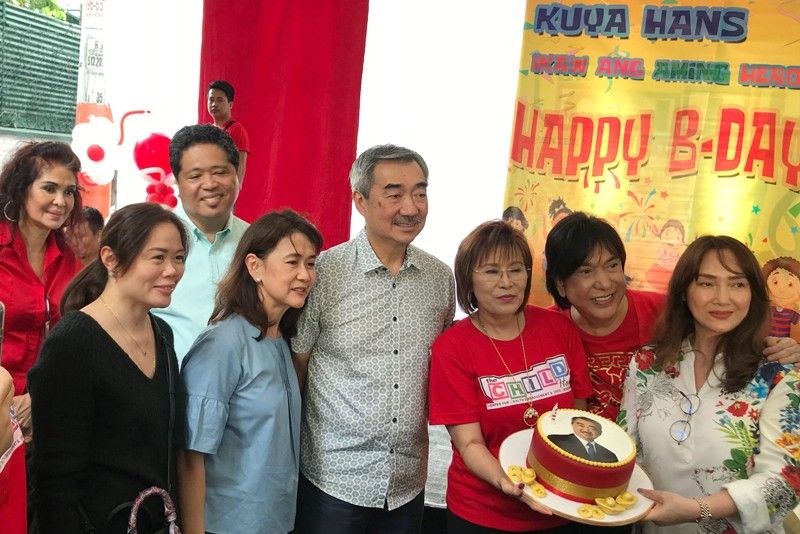 Hans Sy (fourth from left) at his 64th birthday celebration last Sunday at the Manila branch of Childhaus, the temporary home of cancer-stricken children while undergoing treatment in public hospitals. The Haus is donated by Hans and the Sy family. With Hans are (from left) 1973 Miss Philippines Evangeline Pascual, GMA exec Gigi Santiago-Lara, Hans' wife Carol, a Haus official, Haus head Ricky Reyes and Haus supporter Tates Gana.
Photos by Ricky Lo
No 'in-between' CRs at Ricky's Childhaus
FUNFARE
-
Ricky Lo
(The Philippine Star) - September 19, 2019 - 12:00am
Halfway through Hans Sy's 64th birthday celebration last Sunday (Sept. 15) afternoon at the Manila branch of Childhaus (on 1448 F. Agoncillo St. in Ermita), Ricky Reyes felt a call of nature and guess where he answered it.
"Siempre," said Ricky, head of Childhaus, "sa CR (Comfort Room) ng men. There are only two CRs in the two Childhaus(es) and the other is for women. Walang 'in-between' na CR."
His radical comments ("Ang bakla, gilingin mo man, baklang hamburger ang kalalabasan," etc.) put him in the eye of the raging controversy generated by the SOGIE (Sexual Orientation and Gender Identity Expression) Bill, and Ricky stands by every word that he said.
"The truth hurts but I have to say it," said Ricky.
That was all he had to say last Sunday in respect for the celebrator who has donated not just one but two buildings (the new one in Quezon City (at No. 90 Mapangakit St.) was inaugurated only last month. Hans' birthday coincided with Childhaus' 16th anniversary and there was a good reason to celebrate. Childhaus is the temporary shelter of cancer-stricken children while undergoing treatment free of charge. Both Childhauses are ideally located, the Ermita branch a stone's throw from the PGH (Philippine General Hospital) and the QC branch a few minutes away from the Heart Center, East Avenue Medical Center, Lung Center and Kidney Center.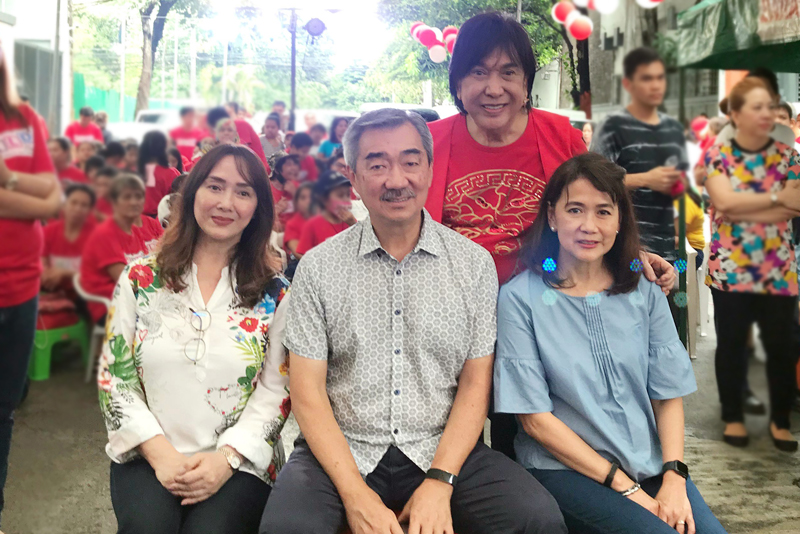 Hans with Ricky, Tates and Carol, with the kiddie patients at the background.
Accompanied by his wife Carol, Hans was visibly touched when 64 kiddie patients offered him miniature cakes while singing Happy Birthday along with the parents and other well-wishers. Hans has made it a point to spend his birthday at Childhaus every year.
"And he's always present during our Christmas and anniversary celebrations," noted Ricky. "Hans is our angel. Childhaus owes everything to Hans and the Sy family."
Instead of the other way around, it was Hans who gave Ricky a "surprise" gift — yes, a Childhaus branch in Cebu for sick children in Visayas and Mindanao.
Incidentally, it rains every time Childhaus marks a milestone, and it did last Sunday.
"Blessing 'yan," commented Ricky. "Just like donations na patuloy umuulan from people that we don't even know."
Ifugao fabrics showcased in New York Fashion Week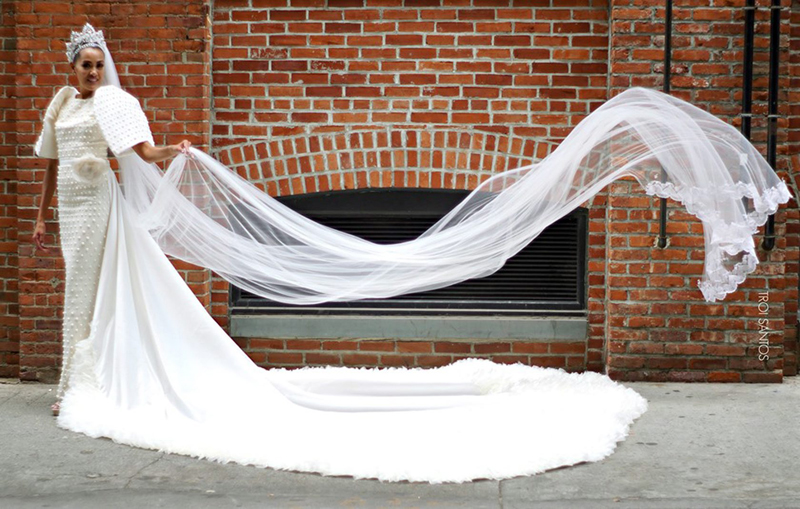 Newly-crowned 2019 Mrs. Eco International Shiela Teodoro DeForest (photo, left) modeled some of the 25-piece creations by Kandama Collective founder Victor Baguilat Jr., made of indigenous fabrics hand-woven by women of Julongan Village in Kiangan, Ifugao Province.
In the event dubbed as the Fiesta Filipiniana Fabric Collection, DeForest wore the finale Queen of the Orient gown celebrating the Manila Carnival of 1908, the first-ever beauty pageant in the Philippines, on the runway of Broad Street Ballroom in New York City last Sept. 7, her 46th birthday.
DeForest, a former public affairs officer of the British Embassy in Manila, was crowned 2019 Mrs. Eco International in Las Vegas, Nevada, USA last June 29. A native of Laguna, she's a graduate of BS Tourism at the University of the Philippines Diliman and speaks Bahasa, French, Spanish, English and Filipino. She was a flight attendant of Emirates and a Bodyshots alumna. She's married to Timothy DeForest, a pilot. — Reported by Celso de Guzman Caparas
Naga beauty crowned 2019 Miss Bicolandia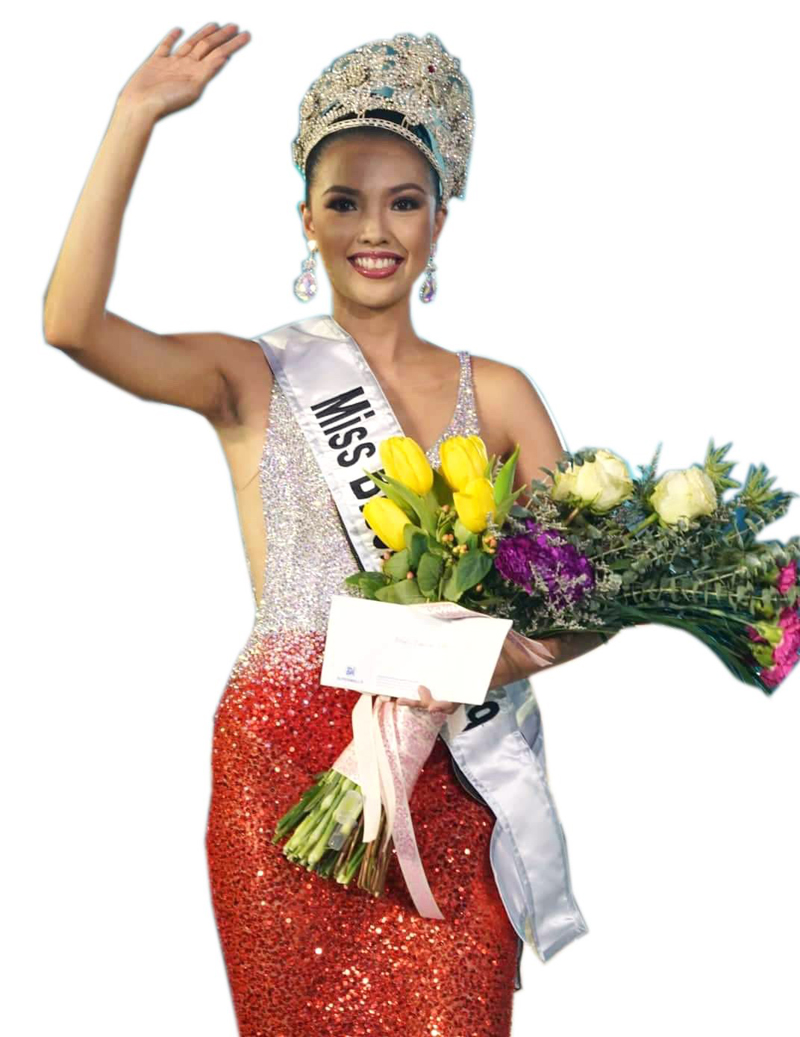 Paulina Labayo
Miss Bicolandia 2019, the most prestigious beauty pageant in this region, recently crowned new queens, coinciding with the Peñafrancia Festival. The pageant has produced celebrities, including Pinoy Big Brother winner Bea Saw-Tan, 2010 Bb. Pilipinas-Universe Venus Raj, 2011 Bb. Pilipinas-International Diane Necio, and the late 2009 Bb. Pilipinas-International Melody Gersbach.
This year's winner Paulina Labayo is half-Pinay/half-Thai, representing Naga City. A graduate of BS Economics and Public Policy from San Beda University, she's a ballet teacher and a pageant veteran, having joined the 2018 pageants Miss Manila 2018 (second runner-up) and Miss World Philippines.
Her court: Rein Hillary Carrascal of Sorsogon, first runner-up; Rheena Adakkoden of Camarines Sur, second runner-up; Vanessa Mar Buitre of Legazpi City, third runner-up; and Danica Theresa Dilla of Iriga City, fourth runner-up. — Reported by Gery Yumping
(E-mail reactions at rickylophilstar@gmail.com. For more updates, photos and videos, visit www.philstar.com/funfare or follow me on Instagram @therealrickylo.)