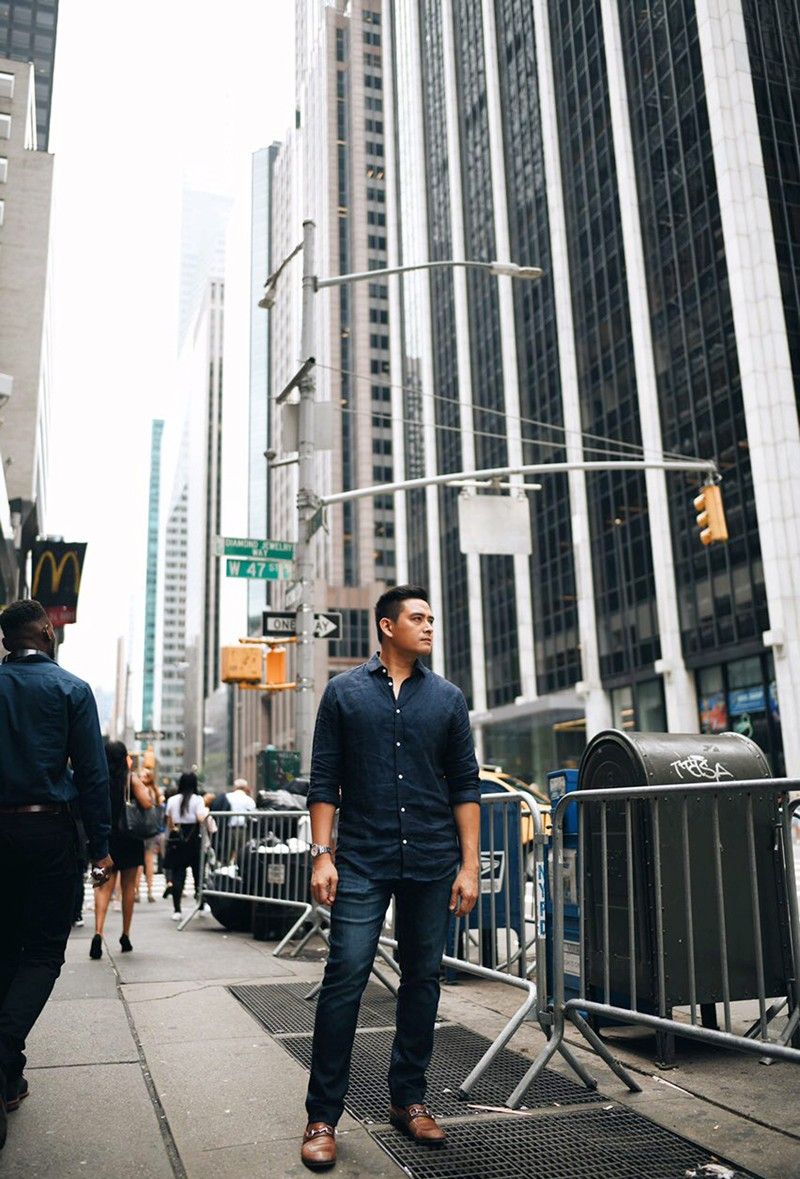 Alfred with the skyscrapers as backdrop during a shoot (for ML/HK/NY, tentative title) in the Big Apple...
'I follow Ate Vi's example'
CONVERSATIONS
-
Ricky Lo
(The Philippine Star) - September 1, 2019 - 12:00am
Quezon City Rep. Alfred Vargas reveals why he looks up to colleague Vilma Santos as his idol
When Quezon City (5th District) Rep. Alfred Vargas came home from two weeks of shoot in New York, his jetlag instantly disappeared as soon as he saw a huge banner with the words "WECOME HOME, DADDY. WE LOVE YOU!!!" signed by his and wife Yasmine Espiritu's three children, Alexandra Milan (eight years old), Aryana Cassandra (seven years old) and Alfredo Cristiano IV (eight months old).
"It was touching," Alfred told The STAR in an exclusive Conversation. "Nawala ang pagod ko."
For Alfred, family comes first.
"They say that girls are malambing but our little one is even more so. He's always smiling. At his age, he is very curious with a happy disposition. He's showing signs of being brave, so advanced."
And is a born traveler, according to Alfred.
"We went to Boracay several weeks ago and he was crying when the plane took off so I held him close to my chest. He stopped crying," continuing with a laugh, "siguro dahil malaman ang dibdib ko."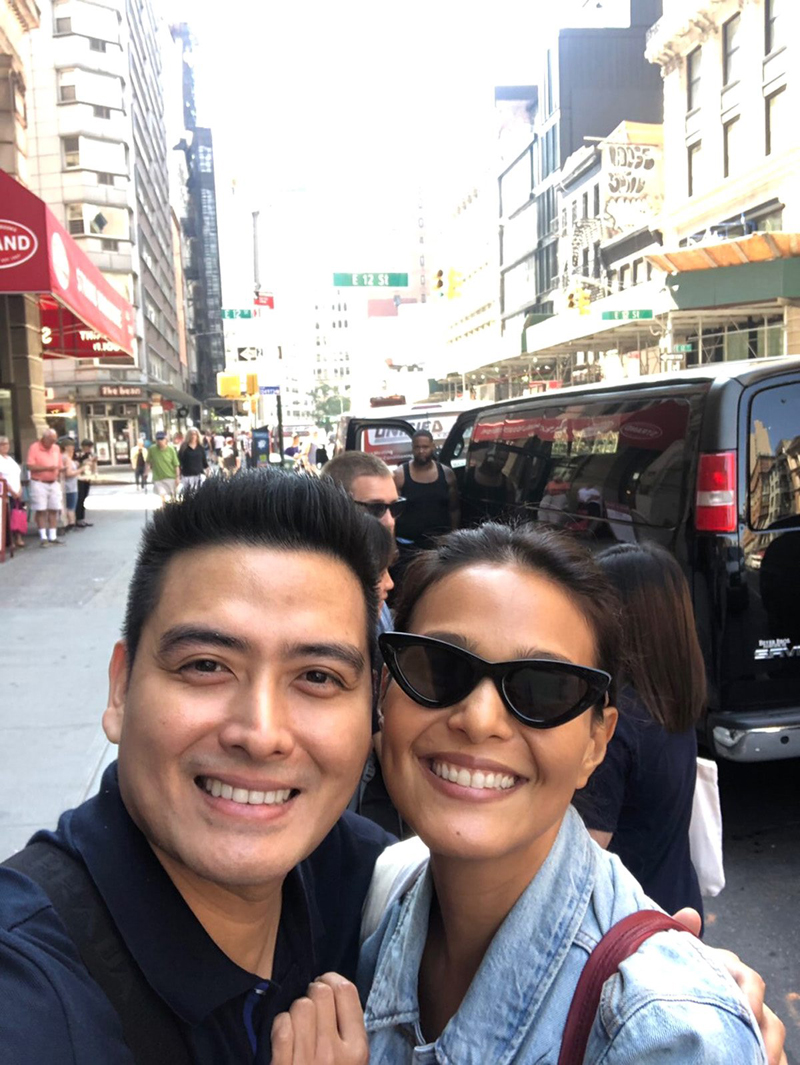 With Iza Calzado.
Alfred flew back last Monday from New York where he shot scenes for ML/HK/NY (tentative), the sixth movie under AVC (Alternative Vision Cinema), his own production company behind Supremo, Busong, Separados, Ang Guro Kong 'Di Marunong Magbasa and Kaputol.
Directed by Mac Alejandre from a screenplay by Ricky Lee, ML/HK/NY is a love story between an ex-couple and also about having no roots, the loneliness of not having a home, people traveling but no establishing real connection. It stars Alfred with Iza Calzado and Shaina Magdayao.
"It's about love, family and finding oneself in the midst of loneliness away from home," added Alfred.
Beyond that, no spoiler alert, sorry….except to say that they shot in the Big Apple's Chinatown which has never been exploited before. More shoots were done in Binondo, Manila.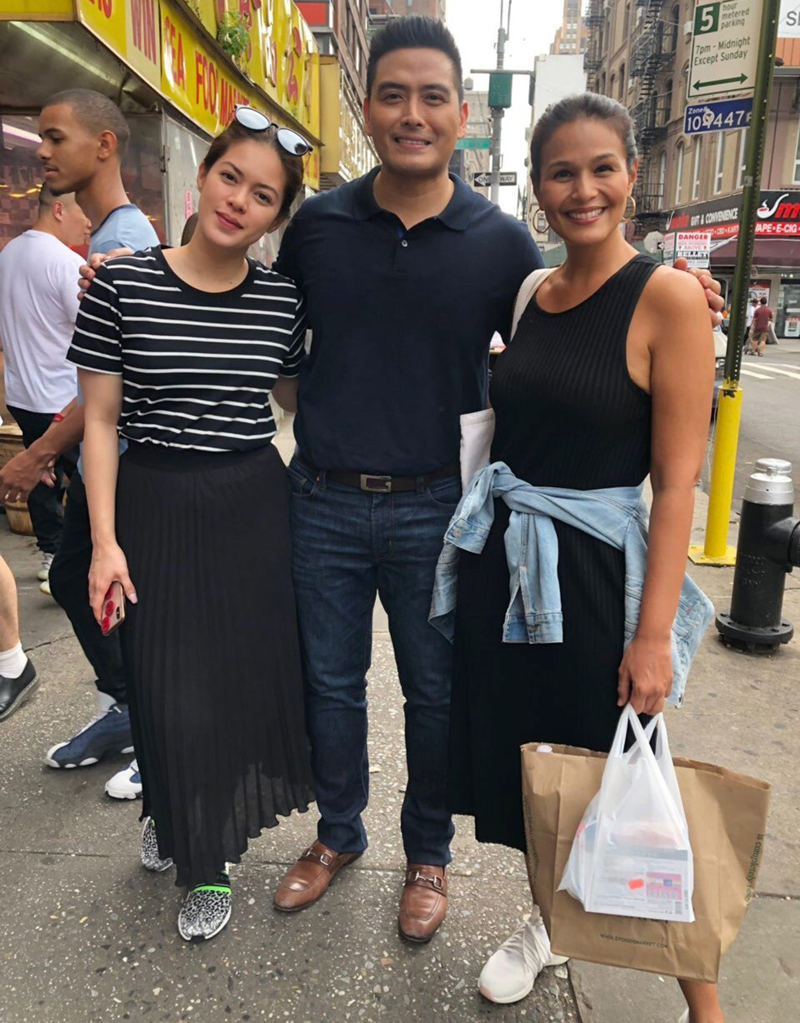 With Shaina Magdayao and Iza Calzado as co-stars.
It was also Mac and Ricky who collaborated in Kaputol (with no less than Lav Diaz as cinematographer), also starring Alfred with Cherie Gil and Angel Aquino.
"Cherie said that Kaputol is probably the best among the dozens of her films," observed Alfred. "We play siblings, I as an actor and she as my director. Our characters are trying to finish the film while we are struggling about love and loss, and finding ourselves. Already, we are getting invitations to enter the film in international film festivals."
After serving three terms as councilor in Q.C., Alfred is now on his second term as congressman, garnering 85 percent of the more than 150,000 votes cast, thus winning hands down against four other candidates. The fifth district is second in size (after the second district) among the five in Q.C. That's where a number of celebrities live, among them Coco Martin, Julia Montes, Jose Manalo, Pekto Nacua, Julie Anne San Jose, Flora Gasser, former Sen. Orly Mercado, Kuhol, Bayani Agbayani, Miriam Quiambao, Imelda Papin, Lolit Solis, Cris Belen, Johnny Revilla/wife Janet Basco and family, and Robin Padilla/wife Mariel and family.
"Acting is still my bread and butter," said Alfred, explaining why he can't quit showbiz. "I have already three kids. 'Yung kinikita ko sa showbiz ay hindi kayang tapatan ng suweldo ko as congressman. After all, acting is really my passion from way back."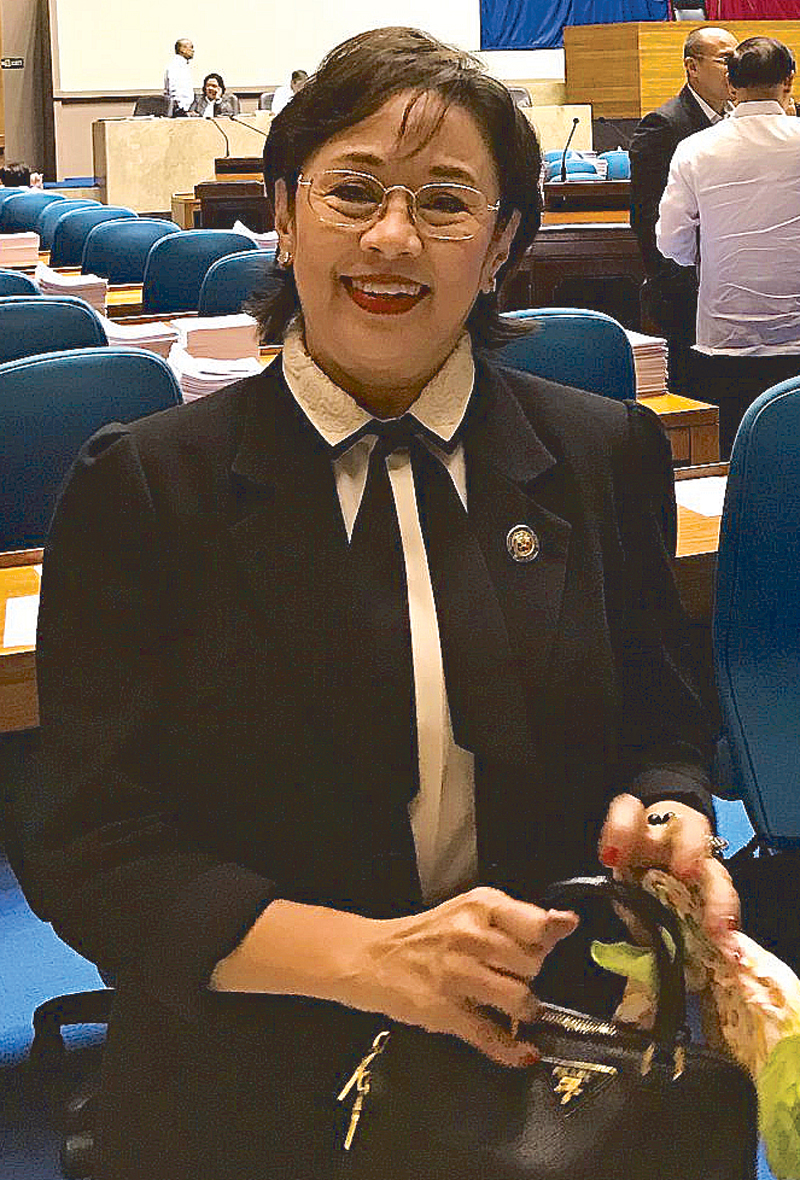 Rep. Vilma "Ate Vi" Santos
Alfred said that he's following the example of Batangas Rep. Vilma "Ate Vi" Santos of limiting herself to just one movie a year (her last movie was Everything About Her, shown three years ago).
"One movie is fine with me. You know, Ate Vi is my idol. She has proven that actors can be good public officials, from being mayor of Lipa to governor of Batangas and now congresswoman. Masipag siya. We hold office close to each other in what is known as the Showbiz Wing. That's also where Congressmen Christopher de Venecia, Yul Servo, Lucy Torres, Edward Maceda and Dan Fernandez have their offices. Someday, I hope to do a movie with Ate Vi."
Although he has no limitations as an actor, in respect of his reputation as a public official, Alfred would rather not do roles that, according to him, "Hindi mapapanood ng mga anak ko," unlike before when he grabbed every offer, most of which capitalized on his sexiness such as Bridal Shower in where he played Cherry Pie Picache's boy toy.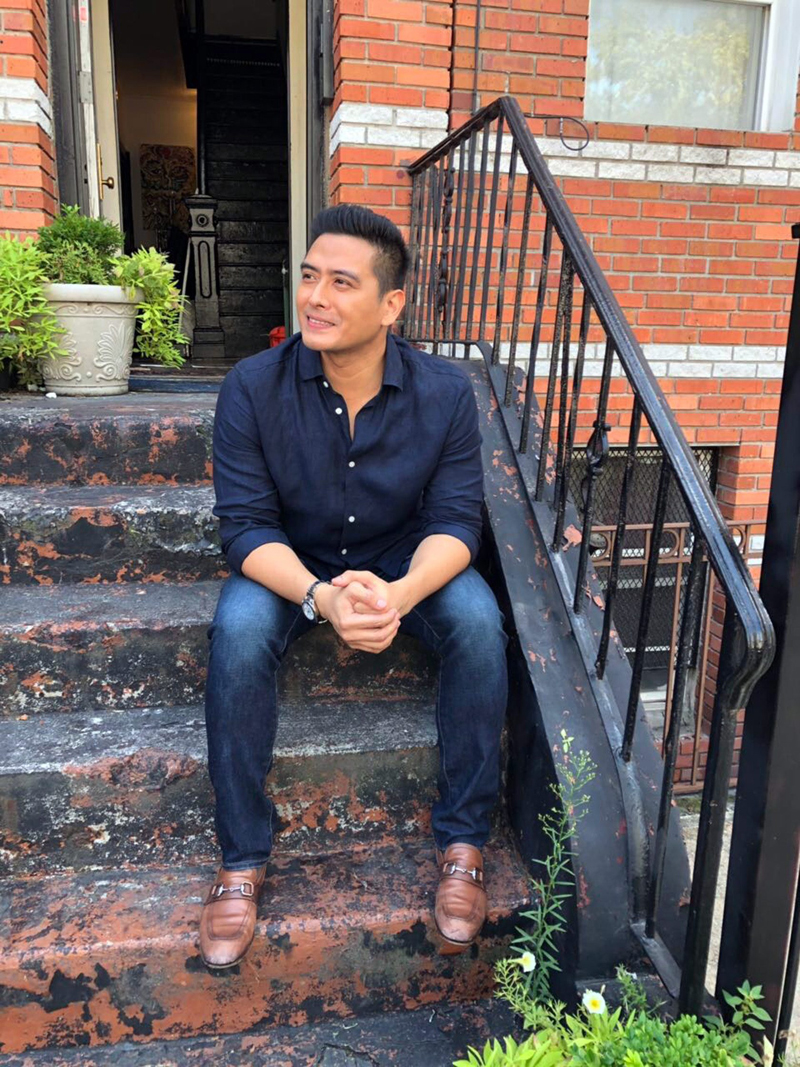 "Kissing and love scenes are okay. No problem with Yasmine." (An endorser of some brands, including Cris Roque's Kamiseta Skin, Yasmine could have been a movie star but she opted to be the lifetime partner of Alfred whom she idolized as a fan.)
As a congressman, Alfred has filed around 400 bills, 341 of them were enacted into law. His sentimental favorite is what he calls "The Ching Vargas Bill" which advocates health protection, especially among cancer patients. Ching Vargas was Alfred's mom who died of cancer.
Business as usual after his movie's shoot, Alfred has resumed his regular schedule (away from sessions in Congress), with the help of his businessman-brother PM (Patrick Michael, a Political Science Ateneo graduate) who was among the six councilors elected in last May's mid-term elections. "He is brilliant," Alfred said of PM. "He has been helping in my campaign way back since I first ran for councilor."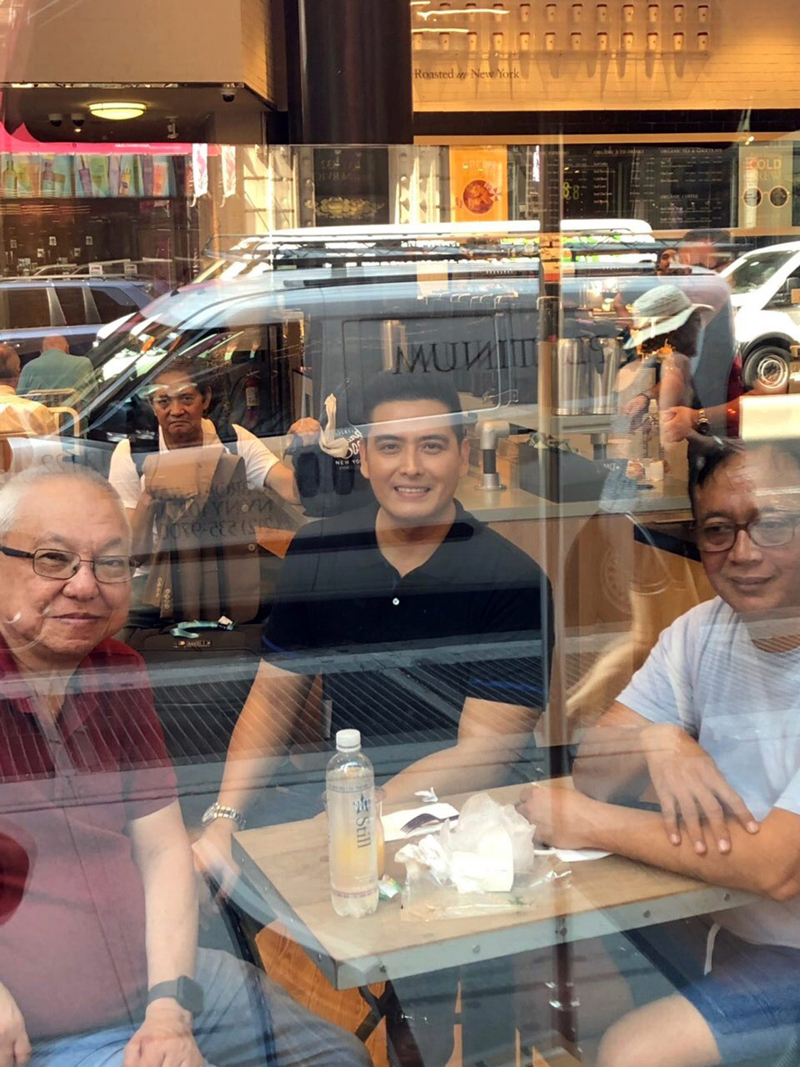 With scriptwriter Ricky Lee and director Mac Alejandre.
Here's Alfred's typical day:
• Monday ­— Scholarship Day for scholarship applicants ("No minimum-grade requirement. Basta pasado ok, maski pasang-awa. So far, we have thousands of scholars.");
• Tuesday ­— For graduating students (who need money for school fees, fare and OJT requirements), and for medical assistance;
• Wednesday ­— Job referrals and job fair;
• Thursday — Housing day (processing of papers, etc.);
• Friday ­— People's Day/Fans Day; and
• Saturday — For those soliciting funds for weddings, burials and some such concerns.
An anecdote about a senior citizen at the end of the long line on one Fans Day.
When the old lady's turn came, Alfred asked her, "Ano po ang maipaglilingkod ko sa'yo?" She said, "Wala po naman. Gusto ko lang po malaman kung ano ang mangyayari sa Kambal-Karibal." (That was the GMA soap Alfred was then doing. In a crucial scene, Alfred's co-star Marvin Agustin hurled a grenade at Alfred.)
"So I told her what would happen, but I reminded her not to tell anybody," recalled Alfred. "The old lady went home happy, smiling."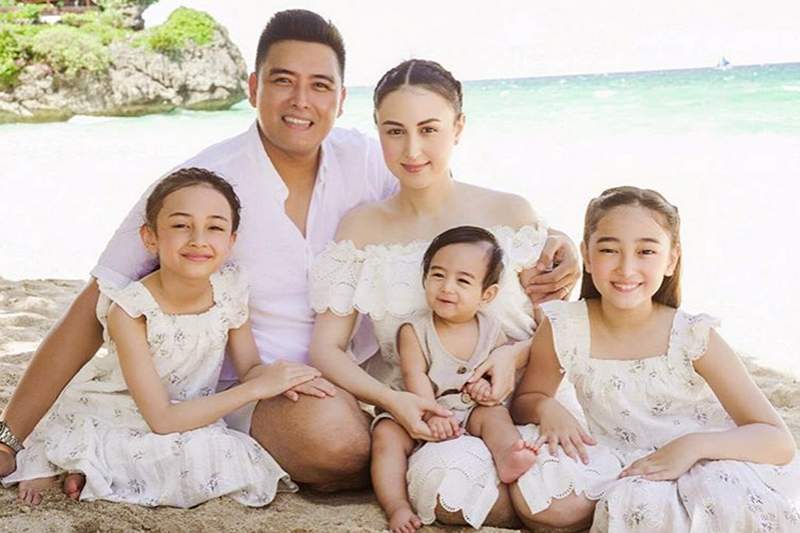 'Family comes first,' says Alfred with wife Yasmine Espiritu-Vargas and their children Aryanna Cassandra, Alfredo Cristiano and Alexandra Milan
Sunday is strictly family day, noted Alfred.
"After a long week, it's nice to spend time with your wife and children. Bonding time at para naman I can help Yasmine take care of the kids. Yasmine is a hands-on mom. We don't have yayas (nannies). Yasmine is used to the European lifestyle — you know, baby in one hand and grocery bag in the other hand." (Yasmine spent her early years in Italy with her Italian father and Filipina mother.)
And when would Alfred return to television?
"Maybe when I lose 20 more pounds," he smiled. "I weigh 200-plus pounds. I should trim down to 180 lbs. which is ideal for my 5'10" frame."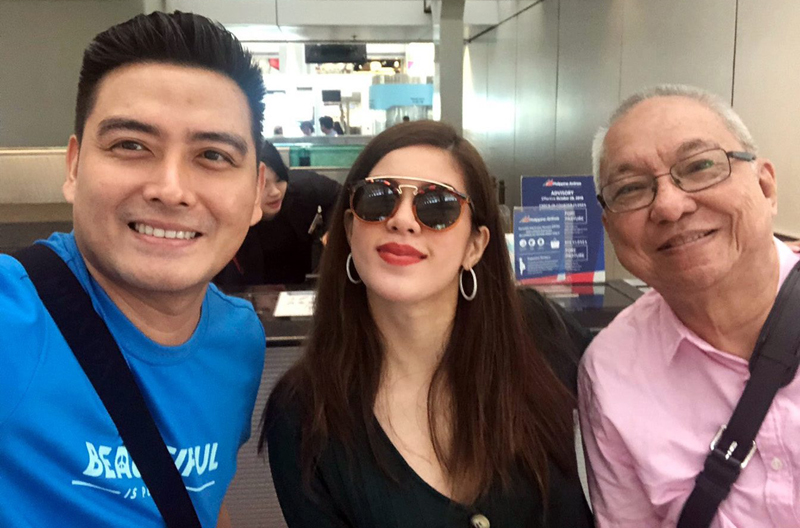 with Ricky Lee and Shaina Magdayao
* * *
(E-mail reactions at rickylophilstar@gmail.com. For more updates, photos and videos, visit www.philstar.com/funfare or follow me on Instagram @therealrickylo.)