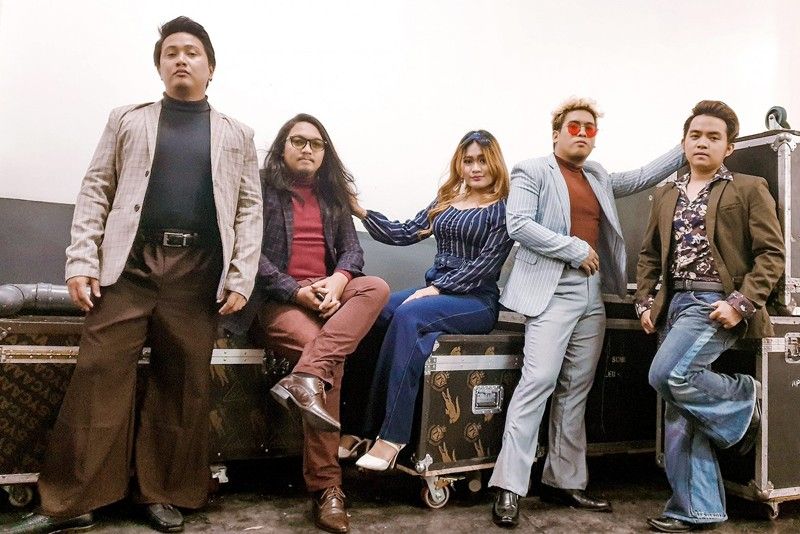 Acapellago's Happy Lemon Laderas, Bogart Laderas, Almond Bolante, Joshua Cadelinia and Michelle Corpuz
Acapellago now conquers Japan
I wonder if there are people around who become blasé about winning. Those who win too often and become so bored that they will say, "what another trophy" on getting another honor or something like, "can't they give this to someone else?" Thankfully, I have never heard of anybody who thinks that way. But I hope that those who do, will take a cue from boxing legend Manny Pacquiao who just adores fighting and winning, or from the group Acapellago who has made singing and winning a way of life.
I got to thinking that way because Acapellago has won another contest. Again. Happy Lemon Laderas, Bogart Laderas, Almond Bolante, Joshua Cadelinia and Michelle Corpuz went off to Japan for a few days and came home as winners again. The group was named grand champion of the 2019 Asian Cup A Cappella Competition that was held at the Rexxam Hall of the Kagawa Prefectural Hall in Takamatsu, Kagawa last Aug. 9.
They performed Safe And Sound by Taylor Swift, Da Coconut Nut by Ryan Cayabyab and No More Tears (Enough Is Enough) by Donna Summer in the contest. The Voctronica entry from India came in Second while Harake-ji of Japan placed Third. Acapellago also won the Voice Jam Award. Incidentally, Mr. C himself, the National Artist and Ramon Magsaysay Award recipient was a member of the audience during the contest. He must have felt very proud watching the Pinoys win.
This is but the latest in a string of victories for Acapellago in several prestigious foreign competitions these past four years. Take a look at this list that keeps getting longer. Only last April, Acapellago was declared first prize winner in the Medium Vocal Ensemble Category of the Moscow Spring A Cappella Festival 2019 held in the Russian capital. This contest is considered the Olympics of a capella singing and is the largest festival of its kind in the world today.
Then there was the CHVOCALS: Golden A Cappella Awards at the Xinqiao Art Center Grand Theatre in Shenzhen, Guangdong, China last November. They were proclaimed grand champion and they also bagged the awards for Best Musical Presentation, Best Performance, Best Male Artist for Bolante, Best Vocal Percussionist for Laderas and the Best Original Theme Song for Music Of Your Heart which was composed by JC Jose, Happy Lemon and Joshua.
They were also excellent at the VoKal Total 2017, International A Cappella Competition held in Graz, Austria where they were named overall champions. They also won the greatly covered Audience Award and the Gold Award for Pop Singing. The year before that, they were also the grand champion at the Asia-Pacific A Cappella Championship League in Singapore with Happy as Best Bass Singer and Michelle as Best Vocalist plus the Audience Award. Of course, before all those, at the very beginning, they were also the champions of the First Akapela Open Competition held in the Philippines in 2014 and again in 2016.
It is nothing official like they received such an award from some organization hereabouts. But I believe that given the number of talented singers whom they have beaten in various competitions, it can now be said that Acapellago ranks among the best a cappella singers in the world today. At the very least, they can certainly lay claim to the title of the winningest ever performing act in Philippine pop music history.
Catch the Acapellago as they celebrate their conquest of Japan with a one-night performance at the Music Hall in Metrowalk on Friday, Aug. 23 at 9 p.m. They will sing their award-winning pieces to show us how they won Japan over. And don't forget to check out their dreamy, of course, a capella take on the big hit by Itchyworms and Janine Tenoso, Di Na Muli. The recording is now available on Spotify, Apple Music and other digital platforms.
As for becoming blasé or bored about winning, there is no reason for the followers of Acapellago to worry. These guys from Bulacan are as happy and ecstatic as ever about being great at what they do and they definitely want to conquer more a capella prizes from everywhere.