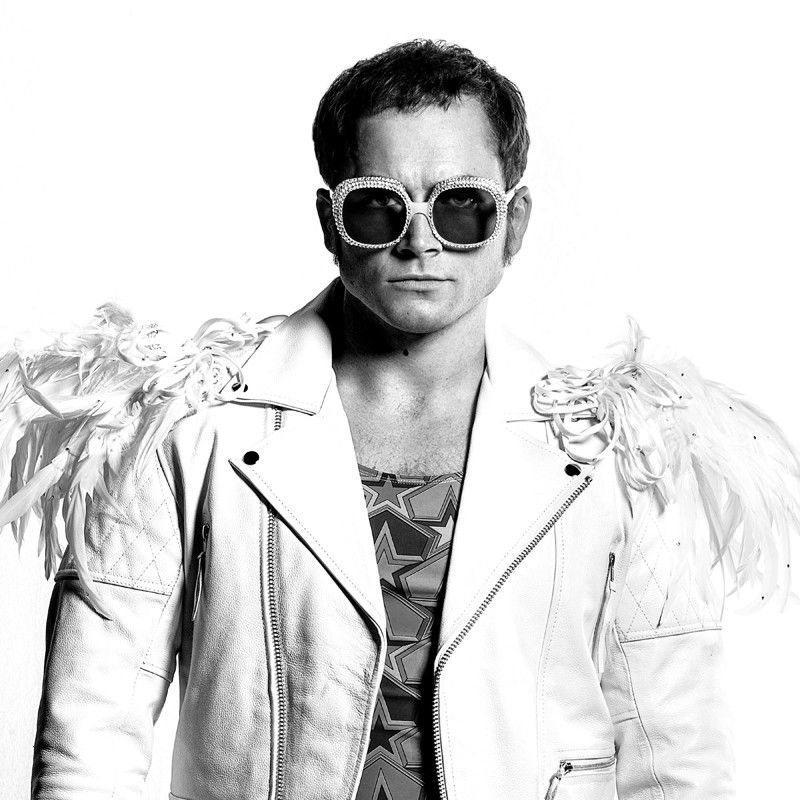 Taron Egerton transforms into Elton John in the movie
Taron is Rocketman's Rocket
Hugh Jackman of the formidable Les Misérables only got as far as a Golden Globe for Best Actor in a Musical or Comedy. Bradley Cooper got further with an Academy Award nomination for Best Actor in A Star is Born. But his chief rival Rami Malek rampaged victorious throughout all of this year's film awards bannered by his performance as the Queen frontman Freddy Mercury in Bohemian Rhapsody.
The Egyptian-born Rami went all the way to the top with the equivalent of a tennis grand slam as the late rock legend. He was named Best Actor at the Academy Awards, at the Golden Globes, the Screen Actors' Guild Awards and the British Academy of Film and Television Sciences plus maybe a few more that we still have to hear of.
The thought of Rami as Mercury came to me while I was thinking of Taron Egerton as Elton John in the movie Rocketman. If Rami got those while lip-synching and with clever camera angles, note that save for the Egyptian origins, he did not at all resemble Mercury, then Taron is already a shoo-in for all of next year's Best Actor Awards.
Billed as an epic musical fantasy, Rocketman has a lot going for it as a movie. It has a lot in common with Bohemian Rhapsody. The films are set in the same late '60s and early '70s years. Both are about flamboyant British rock icons who rose from conflicted childhoods to stardom through the memorable hit songs they created. The films share the same director, Dexter Fletcher, who took over when Brian Singer left Bohemian Rhapsody. Both are stories about the dire effects of sex, drugs and rock 'n roll. Elton John survived. He is executive producer of Rocketman. Mercury did not.
It is, however, Taron who brings Rocketman to dizzying heights. Rami turned in a very good imitation of Mercury. Welsh pop star Taron played it like biting on a delicious chomper of a role throughout. No make-up to look like Elton. Well, save for the balding head perhaps. No lip-synching, too. He did all the vocals for new recordings of the Elton hits in the soundtrack. And he was so effective that the audience saw not an actor in a movie, but Elton himself.
So is there a chance that we will have back-to-back wins for two Best Actor performances in two musical biopics next year? I say there is and Taron might just bring home all those trophies.
Other things going for Rocketman are several great musical numbers which Fletcher used effectively to further the story. No jukebox, recording, concert montage to depict the rise to the top for this one. Rocketman, Tiny Dancer, Benny and the Jets were rendered so inventively and everybody loved the way Your Song depicted the bromance between Elton and his lyricist Bernie Taupin, played wonderfully by Jamie Bell. Of course, I also wanted to have Candle In the Wind and Daniel and Skyline Pigeon, etc. etc. in the soundtrack. Maybe in Rocketman Part 2 perhaps in the future, which will take on Elton's Lion King success.
The other thing that I am really happy about Rocketman coming on the heels of Bohemian Rhapsody is that it has kicked the door open wider for more biopics about pop stars. You have to admit those singers lead very interesting lives.
There is one about Elvis Presley coming out and Britney Spears and Celine Dion and David Bowie. Would you believe, rumors are going around that Sophie Turner, Sansa of Game of Thrones, has been offered the part of the young Boy George? Don't you think Maisie Williams, who played Arya, would be better suited?
Anyway, now that I have brought up Game of Thrones, I can now mention that the sexiest part of Rocketman is the drop-dead gorgeous Richard Madden. The British TV star was the tragic Robb Stark in Game of Thrones and he is Elton's manager and lover John Reid, who broke his heart and led him to the sex, drugs and rock 'n roll life. No wonder, Elton was so devastated.