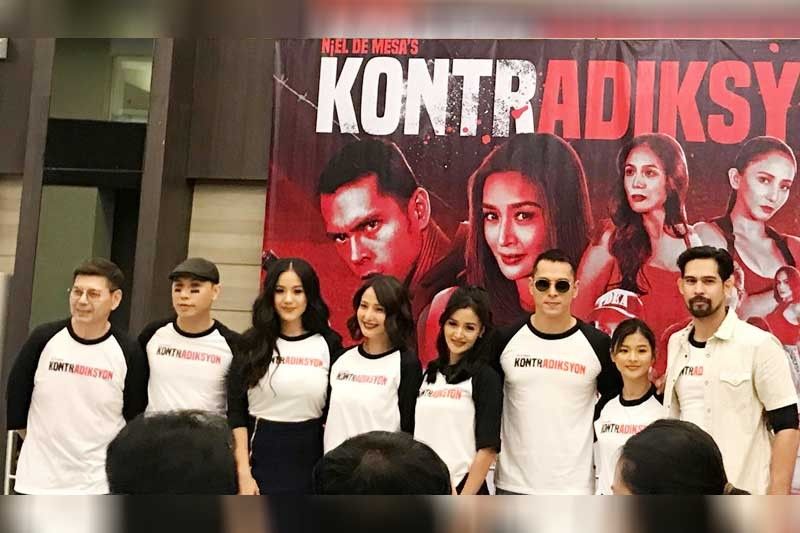 KontrAdiksyon director Njel de Mesa during the presscon with members of the cast (from left): Jong Cuenco, Ritz Azul, Katrina Halili, Kris Bernal, Jake Cuenca, Patty Tiu and Paolo Paraiso.
Anti-drug movie ushers Bell Films back to the scene
FUNFARE
-
Ricky Lo
(The Philippine Star) - June 21, 2019 - 12:00am
You can interpret the movie's title either way — KontrAdiksyon, with the first five letters (Kontr) in black and the remaining eight letters (Adiksyon) in blood red. Nothing "contradictory" there, however.
Marking the movie directorial debut of Njel de Mesa (born in Belgium), KontrAdiksyon ushers back Bell Films (owned and managed by the family of James Dy who delivered the opening speech at the presscon) into the movie scene, 23 years after its last project, Twin Fists For Justice starring Vilma Santos and Chinese martial artist Feng Mei.
First, a sketchy introduction to Njel who wears black patches under his eyes that make people very curious. Njel is, well, a jack of all trades — a production designer (protégé of Salvador Bernal), a singer, songwriter, an actor, a dancer, a board member of various agencies (MTRCB, PAGCOR, FILSCAP, etc.), a teacher who has been giving performing-arts lessons among kids, and Palanca awardee (who wrote Respeto, Best Picture in the 2017 Cinemalaya Film Festival).
Yes, the patches.
"Athletes wear those patches to protect their eyes from the sun," explained Njel, adding half-joking and half-seriously, "I wear those patches para hindi ako lamunin ng ilaw ng showbiz."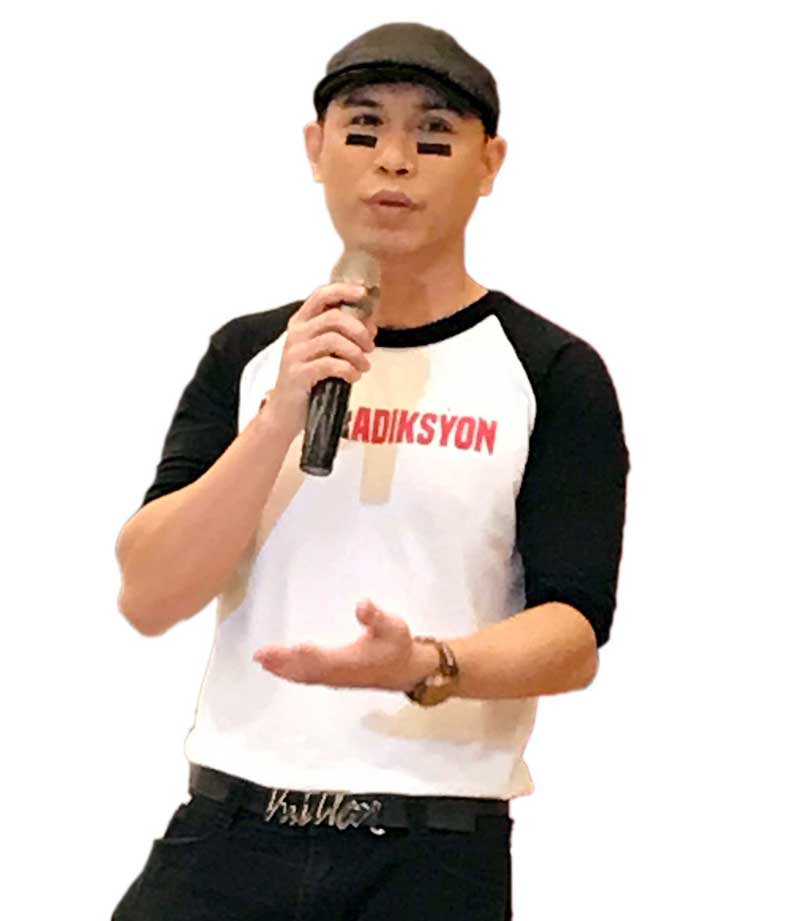 Now, to the movie which boasts of an all-star cast led by Jake Cuenca and Kris Bernal.
Opening nationwide on Wednesday, June 26, KontrAdiksyon (Contradiction) or Kontra-Adiksyon (Contra-Addiction) is described as "a complex and dramatic socio-political thriller with issues that starts out local and escalates to national and global proportions…a film of contradictions and, most importantly, the Philippines' controversial and game-changing war on illegal drugs." Jake plays Alexis Borlaza, an activist who fights for human rights of drug addicts and pushers, gets his family brutally murdered by the very same people he swore to defend, and enlists to become an undercover drug enforcement agent who is a secret vigilante at night. Kris plays Jessica Puyat, a drug user and pusher in the call centers and other high-end institutions who helps Alexis track down the criminal mastermind.
A post-presscon sidelight was the admission of Jake that, yes, he and 2016 Miss International Kylie Verzosa have been dating for seven months now without categorically saying if they are going steady. It was in 2016 when Jake broke up with his 31-year-old model-girlfriend Sara Grace Kelly.
Said Jake, "This is the happiest I have ever been," recalling that Kylie first caught his attention in 2017 while shooting Ang Panday and got to know her better when they were cast in the ABS-CBN series Los Bastardos. "I am ready to love again," added Jake who begged off from confirming his relationship with Kylie until such time when they could do it together.
Let's see how they match in the following "Sexy Talk," with Kylie giving complete answers and Jake, oh well, partial answers.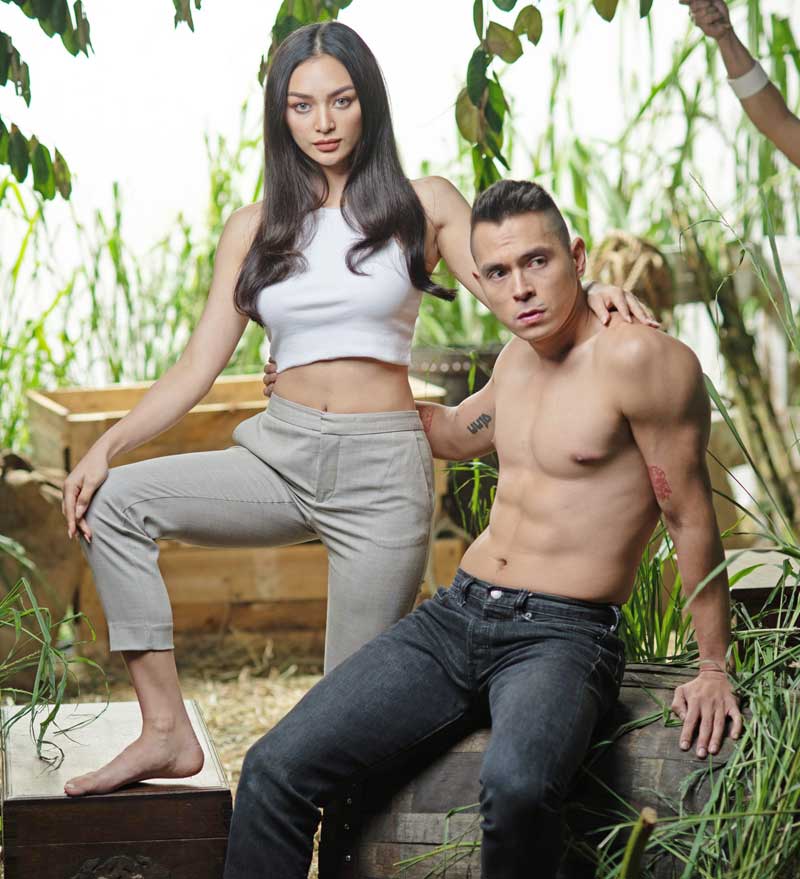 Jake and 2016 Miss International Kylie Verzosa: Only in the 'dating stage' for seven months now. Said Jake, 'I will announce what our relationship is when she's beside me.'
What is sexy to you?
Kylie: Being confident in yourself is sexy.
Jake: Confidence is sexy.
When do you feel sexy?
Kylie: When I feel confident and fully knowing in what I do.
Jake: After a good run.
Sexiest part of your body?
Kylie: My eyes.
Jake: My abs.
Sexiest time of day?
Kylie: Dawn.
Jake: Sunset.
Sexiest part of the house?
Kylie: Kitchen.
Jake: Bedroom.
Sexiest song?
Kylie: Better (by Khalid).
Jake: Better (by Khalid).
Sexiest attire?
Kylie: White shirt.
Jake: Three-piece suit.
Sexiest food?
Kylie: Chocolate.
Jake: Spanish food.
Sexiest animal?
Kylie: Cheetah.
Jake: Snake.
Sexiest perfume?
Kylie: Channel No. 5.
Jake: Dior.
Sexiest book?
Kylie: Eleven Minutes by Paulo Coelho.
Sexiest scene that you have seen in a movie?
Kylie: The one in The Notebook.
Jake: Sharon Stone in Basic Instinct.
Sexiest thing that you have done to yourself?
Kylie: Treat myself to a Spa Day, shopping spree, desserts and chocolates.
(E-mail reactions at rickylophilstar@gmail.com. For more updates, photos and videos, visit www.philstar.com/funfare or follow me on Instagram @therealrickylo.)