The men and women in black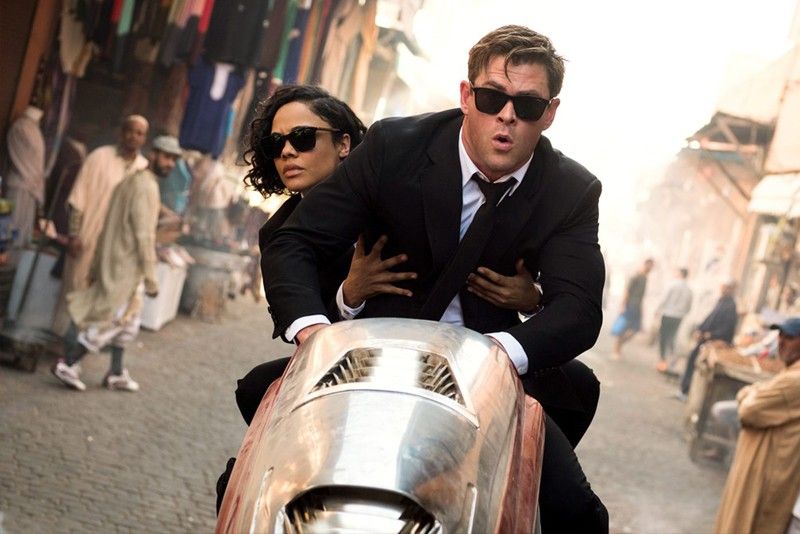 Film review: MIB: International
MANILA, Philippines — It must be a sign of the times, and how Hollywood operates, that coming on the heels of Thor: Ragnarok and Avengers: Endgame, we once again have a film that pairs Chris Hemsworth and Tessa Thompson. This time, the two are in a reboot/spin off emanating from the Men In Black (MIB) film franchise, while original MIB stalwart Will Smith can still be seen on screens this month in the live-action remake of Aladdin. That's one wild version of musical chairs, Hollywood-style.
Directed by F. Gary Gray, who gave us Straight Outta Compton and Fast & Furious 8, MIB: International takes place primarily in the MIB London office, where Agent M (Thompson), a Brooklyn native, has been seconded to by MIB New York Head Agent O (Emma Thompson). Heading the London operation is Agent T (Liam Neeson), and their star Agent is T's protégé, H (Hemsworth).
That's really all you need to know plot-wise, as while the action revolves around the Hive, twin aliens who suddenly appear in Morocco and are out to assassinate a royal from another alien culture, and a new weapon of frightening power — these are all thin devices to wrap around set pieces and the entertaining chemistry that exists between our two major protagonists, H & M.
The back story of how M gets to join MIB is a great way to kick off the film. As a young girl, she'd fall asleep reading Stephen Hawking and actually had an encounter with an alien (nice bit of foreshadowing this). This turns her into an alien culture obsessive; and not happy to be recruited, she seeks ways to infiltrate and enlist. When she succeeds entering the premises, she runs into NY office Head Agent O, one of the more enjoyable set pieces of the film.
The proven dynamic between Hemsworth and Thompson is what keeps this film watchable. And the more than wonderful third wheel is Pawny, voiced by Kumail Nanjiani. Pawny, best described as a moving and talking reptilian chess piece, is the scene-stealer here, and we anticipate his every scene.
If I have reservations about raising both thumbs for this outing, it would center on how the story is relatively weak. The deadpan humor between Smith and Jones in the 1997 original, and the 2002 and 2012 sequels, has been replaced by the cat-and-dog dynamic between Hemsworth and Thompson — but without Nanjiani present, this would have been repetitive after a few scenes.
The film is affable, a lightweight diversion that keeps us glued to our seats, smiling. But it won't make us forget the first films of the franchise.