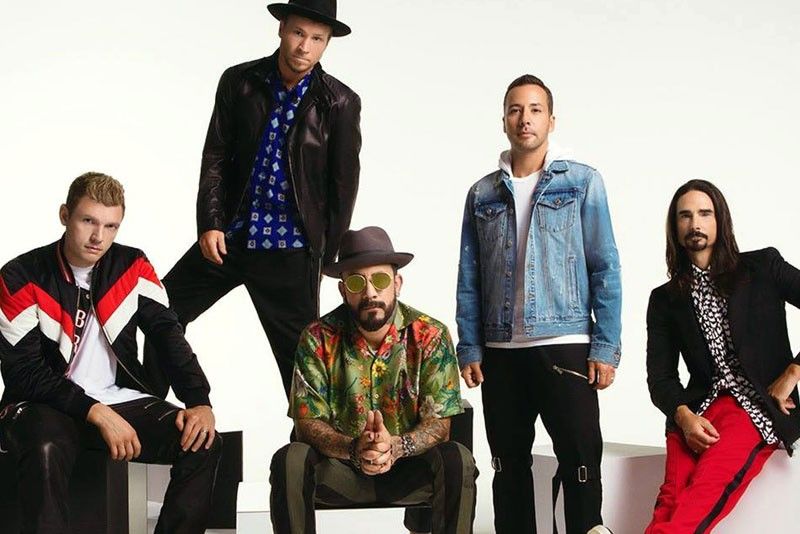 It also helps that despite some upheavals and crises in the past, the Backstreet Boys remains intact with the same founding members
The STAR/File
Ticket prices for Backstreet Boys Manila 2019 concert revealed
MANILA, Philippines — The ticket prices for Backstreet Boys' Manila concert on October 28 at the Mall of Asia Arena have been announced.
Concert promoter MMI Live on Friday revealed that the tickets to be sold for the American boy band's "DNA World Tour" Manila leg will be as follows:
VIP PIT STANDING - Php 16,500
VIP 1 SEATED - Php 15,500
VIP 2 SEATED - Php 14,500
LBA PREMIUM - Php 13,750
LBA REGULAR - Php 13,000
LBB PREMIUM - Php 12,250
LBB REGULAR - Php 11,500
UB PREMIUM - Php 7,650
UB REGULAR - Php 6,650
GEN AD - Php 2,550
Tickets will be available for purchase on the following dates:
April 26 to 27: Fanclub Presale at backstreetboys.com
April 28: Public sale at mmilive.com
The Backstreet Boys will have a concert in Manila on October 28, the American '90s boy band announced on Twitter on March 26.
The group behind hit songs "Get Down," "Backstreet's Back" and "As Long As You Love Me," among others, will be stopping by Manila as part of their "DNA World Tour."
The tour, which highlights the group's new album, "DNA," will exclusively roam around Asia in October, to include countries such as Thailand, Japan, China, Taiwan, Indonesia and Singapore.
Kevin Richardson, Brian Littrell, Howie Dorough, AJ McLean and Nick Carter last performed in Manila in May 2015.