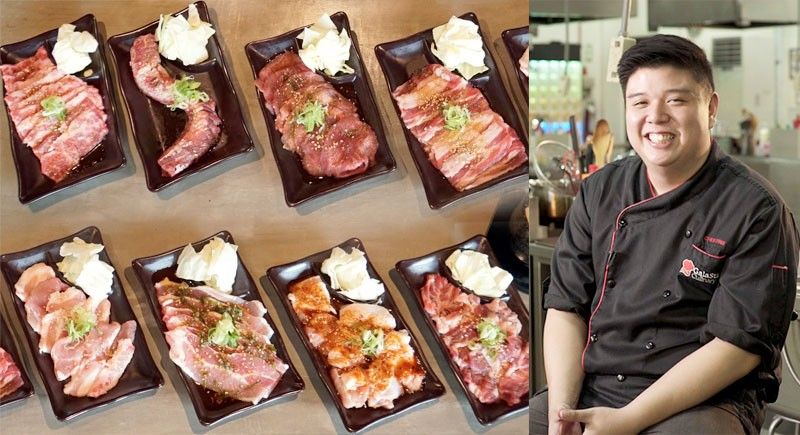 Ichika Japanese Grill, a new restaurant that Chef Ernest co-owns with partners, offers unlimited Yakiniku
Out to lunch with Chef Ernest
Pres. Du30, Pope Francis, MJ among Chef Ernest Gala's dream dinner guests
MANILA, Philippines — Chef Ernest Reynoso Gala has served, cooked for and shared food knowledge with people from different backgrounds and persuasions through his restaurants and GalaStars Culinary, the school he runs with his mom, the culinary icon Sylvia Reynoso Gala.
When STAR asked Chef Ernest to name a celebrity or high-profile person he'd like to be a guest on his dinner table, he cited President Rodrigo Duterte, Pope Francis and his sports heroes, Michael Jordan and Kobe Bryant.
"I'm a big sports fan, so I'd probably want to meet Michael Jordan or Kobe Bryant," he said in an interview over Yakiniku or Japanese grilled meat at his newest restaurant Ichika at Pioneer Center in Pasig. "The Pope would be interesting. A good friend of ours, si Chef Jessie (Sincioco), had that privilege. I was so proud of her, I was so happy for her. She's really one of those most humble chefs out there. So she's truly deserving of that (serving Pope Francis during the Papal Visit to the Philippines in 2015)."
For the tough-talking former mayor of Davao City, what meals would Chef Ernest whip up?
"Whatever he likes because I have a feeling he's a very down-to-earth person, so probably something... nothing fancy, very Pinoy, and I will make it simple, something that he would appreciate," he said of Pres. Duterte.
He continued, "I'll also try to know what local delicacy they have in Davao and I'll try to do my best to replicate it or make it something na my version also, why not?"
Can Chef Ernest also do something with the Durian, Davao City's signature fruit?
"It's an interesting ingredient but it's an ingredient that you can work with. It is! I think with marination, it's got a funky smell but it has a nice flavor, a nice sweetness to it, so you can. In baking naman, as long as the taste is balanced, I think it is okay."
Meanwhile, Chef Ernest just opened Ichika Japanese Grill late last year with partners. It has since become a go-to place for those who love dining and bonding while grilling unli-meat. Ichika can be found at Pioneer Center, 8006 Pioneer Street, Pasig City.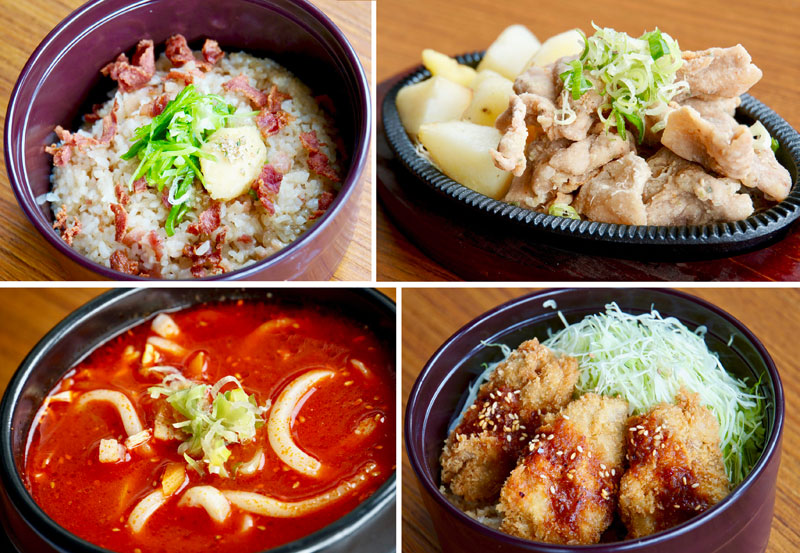 Some of the dishes served at Ichika are (clockwise, top left) Bacon Kamameshi, Herbed Chicken, Chicken Katsudon and Chige Udon
All in all, Chef Ernest co-owns four establishments — the others are two branches (Pasig and Makati) of Takashi Japanese Cuisine and the barcade (bar plus arcade) Versus in BGC. Their Japanese food consultant is Chef Takashi Kawasaki whom he met while reviewing a restaurant for a magazine some five years ago. He had always loved Japanese food, but he found Chef Takashi's cooking "exceptional" so he introduced himself to the Japanese chef, who was only 26 years old at that time much to his surprise. That started the friendship, followed by a working partnership.
Asked why he and his partners decided to put up Takashi and then Ichika, Chef Ernest said, "Believe it or not, in the ranking of Filipino tastes, Japanese is always second after Filipino or third after Chinese, so you can't go wrong with the Japanese."
He also said that "grills seem to be the in thing because people like the interaction, they like cooking their food, they like the thought of them becoming chefs or cooks, and then you get to share and the price is reasonable (P499 per person at Ichika)."
Through these restos and other culinary endeavors, Chef Ernest has obviously stepped out of his famous mom's shadow. "I never felt pressured because she always said you are your own person. Don't be like me. Don't try to emulate me. If you can be better, I'll be so proud of you pa. But don't be pressured by your name or whatever," he recalled his mom's favorite words. "She's very motherly even when she teaches. The way she is in class is the way she is in person. She's a teacher. Like when we go to this place, she will know about the history. She will break it down, she will always be explaining that food or this food. In terms of growing up with her, I would always be beside her. As young as three years old, I would be right beside her in class. It's something that I really love."
Lessons from his mom that he has taken to heart include "Be yourself," "When you're teaching, share secrets" and "Just try and do your best and God will take care of the rest."
"And when you're near the stove, don't forget the potholder," he added with a laugh.
He finds a different kind of fulfillment sharing such lessons, coupled with his own experiences, through his school. However, Chef Ernest, who has been a product endorser, frequent TV guest and food reviewer for print publications, including this paper, has not gone down the path other chefs are taking in the age of social media. He has no plans yet of joining the vlogging trend and has so far shunned social media. "I really wish but my only problem is I don't have the time to go, unlike before, I really love going to a restaurant and just trying the food without them knowing, just incognito."
Still, when asked if he's open to do a TV show despite his busy schedule, Chef Ernest said, "Why not? I like imparting and sharing the knowledge."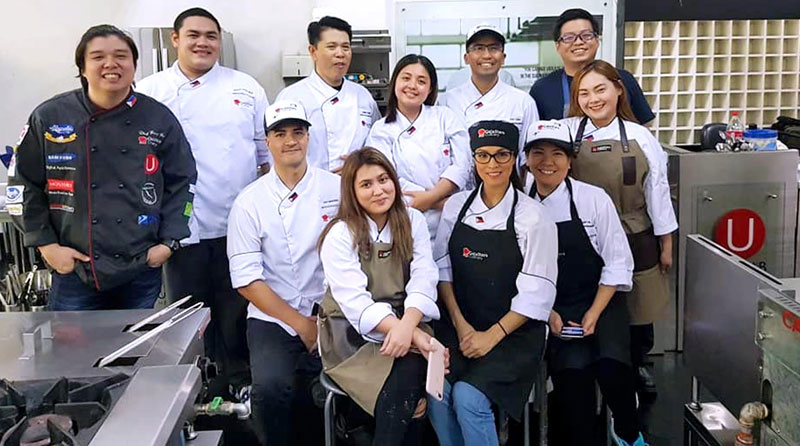 Chef Ernest (leftmost) with his students, including celebrity couple Troy Montero and Aubrey Miles, at GalaStars Culinary, a school he runs with his mom, the culinary icon Sylvia Reynoso Gala
If ever, he prefers a culinary trip over a reality cooking contest. "I'd rather travel and go around and try the different food. I know it's been done but I don't think it's been thoroughly done."
Clearly, a chef has the advantage over a celebrity who is signed up to host this kind of show. "When you describe food, 'oh it tastes good.' But what made it taste good, what are the ingredients, what are the smells and scents in that moment? Chefs can describe them easily because one, they are in the kitchen, they use these products, and we're naturally curious so we actually can ask the right questions, so I'd love to do a travel show."
On the other hand, he doesn't see himself as a judge in a cooking contest because it would make him feel bad. "I want everyone to win. I'm no Simon Cowell, you know, I don't want to be the bearer of the bad news, I want everyone happy. Although I like to say, if there's anything to improve on, I'd like to voice it out so that the person can be a better chef. I also learn things from them like a new technique, a delicious combination. I love those Netflix (cooking-themed) shows. I love the treatment of the camera and the lighting."
Speaking of travel, Chef Ernest enumerated his favorite overseas destinations for a food trip.
"If in Asia, I really like Singaporean food, the chili crabs, the dried noodles, seafood is excellent. What's nice with Singapore is they combine local talent with foreign chefs. In Thailand, I love Pad Thai, I can eat that every single day. Their coconut cream is so sweet. When they say Thai, it's a mixture of salty, spicy, sweet, sour, very interesting for me.
"In Europe, I love Italian food. I gained like 20 pounds. Before and after pictures were sad (laughs). I love risotto, the breads, the cheeses, the use of (certain) ingredients only but they make it family-size servings always. French food, I love the pastries. I went to the top pastry school, Ecole Lenotre Pattiserie and I learned so much about the art of pastry-making. It's not only a science but art talaga.
"In Austria, I love the sausages, the schnitzels and the giant pretzels! Switzerland, love the desserts also. It's so beautiful because the country is clean, can't say anything. I was only in Amsterdam for a day but the cold cuts were excellent."
Chef Ernest believes you can know a place thoroughly and intimately through the cuisine. That's why whenever he travels, he doesn't only sample the local food, but will also study how to (re)create them. "I'll take a few days to take culinary classes because I enjoy it. I'm a very curious person, I'm like a sponge, I like to learn."