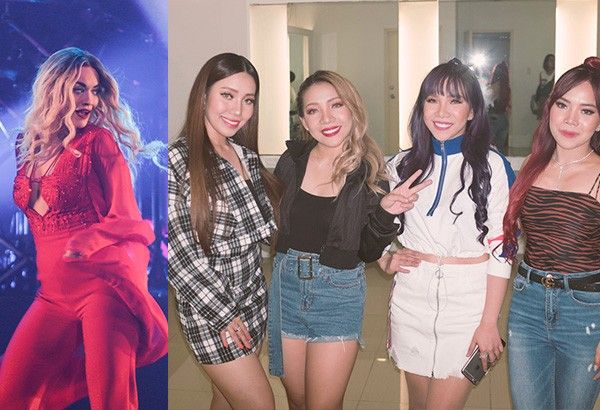 British star Rita Ora during her recent Manila concert (left). Filipino singing sensation 4th Impact at the backstage of Rita Ora's concert (right).
Philstar.com/Erwin Cagadas Jr., Seph Asong
Rita Ora reunites with 4th Impact at Manila concert
Seph Asong
(Philstar.com) - March 12, 2019 - 7:28pm
MANILA, Philippines — Rita Ora's hit single "Let You Love Me" released last year has made her the first female British artist to have 13 top 10s in a row, beating 30-year chart-topping records previously held by no less than Shirley Bassey and Petula Clark — a rare feat considered by many in the music industry.
Known also for her unconventional and quirky, yet always on-point sense of style, unequivocal and electrifying vocals amplified ten folds every time she dazzles the stage with her energetic and sensational performance—the world came to know her as Rita Ora, and she is pop music's latest conquistador.
But before we get into details on what went down during her Manila concert, here is a quick recap of how Rita got started in music and why for a time we didn't hear much about her.
The rise and halt of Rita Ora
At the age of 18, the then rising Kosovo-native artist signed under Jay Z's Roc Nation alongside other now famous artists. Joining Jay Z's label has proven not only strategic but a good way for her to learn the ins and outs of the industry at a very young age.
At 21, Ora released her namesake debut album in the UK in 2012, garnering a massive hype and following around her music. Her album was an instant hit, going platinum and spawning three no. 1 singles in the UK Charts.
Being unstoppable that she is, Ora propelled to international stardom after releasing another no. 1 single, "I Will Never Let You Down," produced by her then-boyfriend Calvin Harris back in 2014. After their relationship came to an end, Harris pulled his songs from Ora's album, essentially, leaving her unable to perform her number one single. This musical blockade did more harm than expected as Ora failed to release any music in the US, as well as getting into a legal fight with her former label Roc Nation.
Feeling powerless at the time as her music had to take a backseat, Ora turned her focus elsewhere but still within the media industry. She eventually landed a hosting gig in "America's Next Top Model," became a celebrity judge in "The Voice UK," and was part of all three "Fifty Shades" movies. All of these have proven one thing: determination is engraved in her DNA and you cannot stop a woman from fighting to keep her name out there.
Ora's most awaited comeback
With the impending release of her second studio album, "Phoenix," slated for a November release this year via Atlantic Records, Ora is back to making music and touring the world.
As part of her Asia tour, she held for the first time ever, a one-night only concert at New Frontier Theater (formerly Kia Theater) last March 10.
Now with more aces under her belt, and a smash hit "Your Song," written by Ed Sheeran and Steve Mac, Ora is ready to take over the music scene again with chart-topping tracks that have accumulated over one billion Spotify streams worldwide — proving her brilliance as a multi-genre artist.
And her performance during her Manila concert has officially sealed the deal: Rita Ora has won the hearts of her Filipino fans.
Opening the stage with much enthusiasm was "X Factor UK" girl group 4th Impact, one of the season's most watched auditions by a girl group back in 2015. So, in a way, the concert also served as a reunion for Ora and the sisters, who recalled how Ora was very hands-on during their stint in the reality TV show.
Consisting of Almira, Irene, Mylene and Celina Cercado, 4th Impact showed vocal prowess as they performed renditions of songs like "Never Enough" from "The Greatest Show Man," Queen's "Bohemian Rhapsody," and of course, their popular audition piece, "Bang Bang," that has catapulted the group to an overnight sensation.
In a quick interview backstage with Philstar.com, 4th Impact had this to say: "We were quite nervous with tonight's performance, I mean, she was one of the judges back in 'X Factor UK,' so it felt like auditioning in front of her all over again. But overall, we're just very happy to be here."
The hotter-than-ever singer-songwriter, 28, captivated and mesmerized the crowd with her red dress when she hit the stage; making the night even more magical.
She went on to perform some of her biggest hits to date, but it was "For You" from the blockbuster hit "Fifty Shades Freed" that got the audience on their feet, dancing with shrills that complemented Ora's vocals and energetic melody.
Another highlight of the night was her performance of "Girls," a collaboration between Charli XCX, Grammy winner Cardi B, and Bebe Rexha. Every time she performed her electro-pop-induced songs, the crowd could not help but move closer to the stage, as if the beat was pulling everyone closer.
Ora's live performance gave a unique experience that could be summed up into two words: invigorating and addicting.