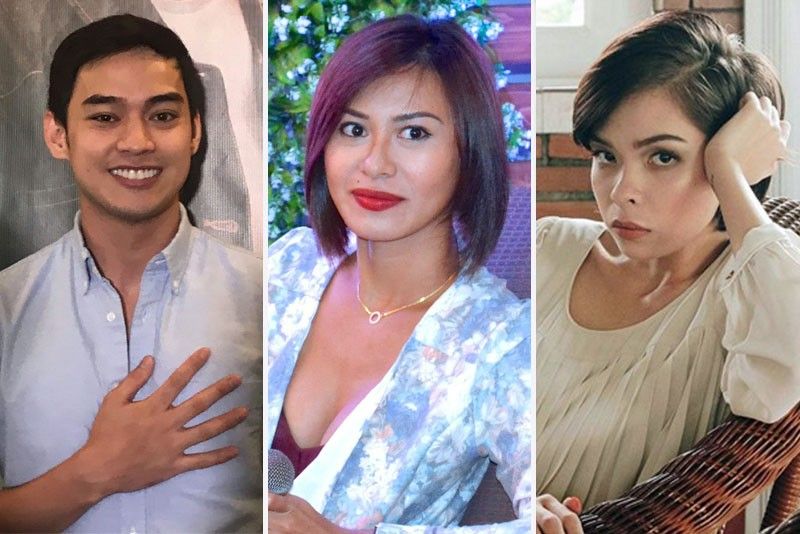 From left: Vance Larena, Dionne Monsanto and Barbara Ruaro star in the seven-episode online series produced by Smart Communications with EricMedia and Bent & Buzz
Learn about online dating from the FindHer series
FUNFARE
-
Ricky Lo
(The Philippine Star) - February 21, 2019 - 12:00am
Curtain-raisers:
• Did you know that a theater actor didn't know how to "pump" during the shoot of a love scene with a semi-retired sexy actress? Luckily, the production assistant who, out of camera range, helped him by holding his legs, pushing him forward and pulling him backward to simulate, well, "excitement." Not sure if the actor has learned how to do it by himself. What Funfare knows is that he has grown swell-headed, has raised his asking price to a few millions and has developed a stiff neck that prevents him from looking back where he came from.
• A chinky-eyed newcomer hasn't really made even a small name yet but he has started boasting about "loving my craft" and "acting for art's sake." When he does, a well-awarded young actor under the same talent agency cringe in embarrassment. The chinky-eyed newcomer swaggers a bit because he is said to be the boss' apple of the eye.
• This early, the Eat, Bulaga! guys are already preparing for their Lenten presentation by having a palabunutan (raffle) where to have the shoot. Sen. Tito Sotto and cast go to Sagada, Vic Sotto and cast to Japan and Joey and cast to Hong Kong. As a gift from TAPE producer Tony "Mr. T" Tuviera, the Dabarkads (not all) will take a Holy Week breather in Holy Land. Now, could it be true that Israel will have its own version of Bulaga (with TAPE as partner)?
* * *
Way back when, people get to know each other and end up lovers by being phone pals. Or through blind-dating.
With the advent and advances of social media, the style of meeting-and-matching has veen raised to a high level. Thanks to texting, anybody can, to quote a new online series, "find her/him" in the wink of an eye. But there are little risks involved, such as mistaken identity or some such unwelcome intrusion.
I was just done watching FindHer, a seven-episode online series produced by Smart Communications with EpicMedia and Bent & Buzz about modern dating ­— that is, finding love in the time of smartphones and apps. Each episode lasts for only 10 minutes and ends on a question so it holds you captive, eager to find not "her" but to what happens to the main characters in the final episode. Oh no, I won't tell you what happens (no spoiler alert, please!) and you just have tio "find" out for yourself.
Directed by critically-acclaimed filmmaker Victor Villanueva (Patay na si Hesus, the film that kept me and my friends in stitches from beginning to end) from a script by Carl Chavez and Rod Marmol, FindHer stars relative newcomers Barbara Ruaro (Dog Days, Kung Paano Siya Nawala, The Girlfriend Experience, etc.) and Vance Larena (theater actor who stars in the indie movie Bakwit Boys), and PBB 2007 graduate Dionne Monsanto who made a mark with her feisty character Lucy (Vivian Velez's replacement as main antagonist in Tubig at Langis, among other TV series also including Lobo, Lovers in Paris with Piolo Pascual and KC Concepcion, and Pasion de Amor).
In FindHer, Barbara and Dionne play best friends Lia and Aika, who consider themselves "crusaders of love" in a mission to turn the tables on serial daters — until they stumble upon Vance's character Gabe on a dating app.
Though playing rather contrasting personalities in the series, Barbara and Dionne are believable as quirky best friends who are the yin to the yang of each other. On the other hand, Vance suits the boy-next-door who falls deeper in love the more he chats with his online match.
Now available for streaming on Smart's YouTube channel, each episode runs roughly only 10 minutes, and delivers compelling cliffhangers that make for a perfect binge-watching session.
Of course, another reason to watch the series are the kilig and hugot lines that are sure to strike a chord in (especially millennial) viewers whether they are single, in-love, or in a complicated set-up.
"The online series format definitely challenged us to make each episode interesting to convince viewers to move forward and follow the story until the end. So we made sure we got that," revealed Villanueva during the exclusive premiere for the media.
It's no wonder then that within one day of its break last Feb. 9, FindHer's first five episodes earned one million views. And by the time Smart released the final two episodes on Valentine's Day, the series' pilot had breached 2.6 million views. It should be gaining more and more followers by now.
With its success online, FindHer found its way on TV in no time, as Cignal TV picked it up for airing on its lifestyle and entertainment channel Colours last weekend (Feb. 16) as a one-hour special.
Catch the hit series on Smart's official YouTube channel now at www.youtube.com/SmartCorporate. You can also chime in the online discussions about the series using the hashtags #IsLoveOnline, #'FindHer'Series and #SmartVideoEveryDay.
(E-mail reactions at rickylophilstar@gmail.com. For more updates, photos and videos, visit www.philstar.com/funfare or follow me on Instagram @therealrickylo.)