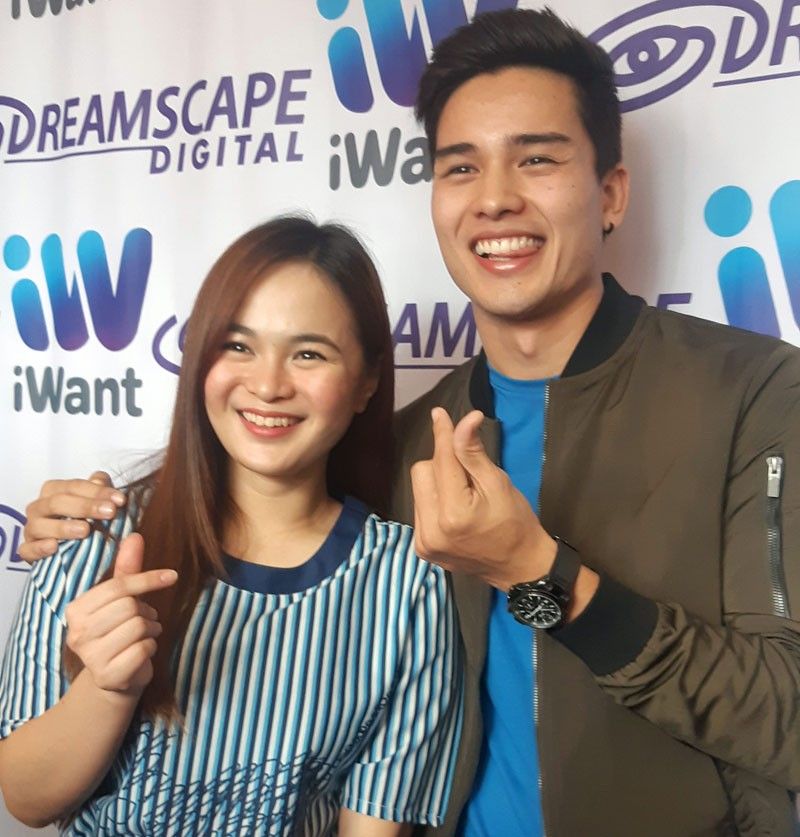 It's the first time for Marco Gumabao and Krystal Reyes to work together. Marco recalls, 'The first time we met, we immediately had a look test. It was fun! Both of us were shy around each other at first. When we started taping, of course, we became comfortable with each other.'
Apple of My Eye veers away from 'risqué' digital film mold
MANILA, Philippines — The digital arm of ABS-CBN production unit Dreamscape Productions experiments and invests in a new team-up in Marco Gumabao and Krystal Reyes for its iWant film Apple of My Eye. It's now streaming for the Valentine's season.
Marco, 24, is a former Star Magic artist and now signed up with Viva Entertainment, while Krystal, 22, used to be a child star at GMA 7.
Actress Bela Padilla is credited as the creator of the digital film, while James Robin Mayo (Kuya Wes, Kiko Boksingero, etc.) is the director.
It's the first time for Marco and Krystal to work together. Marco recalled, "The first time we met, we immediately had a look test. It was fun! Both of us were shy around each other at first. When we started taping, of course, we became comfortable with each other."
For Krystal, it was Bela who helped make it possible for her to be cast as the female lead.
"It so happened that they were looking for a new face to star in the film and they learned that I am a freelance artist. (They knew about me) because I worked with Bela before in GMA and she recommended me (to Dreamscape Digital)," said Krystal, who hopes to score regular projects and find a manager after Apple of My Eye.
The baby-faced actress admitted to making a big adjustment, transitioning from a kiddie star to a leading lady. "I'm used to doing bagets roles and I was always the youngest on the set. So, I found it hard to adjust to playing a grown-up role who has a loveteam partner," said Krystal.
"When people see me in love teams, they ask, why are you in a love team when you're still a kid? But I'm already 22 po (laughs). I guess they were also stuck with that image of me."
In the film, Krystal plays Apple, a flower shop owner and one of the least tech-savvy persons in the planet who can only be reached through a landline phone. She meets the uber tech-competent Michael who happens to be a digital app creator. How they will adjust to each other when they're so different from one another is the gist of their story.
Krystal connects with her character because she's not a techie person. "On social media, I'm not active. I just use my phone to watch Korean dramas and movies."
Marco, on the other hand, said that "with my character Michael, we're not totally different in personality. I may not be an app developer but like Michael, I'm also big on social media use."
And like Michael, he added, "I like simple girls, hindi mga maarte, na sasama kahit saan. For example, if you want to eat street food, she's game for street food... That's why I love this story because it really happens. A rich person and someone from the middle class, they fall in love with each other. People might think that this is not the right kind of love because they come from different worlds but I think this is the kind of love na mas nakakakilig and more real."
For now, Marco has no real-life "apple of my eye."
"As of now, the apple of my eye is my career. As much as possible, I want to take care of it. I don't want to do anything that will be bad for my career or will ruin it. Focus on my work, do every project well and one project at a time. My life at the moment is workout, house, work," admitted the actor. "All I can say is I'm more focused now and more inspired to do good because I'm not getting any younger. Maybe when I was starting out in showbiz, I was still a teenager, and it did not sink in yet — this idea that 'hoy, showbiz is your job.' It took me quite some time to be mature in thinking because before, I'd always go out at night even if I had work the next day. But now, I have realized that what we're doing is no joke and that it's a profession already."
Krystal, for her part, never had a boyfriend since birth. She thinks though that Marco can be crush-worthy because "he's a good guy." "I also noticed that during the kilig scenes, that when he smiles, his eyes also light up."
Meanwhile, Bela said that Apple of My Eye is a departure from the usual films available via digital and streaming platforms like iWant, Netflix, etc. Dreamscape Digital is also behind such iWant films as the risqué older-woman-younger-man romance Glorious and the "controversial" Project Feb. 14, which now comes with an advisory and supplementary video to address concerns over the sensitivity of its content. iWant films are not rated because they are not covered by the Movie and Television Review and Classification Board (MTRCB). The ABS-CBN streaming service can be accessed via iwant.ph.
Bela said, "You'd be surprised actually that our story is totally different from that (daring content), because we already expected that everything that comes out in digital is more risqué, because you can have nudity and profanity, everything can be done in digital. So, with our film, we made sure it's different. This is one of the lightest and most easy films that you can watch."