Dua Lipa gets into the movies with Alita
January 11, 2019 | 12:00am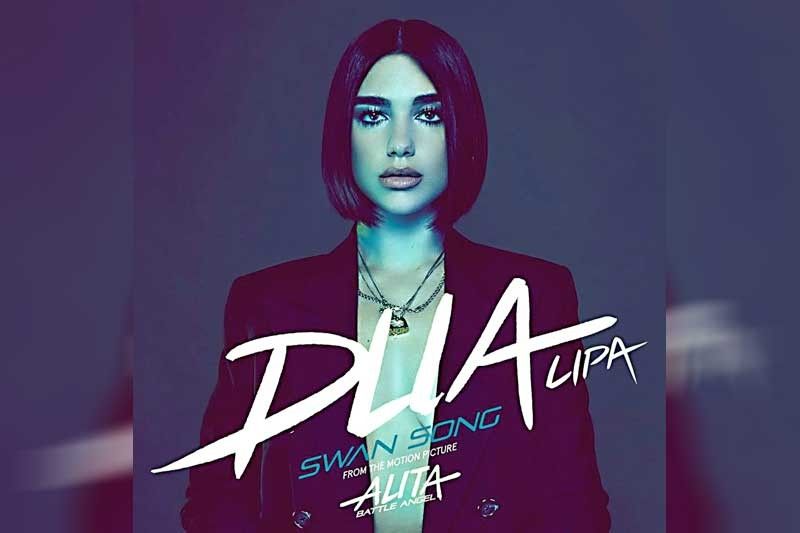 Everything right is happening to the beautiful, London-born and Kosovo-bred pop artist Dua Lipa. She is the Best Breakthrough Act winner and the Best British Female Solo Artist winner in last year's Brit Awards. Next we heard that she is a Grammy nominee twice over this year for Best New Artist and Best Dance Recording for Electricity, her collaboration with Silk City. And for her latest coup, she has been tapped to do the single song for the Alita: Battle Angel movie.
One of the most awaited film adaptations this past decade, Alita: Battle Angel is based on the much-loved manga series GUNNM by Yukito Kishiro. It tells the story of what is called a "core" who wakes up in a different, unrecognizable world, is given the body of a young girl and later discovers that she has unique and extremely remarkable fighting abilities. One of those could be her extraordinary skill at the sport that Alita introduced, Motorball or something as being able to save the world.
Set for a Feb. 6 release, Alita: Battle Angel is already being touted as one huge cyberpunk action thriller with a heart. Playing the lead role is Rosa Salazar, who was last seen in Bird Box. Also in the powerhouse cast are Christoph Waltz, Jennifer Connelly, Mahershala Ali, Ed Skrein, Jackie Earle Haley and Keean Johnson. Director is Robert Rodriguez of El Mariachi and Sin City while the producers are James Cameron and Jon Landau.
Cameron and Landau were the same two guys behind the two biggest grossing films of all time, Avatar and Titanic. This should give you an idea of what Alita: Battle Angel could be like. This also means that the movie could be poised to take the same route to the top ranks of the box-office. And for Dua Lipa to be deemed worthy of being part of the project means that the 23-year-old former model has indeed arrived. Oh, it probably also helped that Dua Lipa and Alita have the same hairstyle.
Dua Lipa's song for Alita: Battle Angel is Swan Song. It was written by Justin Tranter, Kennedi Lykken, Mattias Larsson, Robin Fredriksson, Tom Holkenborg and Dua Lipa herself. While this is not Dua Lipa's first time in a movie soundtrack, her collab with Whethan, titled High is in the Fifty Shades Freed soundtrack, writing and performing the theme for an event film like Alita: Battle Angel is of an entirely new and very high level.
But then Dua Lipa is at that point in her career when she seems unable to do any wrong. Think one hit single after another, all from her debut album, Be The One, IDGAF, New Rules, Hotter Than Hell; then she seems to be making all the right collaborations, One Kiss with Calvin Harris, Electricity with Silk City, No Lie with Sean Paul, Scared To be Lonely with Martin Garrix, If Only with Andrea Bocelli and even a tune with the K-Pop girl group, Kiss And Make-Up with BLACKPINK.
To be fair to Dua Lipa, I do not think her present success is all due to luck and clever maneuvering. While no stunning vocalist, I see the same sexy bravura in her style that is similar to what the likes of the big pop divas like Cher and Debby Harry had. Oh, I think Lady Gaga has it, too.
And here now are the Top 40 titles in the first local hit tabulation of the year as per the Philippine Music Charts on Facebook:
Buwan by Juan Carlos; Kahit Ayaw Mo Na by This Band; Thank U Next by Ariana Grande; Sa Ngalan Ng Pag-ibig by December Avenue; Taki Taki by DJ Snake ft. Selena Gomez, Ozuna & Cardi B; Kathang Isip by Ben&Ben; Girls Like You by Maroon 5 ft. Cardi B; Kung Di Rin Lang Ikaw by December Avenue ft. Moira dela Torre; Happier by Marshmello ft. Bastille; Love Someone by Lukas Graham.
2002 by Anne-Marie; Malibu Nights by LANY; Maybe The Night by Ben&Ben; Sunflower by Post Malone & Swae Lee; Mundo by IV of Spades; SOLO by JENNIE from BLACKPINK; Sana by I Belong To The Zoo; Switch It Up by Lavado; Kahit Di Mo Alam by December Avenue; Without Me by Halsey.
You Are The Reason by Calum Scott; Bulong by December Avenue; Baam by MOMOLAND; Bboom Bboom by MOMOLAND; All I Want For Christmas Is You by Mariah Carey; DDU-DU DDU-DU by BLACKPINK; imagine by Ariana Grande; Beautiful by Bazzi; Thru These Tears by LANY; Perfect by Ed Sheeran.
Kiss and Make Up by Dua Lipa & BLACKPINK; Dura by Daddy Yankee; Tagpuan by Moira dela Torre; I Like Me Better by Lauv; MILLIONS by WINNER; Rewrite The Stars by James Arthur & Anne-Marie; Eastside by benny blanco, Halsey & Khalid; I Need You More Today by Caleb Santos; and Santa Tell Me by Ariana Grande.