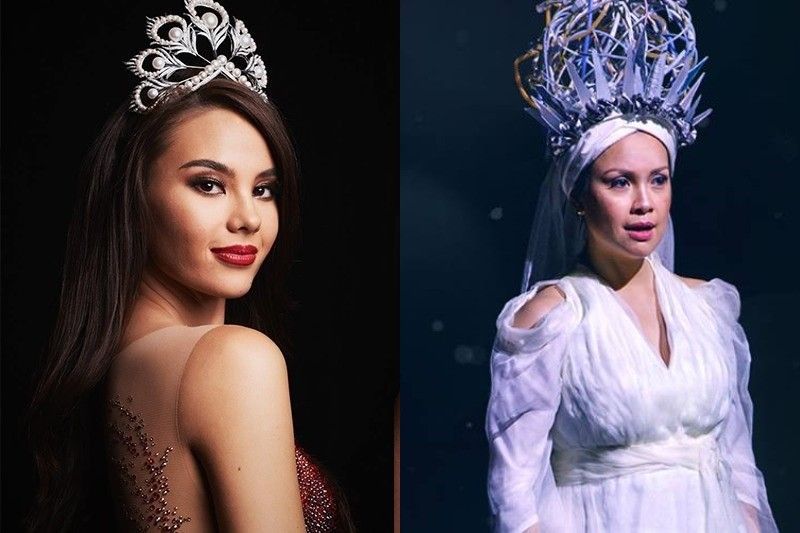 Composite image shows Catriona Gray wearing her crown as the 67th Miss Universe and Tony Award winner Lea Salonga portraying her role as Erzulie in "Once on This Island" on Broadway.
Miss Universe Organization/Released; Lea Salonga/Facebook
Catriona says she wants to collaborate with Lea Salonga
MANILA, Philippines — Miss Universe 2018 Catriona Gray on Thursday revealed that she wants to collaborate with internationally-acclaimed Filipino singer and actress Lea Salonga someday.
Catriona found it difficult to answer when she was asked who she wants to work with for a music project one day as she said there were many "amazing" people she could think of. However, she named one of her favorites, Lea.
"I don't know what kind of collaboration it would be but I would love to work with Lea Salonga because I've been a fan of her every since and I just look up to her," Catriona said in a Skype interview with TV 5.
Catriona said she has so much respect for Lea and how she approaches her craft.
"She's amazingly talented… If I could just learn from her," she added.
During her pageant journey, Catriona revealed her long-time passion for music.
Catriona, who's also a singer and fashion model, last month released her single "We're in This Together" in collaboration with non-profit organization Young Focus International. The single made it to Spotify's "Viral 50 Philippines" or the list of most viral tracks in the country.
READ: Catriona Gray's debut single enters Spotify 'Viral 50 Philippines' list
Catriona's first single was released last November 23 on digital platforms.
She also previously earned a degree of Music Theory from the Berklee College of Music in Boston, Massachusetts.