Hear them roar: 5 things to know about 'Jurassic World: Fallen Kingdom'
(Philstar.com) - June 4, 2018 - 5:16pm
MANILA, Philippines — The dinosaurs are back as "Jurassic World: Fallen Kingdom" will be shown in theaters nationwide starting June 6.
In its fifth installment, Owen (Chris Pratt) and Claire (Bryce Dallas Howard) will try to rescue the remaining dinosaurs from extinction at the destroyed Jurassic World theme park and luxury resort.
Owen is driven to find Blue, his lead raptor who is still missing in the wild. Their expedition uncovers a conspiracy that could return the entire planet to a perilous order not seen since prehistoric times.
Directed by J.A. Bayona ("The Impossible"), the film is written by Colin Trevorrow with Derek Connolly as co-writer. Producers Frank Marshall and Pat Crowley once again partner with Steven Spielberg and Trevorrow in leading the team of filmmakers for this new installment. Belén Atienza joins the team as producer.
Here are five things you need to know about "Jurassic World: Fallen Kingdom":
After guarding the galaxy as Star Lord, Chris Pratt returned on Earth to reprises his iconic raptor master role in the sequel to the 2015 global megahit "Jurassic World." Apart from his iconic role as Peter Quill in the Marvel film and Owen in "Jurassic World," Chris is also one of the two passengers who woke up 90 years early with Jennifer Lawrence in the movie "Passengers."
Coming-off a Screen Actors Guild Award nomination for Outstanding Performance by a Female Actor in a Television Movie or Limited Series for Netflix's "Black Mirror," Bryce Dallas Howard returns to the role of Claire Dearing in this epic adventure film. Bryce is the daughter of Academy Award best director Ron Howard.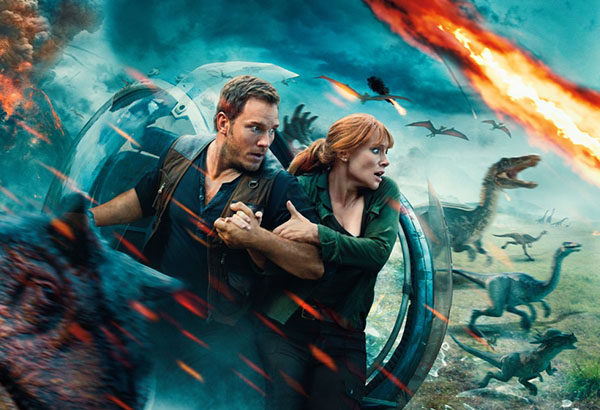 Chris Pratt and Bryce Dallas Howard. United International Pictures/Released
Expect more dinosaurs in this new movie than all past Jurassic movies combined, that was the promise made by Fallen Kingdom filmmakers in a new featurette released by Universal Pictures. With four past movies in the past, it looks like there are huge numbers of dinosaurs here in the new film.
The Philippine screening of the "Fallen Kingdom" is 16 days earlier than most territories around the world, including North America. This only demonstrates that the Philippines is a highly regarded market by Hollywood studios. It is also a way of giving back to the Filipinos by Universal Pictures as "Jurassic World" in 2015 is one of the biggest-grossing films of all-time in Philippine history.
If you want to experience being with the dinosaurs, get up and go to SM City North Edsa The Block Atrium for its "Jurassic World: Fallen Kingdom" interactive exhibit. The exhibit features dinosaur displays and the nest of Owen's lead raptor Blue. The Jurassic World IQ of the guests will also be put into test through dino games and quizzes, and top scorers can receive exclusive "Jurassic World" prizes. — Jan Milo Severo, video from YouTube/Columbia Pictures Phils.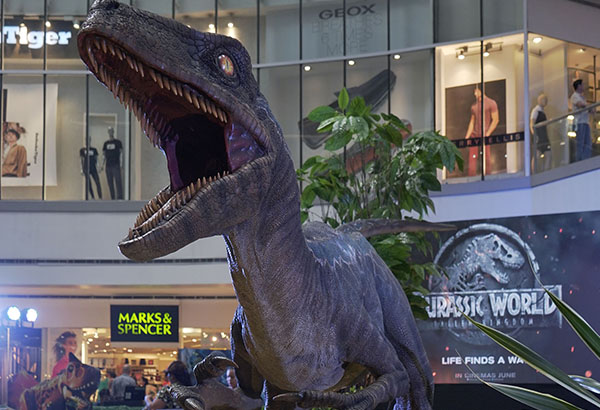 "Jurassic World: Fallen Kingdom" interactive exhibit. SM Cinema/Released