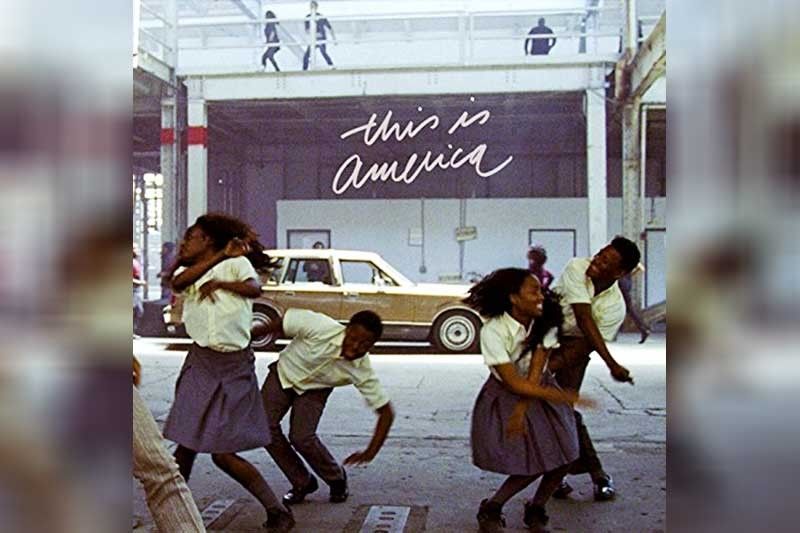 Childish Gambino out for No. 1 with This Is America
Hip-hop star Post Malone may dominate the hit charts nowadays. He has a No. 1 selling album titled beerbongs & bentleys and he is in nine songs in the Top 20 of the Hot 100 chart. But as of this writing, it has become a fact that he will not attain the dream position of having both a No. 1 album and single at the same time now.
Drake occupies the slot with his single Nice For What. He was also the No. 1 seller before that for his phenomenal God's Plan. He should be ready to relinquish the crown anytime soon. Well he should be, as there is already somebody waiting in the wings, dead-set to take over. It is not Post Malone. It is instead rapper Childish Gambino with what will be his first No. 1 seller ever, This Is America.
The Grammy Award-winning Gambino performs This Is America as a commentary on the place of the black artist in American society. It is dark and violent guaranteed to pique America's conscience. It shows Gambino astride two parallel paths. One is the black man constantly faced with killings around him. The other one is the black artist who is expected to keep people entertained despite the chaos around him. So unable to do right he just guns down a whole church choir while the dancing goes on and children record what is happening around them on their phones. This is heavy stuff and is expected to be a No. 1 seller.
Now music artist, singer, songwriter, rapper, producer and video director Childish Gambino is only one part of the package. There is also the extremely talented actor, writer, comedian, producer and director known as Donald Glover. I do not know why Glover decided to separate his film and music personas. Doesn't this situation make him schizoid? But the great thing is, he is very successful in both.
As his real name Donald Glover, starred in the series Community and some films. He created, wrote, directed and acted in the FX series Atlanta. He won Emmy Awards for Outstanding Performance as Lead Actor and Outstanding Directing and Golden Globes For Best Television Series Musical or Comedy and Best Actor in a Television Series Musical or Comedy for the first season of Atlanta. The second season is due to launch soon and Glover's work is again getting very strong buzz.
And that is not all there is in his motion picture compartment nowadays. He has an even bigger ace that will insure his popularity for the ages. Glover is in the cast of the much-anticipated Solo: A Star Wars Story movie. That means he is in a Star Wars picture. You all know what happens to actors who get cast in as gigantic a franchise, they are assured of a massive fan following forever and ever. Glover is playing the role of Han Solo's friend Lando Calrissian, the owner of the Millenium Falcon which he lost to Solo in a gambling game. Calrissian is the first black character in Star Wars.
Want more? This guy Glover is really on a roll. He is also set to play Simba in the remake of The Lion King.
And now here are the top selling and most streamed singles of the week as per Billboard's Hot 100 listing: Nice For What by Drake; Psycho by Post Malone feat. Ty Dolla $ign; God's Plan also by Drake; Meant To Be by Bebe Rexha & Florida Georgia Line; The Middle by Zedd, Maren Morris & Grey; Never Be The Same by Camila Cabello; Better Now by Post Malone; Rockstar by Post Malone feat. 21 Savage; Look Alive by BlocBoy JB feat. Drake; No Tears Left To Cry by Ariana Grande.
Paranoid by Post Malone; Perfect by Ed Sheeran; Freaky Friday by Lil Dicky feat. Chris Brown; Rich & Sad by Post Malone; Spoil My Night by Post Malone feat. Swae Lee; Ball For Me by Post Malone feat. Nicki Minaj; Stay by Post Malone; Walk It Talk It by Migos feat. Drake; Mine by Bazzi; and Some Bitches by Post Malone feat. G-Eazy & YG.
The Top 20 albums are: beerbongs & bentleys by Post Malone; Graffiti U by Keith Urban; KOD by J. Cole; Invasion Of Privacy by Cardi B; The Greatest Showman, the motion picture soundtrack starring Hugh Jackman and Zac Efron; Dirty Computer by Janelle Monae; Until Death Call My Name by YoungBoy Never Broke Again; When Legends Rise by God Smack; Stoney by Post Malone; Rearview Town by Jason Aldean.
? by XXXTENTACION; Culture II by Migos; Black Panther: The Album, Music From And Inspired By the movie soundtrack; Last Man Standing by Willie Nelson; My Dear Melancholy by The Weeknd; ÷ (Divide) by Ed Sheeran; The World Is Yours by Rich The Kid; Evolve by Imagine Dragons; Camila by Camila Cabello; and Cosmic by Bazzi.