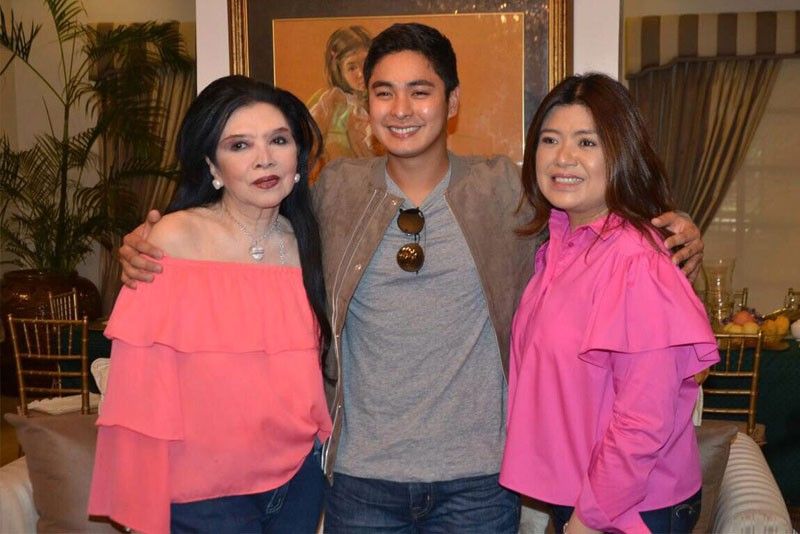 Pangasinan (Third District) Rep. Rose Marie 'Baby' Arenas and daughter MTRCB chief Rachel Arenas with precious visitor Coco Martin at the Arenas Farm in Malasiqui town
Photos courtesy of Rose Marie 'Baby' Arenas
Baby & kids make their provincemates' dream come true
FUNFARE
-
Ricky Lo
(The Philippine Star) - May 8, 2018 - 12:00am
It seems to be a simple dream really but not when it involves meeting Coco Martin in the flesh since Coco is so tied up with his top-rating/long-running (extended until October this year) ABS-CBN action-adventure series FPJ's Ang Probinsyano that he barely has time even for himself.
Trust Pangasinan (Third District) Rep. Rose Marie "Baby" Arenas and daughter MTRCB chief Rachel Arenas to make their provincemates' "impossible dream" come true — to see their idol in person.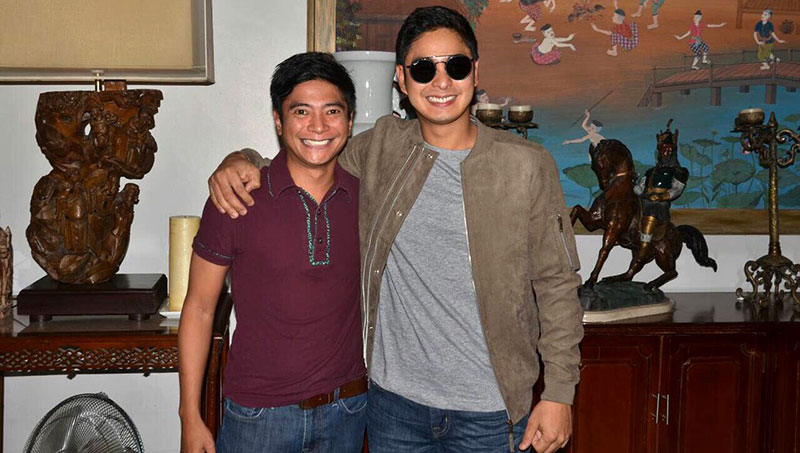 Roberto Arenas and Coco Martin
According to Philippine STAR correspondent Eva Visperas, Baby and Rachel gave Coco a welcome "fit for a king." Also on hand to help entertain Coco was Baby's son Roberto. They hosted a sumptuous lunch for him at the Arenas Farm in Malasiqui town where Coco gamely obliged for selfies.
"Coco is my favorite," Baby told Eva, "not just for his talent as an actor, but more because of his sincerity, humility, kindness and, most of all, his inspiring success story built on hard work and determination."
It will be recalled that during the cultural presentation in the opening ceremony of the 38th ASEAN Inter-Parliamentary General Assembly hosted by the Philippines, of which Baby was the Vice Chair for the Organizing Committee of the House of Representatives, she made sure that Coco Martin was featured in it.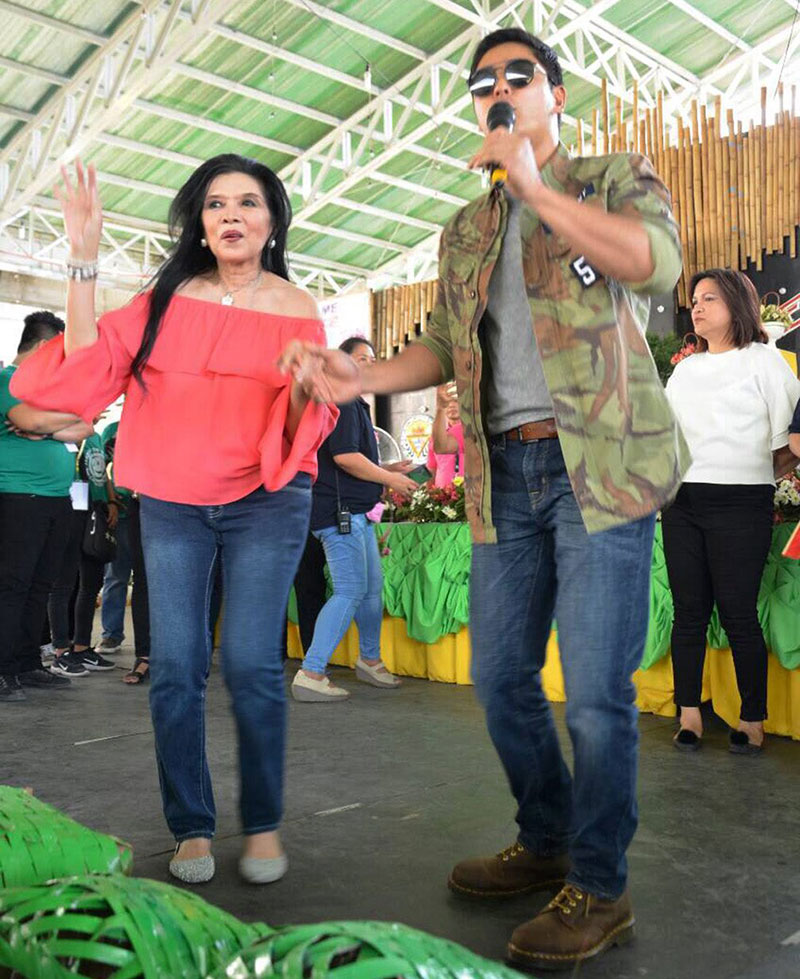 Baby and Coco regale the crowd (including educators) with a dance performance in San Carlos City, also in Pangasinan
"She felt that Coco epitomizes an ideal Filipino actor," wrote Eva.
"With his visit," Rachel noted, "Coco just made Pangasinan love him even more. In this day and age when most people are obsessed with their mobile phones or gadgets, Coco is a rarity. During his stay at the Farm, not once did Coco check his phone; he wasn't holding any in his hand because his focus was on his fans. Despite his phenomenal popularity, he remains humble and genuinely interested in others, and did not have the slightest sense of vanity or self-centeredness."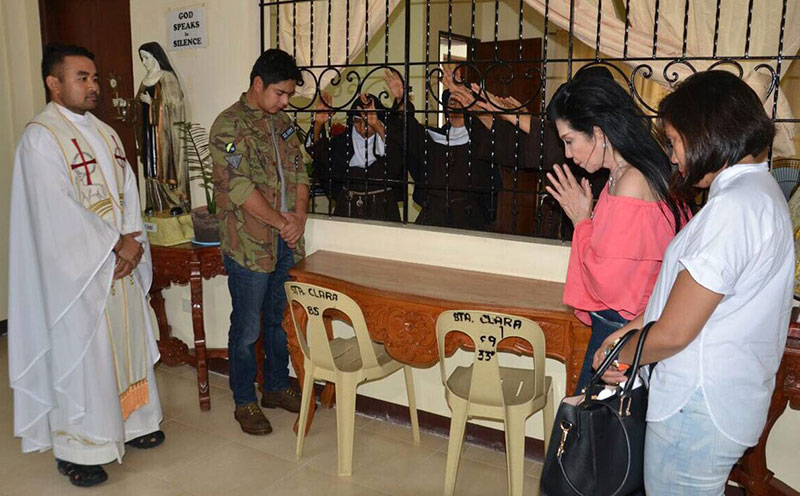 Coco and Baby being prayed over by the nuns of the Monastery of the Poor Clares of St. James the Apostle in Malasiqui
After lunch, Baby and Rachel led a motorcade with Coco from the Farm to San Carlos City where he was the special guest in the fiesta celebration hosted by Mayor Bogs Resuello.
"Crowds everywhere went wild," recalled Eva. "When Coco finally reached the stage, he performed not just one song as promised, but five songs, cheered on by the crowd. Unmindful of the security concerns in a mammoth crowd, Coco went down the stage to interact closer with the audience, and it was madness!"
It wasn't a part of the itinerary but Baby made sure that before he returned to Manila, Coco paid the nuns a visit for their blessings and thanksgiving at the Monastery of the Poor Clares of St. James The Apostle which is inside the Arenas Farm.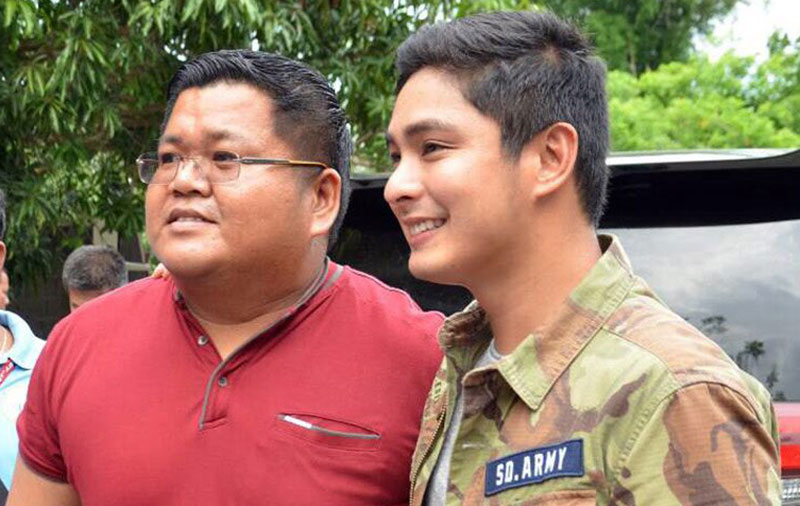 Coco with San Carlos City Mayor Bogs Resuello
"Coco left us all with our hearts full and our spirits filled with gratitude," said Baby.
Patricia and Rob in Phl for good
Almost five years after they came to the Philippines with their kids Robert (11) and James (six), Patricia Javier and husband, chiropractor Rob "Doc Rob" Walcher III, are convinced that they made the right decision. They had sold their beautiful house in San Diego, California, and, to use a cliché, they never looked back.
"Rob has learned how to speak some Tagalog," said Patricia, "and he now feels as if he's a Philippine native. Our kids have also beautifully adjusted to the Filipino lifestyle."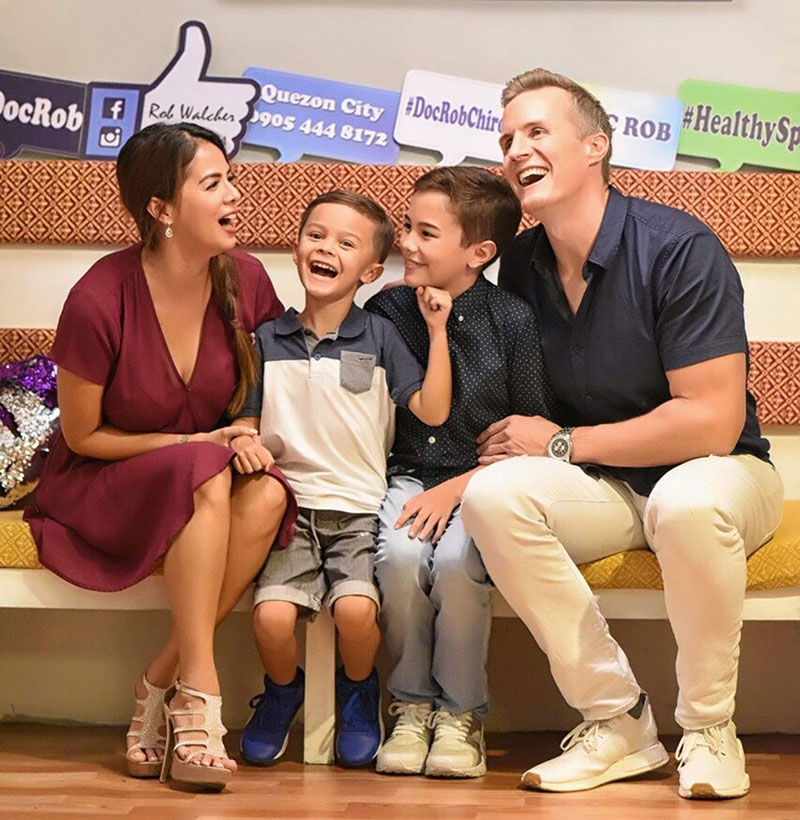 Patricia Javier and husband chiropractor Rob Walcher III and sons Robert and James
The couple has been busy since they transplanted their family here. Doc Rob now runs two chiropractic clinics, one on Scout Madriñan in Quezon City (on the second floor of a building just beside the Belo Medical Clinic and across from Il Terrazo) and a newly-opened one on Arnaiz St. in Makati City.
Doc Rob observed that there seems to be a misconception about chiropractic.
"Many people think that it's only to treat back pains," said Doc Roc. "In fact, it is for overall health and wellness. It is meant to improve functions of the body. It helps cure such illnesses as vertigo, migraine and allergies."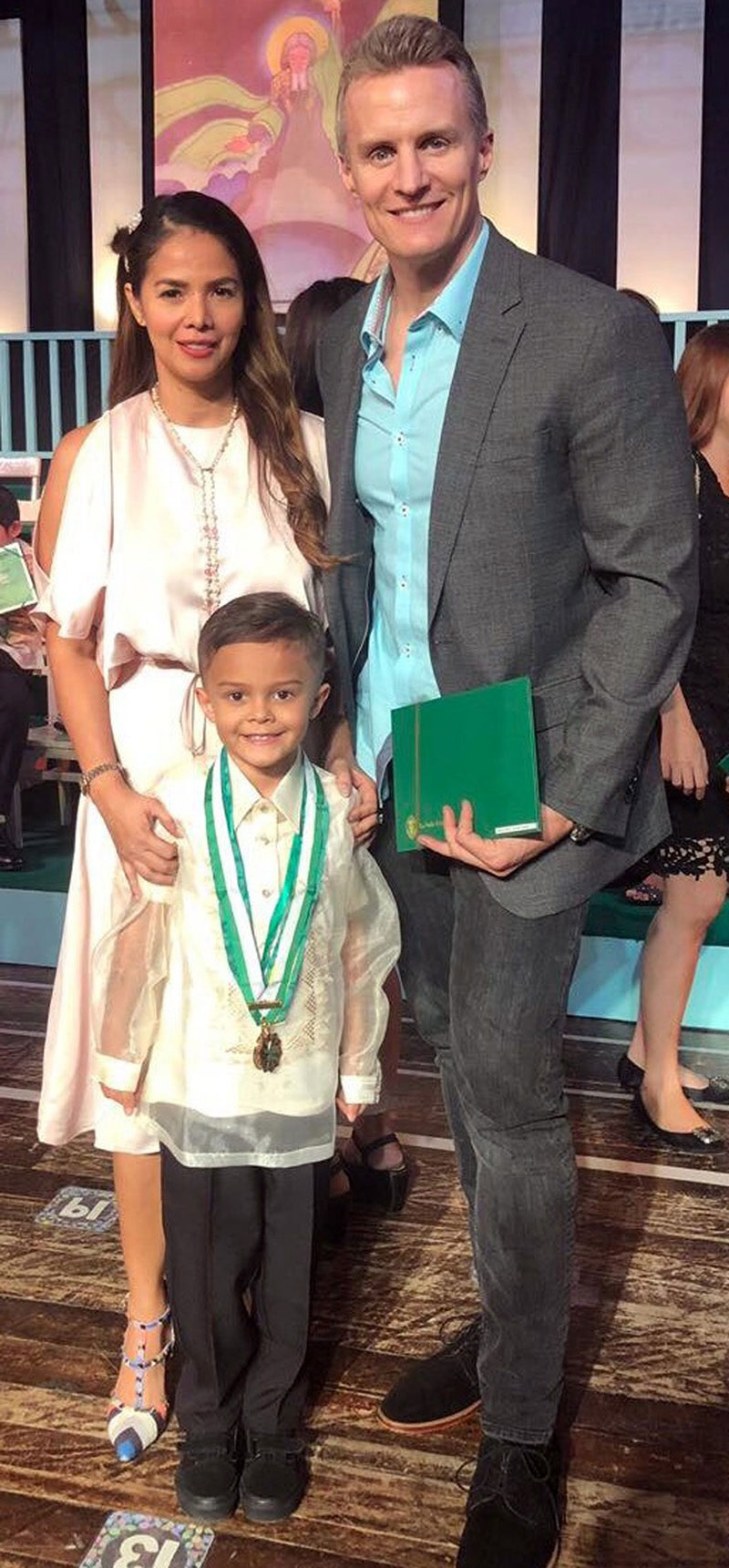 …with James who recently graduated
Besides some celebrities, Doc Rob's patients include mostly ordinary people including families (grandparents, parents and children).
"I treat also babies because they also experience stress during the nine months that they are in their moms' wombs," said Doc Rob.
Patricia herself is busy with projects. Since they arrived, she has been doing TV shows (GMA's Haplos, etc.) and movies, the latest being Cry No Fear (of Viva Films with which she's under contract), directed by Richard Somes and co-starring Lander Vera-Perez as Patricia's husband, Christopher Roxas as her brother, Ella Cruz and others.
Cry No Fear is about an akyat-bahay family that victimizes homes when owners are away. The story hits a cord in Patricia's heart because it is so close to home.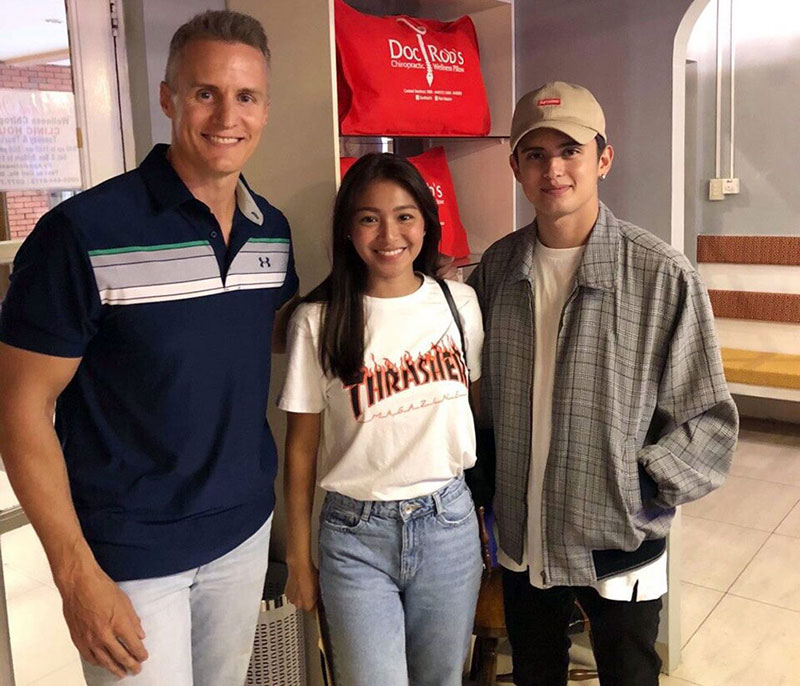 ...with Nadine Lustre and James Reid who participated in the couple's Awareness for Wellness Fun Run
"We have been victmized by an akyat-bahay gang, remember?" Patricia recalled. "In the movie, once we are inside the house, we ransack the refrigerator and have a meal before leaving with the occupants' money and other valuables. I'm sure people will learn a lot from the movie, such as kung paano isi-secure ang bahay before leaving for vacation and how to detect prospective robbers."
The couple is never too busy for public service. Recently, they hosted an Awareness for Wellness Fun Run (among the participants were James Reid and Nadine Lustre, Gladys Reyes, Ara Mina, Donita Rose and Inez Veneracion) for the benefit of Diwa Party List Rep. Emy Aglipay-Villar's Lupus Foundation (Emy is a lupus patient).
Besides producing an indie film, they are now negotiating with Viva Publishing for the a book titled Change Your Health in 30 Days that Doc Rob is writing.
"The book will show how chiropractic improves your health," assured Doc Rob.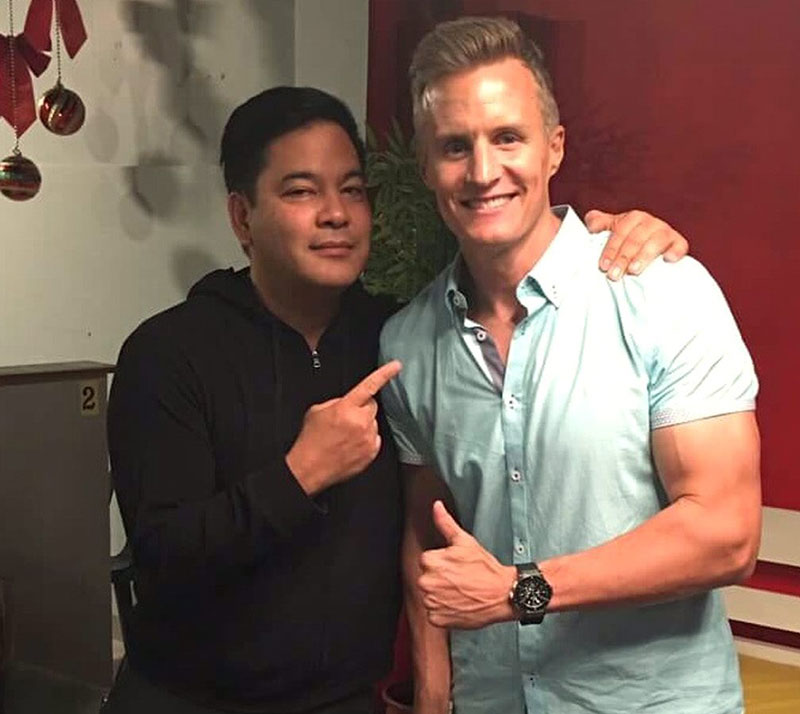 …and Rob with Martin Nievera
(E-mail reactions at rickylophilstar@gmail.com. For more updates, photos and videos, visit www.philstar.com/funfare or follow me on Instagram@therealrickylo.)