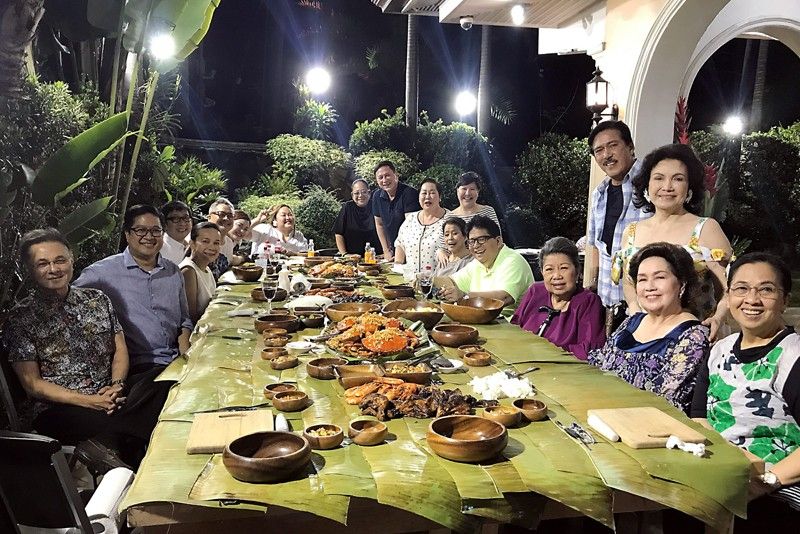 Hosts Sen. Tito Sotto and wife Helen Gamboa (standing) with the 'hungry bunch' (from left): Your Funfarer, Neil Llamanzares and wife Sen. Grace Poe-Llamanzares, Lawrence Tan, Gello Jamias, Anes Victorino, JP Victorino, Veana Fores, Eric Quizon, Dolor Guevarra, Shirley Kuan, Regal Matriarch Lily Monteverde (fresh from a 'staycation' at Medical City), Ronald Constantino, Marichu 'Manay Ichu' Maceda, Susan Roces and Madz Tuviera (minus husband Antonio 'Mr. T.' Tuviera). Six long tables joined end to end were laden with food.
Photos by Ricky Lo & Donboy Espiritu
Guess what they talked about at the boodle dinner
FUNFARE
-
Ricky Lo
(The Philippine Star) - April 17, 2018 - 12:00am
Saturday night, Helen Gamboa and husband Sen. Tito Sotto hosted a boodle dinner for two members of the barkada celebrating a milestone at the couple's environment-friendly (because surrounded by trees and other greens) split-level house in White Plains, Quezon City.
Laid out on six banana-leaves-covered long tables joined end to end were mouth-watering giant crabs (full of aligue), shrimps and grilled pork combined with steaming white rice so delicious that the hungry bunch couldn't help taking a second (and third!) serving. Nearby was an array of native desserts (Maja Blanca topped with latik, Tibok-Tibok, serve-yourself Halo-Halo, etc.), all "imported" from Pampanga where Helen hails from.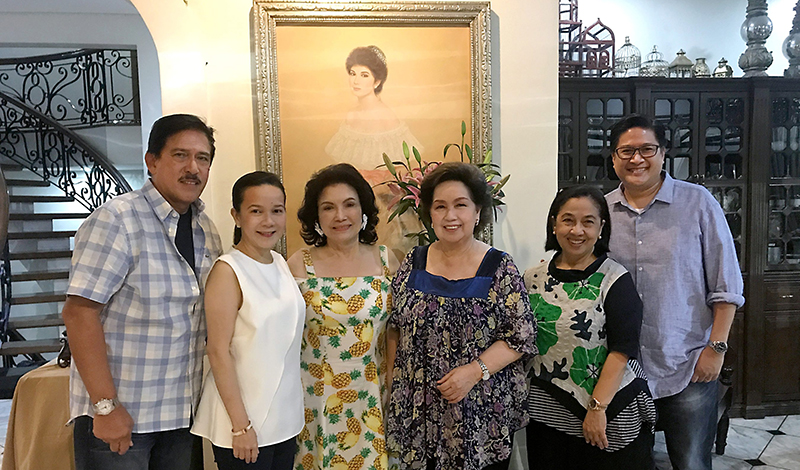 Tito, Grace, Helen, Susan, Madz and Neil with a huge Helen portrait by Lulu Coching as backdrop
There were spoons and forks but, as you know, a boodle dinner is better relished (lapped up!) with bare hands. Helen is a good cook who owns probably the biggest, cleanest and best-equipped kitchen in moviedom, as amply proven by her cooking show on TV5.
"I learned the art of cooking from my Mom," said Helen who is among the original residents (Eddie Gutierrez and Annabelle Rama, Caridad Sanchez and the late Nida Blanca, among others) of the subdivision which commands an awesome panoramic view (especially at night) of the surrounding places below, noted for its rolling streets. "I would say that I can spend more time in the kitchen than in the sala."
Flashback: In 1968 when Tito was courting Helen…against the wishes of Helen's strict mom…"blind items" referred to Tito simply as "ES." To mislead nosey movie writers, those around the sweethearts claimed that the initials meant "Engineering Student" (even if Tito was not en engineer but a band player at that time).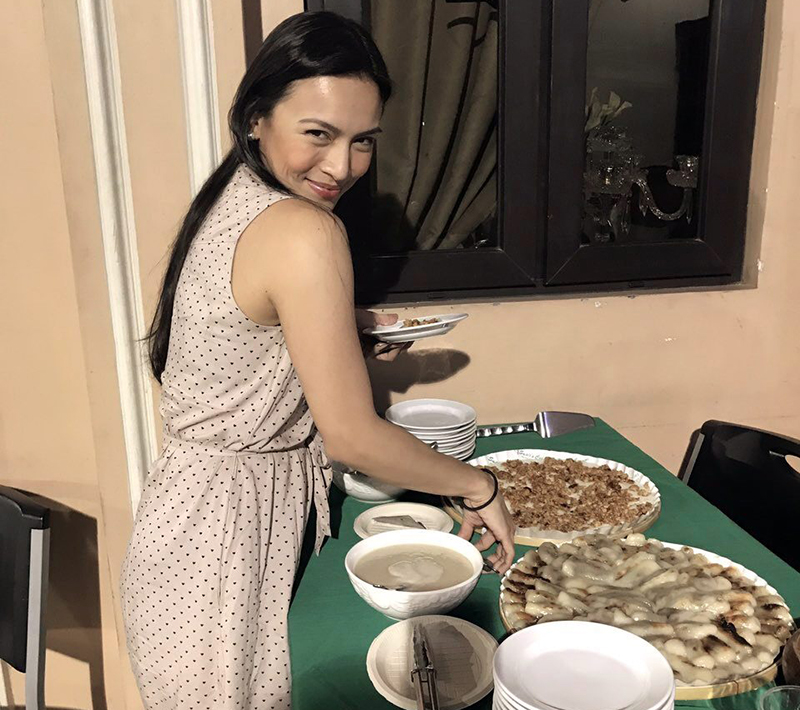 Ciara Sotto at the dessert table
Before everybody sat down to "attack" the boodle items, Funfare asked Helen and Tito, together with Susan Roces, Madz Tuviera (minus husband Antonio "Mr. T." Tuviera who was attending another important event), and Sen. Grace Poe-Llamanzares and husband Neil Llamanzares to pose at the sala, with a huge portrait of Helen (by Lulu Coching) as backdrop.
Trivia: It was in 1968 when Susan and Fernando Poe Jr. got married on Christmas Day, the same year that, recalled Tito, he and Helen eloped. Susan and FPJ also eloped prior to their church wedding.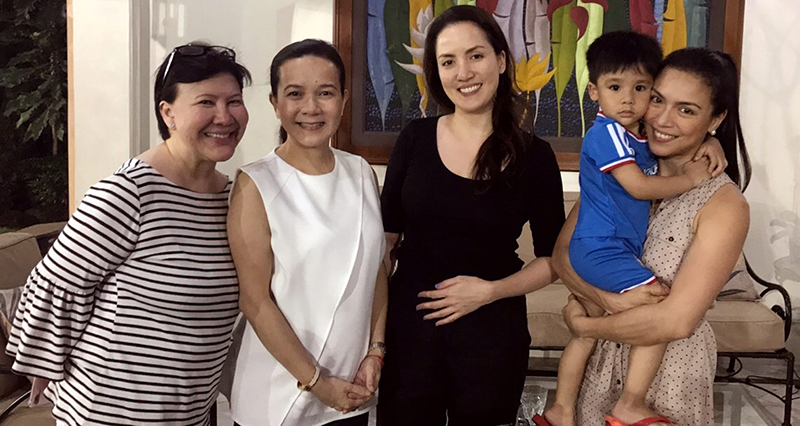 From left: Shirley, Grace, Apple (Tito and Helen's daughter) and sister Ciara with fouryear-old son Crixus
Despite the presence of Tito and Grace, there was no talk at all about politics. At one end of the very long table, the group was swapping juicy morsels about stars' shenanigan, all "off the record" so not even a "clue" must be mentioned here. At the other end, the other group (obviously religious followers of Kapamilya teleserye) was speculating the fates of the characters of Ang Probinsyano where Susan is a major player — you know, will Yassi Pressman go back to Coco Martin whom she has left for JC Santos, and what (guest) role will the newest Kapamilya Ryza Cenon play?
Don't worry, you will find out because the long-running action-drama-adventure series is on an extended run perhaps until end of the year, so stay tuned for more twists and turns and more guests stars as the plot draws more and more from real life (corrupt officials, erring cops, all sorts of criminals, terrorists, etc.).
In a jiffy, the boodle table had been emptied clean (with the barkada burping helplessly!).
But wait, Helen announced.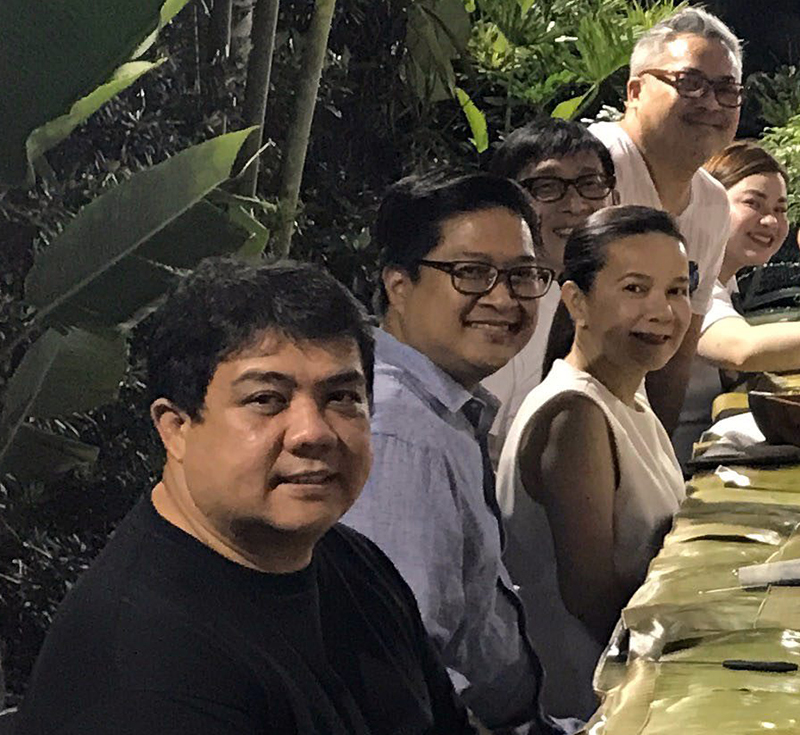 Donboy Espiritu with Neil, Grace, Lawrence, Gello and Anes
"There's more on the (other) table. Pansit, Lumpiang Shanghai and Cassava Cake."
Pat-P Daza, ever the liveliest member of the group, begged in jest, "Please, Helen, give us 10 more minutes to digest what we have just eaten!"
Trivia: Before Ronald Constantino and I called it a day, Helen ("The Hostess with the Mostest") showed us a video of her dancing to Beatle songs at the recent wedding reception for Joey de Leon and Eileen Macapagal at the ballroom of Manila Hotel, with Eileen (still in her wedding gown), Pauleen Luna-Sotto and Ruby Rodriguez joining her.
Flashback: In the '70s, Helen was the reigning Singing/Dancing Queen (remember her in knee-length boots and micro-mini dress in the movie Bang Shang-A-lang)? Like what was talked about that night, that video may not be made public.
But, come to think of it…

A post-dinner 'family picture,' with Malou Choa Fagar (to Grace's left) and Apple (to Eric's left) joining in. Note: Long table now empty. Where has all that food gone? Hehehe!!!
(E-mail reactions at rickylophilstar@gmail.com For more updates, photos and videos, visit www.philstar.com/funfare or follow me on Instagram @therealrickylo.)