Today, runners-up; tomorrow, titleholders?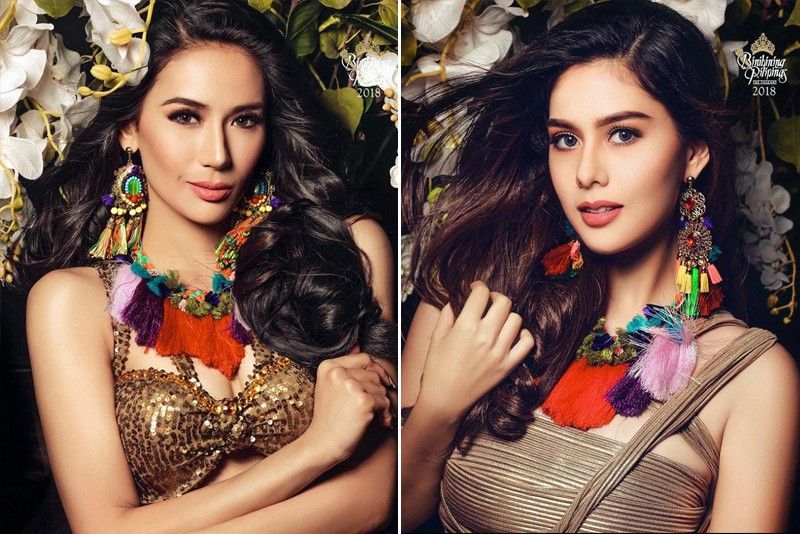 MANILA, Philippines — Bb. Pilipinas 2018 first runner-up Vickie Marie Milagrosa Sausa Rushton, 25, is an actress, model, businesswoman from Talisay, Negros Occidental who loves traveling, hiking, arts and crafts. She was crowned 2011 Mutya ng Pilipinas International and 2009 Lin-ay sang Negros.
Bb. Pilipinas 2018 second runner-up Samantha Mae Adaliga Bernardo, 25, is a professional model, hotel guest officer, competitive rhythmic gymnast, make-up and personality development instructor from Puerto Princesa City, Palawan who loves dancing, playing sports and meditating. She's an active member of Junior Chamber International Puerto Princesa Kiao, Inc. and former president of Sining Palawan Dance Troupe. She won Best in Talent and was a Top 13 semi-finalist in 2013 Miss World (won by Megan Young) and was crowned 2013 Mutya ng Palawan Turismo.
Aside from winning a beauty title and crown, what is your ultimate goal in life? When do you foresee in achieving it?
Vickie: "My ultimate goal is to start an organization that will support my advocacy which is for the Persons With Disabilities (PWDs). I've been brainstorming and writing a draft on how to start it and I know with the help of people with influence, I will achieve it soon. I want to see PWDs working and be given equal opportunities. I believe they have 'discoverable abilities' and not 'disabilities.'"
Samantha: "My ultimate goals are to become an effective motivational speaker and to own a beach resort in my beloved Palawan. I'm doing it on my own way, that's why I decided to work abroad in a hotel for two years to explore more about the hospitality industry. I joined pageants to hone myself and broaden my connections. Maybe in the next five years, hopefully, my goals will be materialized."
If Bb. Pilipinas 2018 winners would have an audience with Pres. Du30, what would you tell him?
Vickie: "Since President Duterte has been elected, he has been working hard for the benefit of our country and its people. I will tell him to find time to have a much needed rest and recreation, and take care of his health. Also, I will thank him for always thinking for our good and for being a leader that loves his people."
Samantha: "Hi, Mr. President! Thank you so much for everything you've done for our country. I would like to commend you for it. I know that there's a big purpose behind it and please know that I will support you all the way and will use my influential voice to support you all the way. And if there's one thing I would like you to focus on, it's sustainable tourism development of our country, to implement strict sustainable rules and regulations, the preservation, conservation and safeguarding of our tourism spots and destinations. I believe that tourism will soon be the lifeblood of our economy."
If your life will be adapted into a movie, what will be its title, why and who will portray you?
Vickie: "The title will be, Beautiful?...No, I'm More Than That. It may be long, but that's what I want to impart to the viewers. I want them to see what's deep inside me, not just the outer beauty. We all are beautiful and it shouldn't be based on what you see outside even if queens are stereotyped to be just beautiful. I want Liza Soberano to play me for I believe that she's more than beautiful. The word 'beautiful' is not enough to describe her. I truly admire her."
Samantha: "The title will be, Fear Not. I love this song from Bethel Music. I experienced the loss of my father a year ago and that gave me a real boost to go beyond the boundaries that I set for myself and the society. Fear not because God is always with you no matter what and He has the most beautiful plan for all of us. I would love Heart Evangelista to play me because I really idolize her in every aspect of her life. Just like her, I wanna be an artist, a philanthropist supporting a lot of charities, a social influencer and an author. For me, she's the real epitome of 'you can have it all.'"
What is the true essence of being a Bb. Pilipinas?
Vickie: "The true essence of being a Bb. Pilipinas is living a life with a purpose. That no matter what role she has in a society, for as long as her purpose is to inspire and empower, not only women but everyone around her."
Samantha: "To be helped and help other people, to be loved and love other people, and to be inspired and be an inspiration to everyone. I think this is not just the true essence but also being a human to this world in its truest sense. Being a beauty queen is not all about the crown and a title, it's about the woman who wears the crown and really gives significant meaning to it."