Ayra twice-fold lucky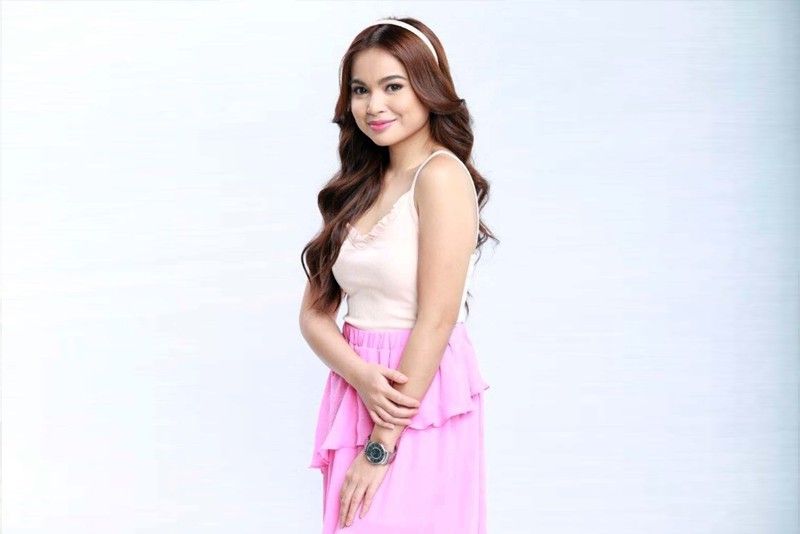 MANILA, Philippines — Ayra Mariano is happy at the rate her career is going.
From romantic-comedy The One That Got Away (TOTGA), she now acts opposite Bruno Gabriel in another Kapuso rom-com titled Ang Forever Ko'y Ikaw (AFKI).
"Maganda ang pasok sa akin ng taon (The new year has been good to me)," said the StarStruck Season 6 First Princess in a media call for AFKI, which premieres this morning.
"The network has given me two projects — TOTGA and AFKI," she added. "I'm too blessed to be stressed. What's good is I have work and I enjoy it."
In the series, Ayra is Marione, the daughter of Camille Prats' Ginny, who nurses a broken heart caused by the demise of her husband. Marione will meet Bruno's Benjie, who happens to be the son of another brokenhearted Lance (Neil Ryan Sese). Marione and Benjie's relationship could be described as mouse-and-cat game or hate turns love.
According to Ayra, "My character and Bruno's are not yet having scenes with Ginny and Lance, like the four of us being together." So their parents, Ginny and Lance, don't have any idea on what's going on between the youngsters — and where it is leading to. Ginny and Lance have yet to discover what's brewing, or the real score, between Marione and Benjie.
"This is our second project together," shared Ayra of her loveteam with Bruno. "Iba ang drive niya sa craft. He's a good friend. I'm very comfortable working with him. I'm glad that there are people who support our loveteam." What Ayra looks forward to in this new project is the new set of acting challenges their roles pose. She sees them as "sites" for her to grow — and to improve — as an actress.
"I think that's what viewers like," Ayra replied when asked about her thoughts on having a loveteam than going solo. "Ang mga (manonod) natin ay nag-aabang talaga ng kilig (They look for romantic thrill). They are happy to see loveteams on TV and some get inspired that there's forever (in love)."
Ayra was paired initially with fellow StarStruck graduate (First Prince) Elyson de Dios, who quit showbiz for his studies, in Poor Señorita. Then, she and Bruno worked on G.R.I.N.D. (Get Ready It's a New Day). In TOTGA, her character Ekay is smitten by Migo Adecer's Sam. But Sam is all eyes on Lovi Poe's Alex.
"My character (sibling of Alex) is a hopeless romantic," she said. "Tapos asang-asa siya na magugustuhan siya ni Sam (She is hoping that Sam will notice her and reciprocate her feelings)."
With Ang Forever Ko'y Ikaw, fans will see Ayra less in TOTGA as she will focus more on her latest role. After all, she gets more scenes in AFKI and the role of Marione is meatier.
"(The writers) changed the story, seeing me leave for Cebu," said Ayra, "and having interned there for two months."
Like any actors who have gotten attached to their characters, Ayra will miss her onscreen persona Ekay. "At first, I felt sad because I thought my character was heading to her peak, medyo nakikilala na si Ekay," said Ayra. "I had shown my comedic side. It's really my dream to do rom-com roles. With TOTGA, I was given the chance to learn and enhance my comedic timing — and to entertain audiences without them getting annoyed with my character. When I learned about (Ang Forever Ko'y Ikaw), also a rom-com, I was glad and happy (to get on board)." Again, her role is bigger than Ekay and Ayra is one of the four lead stars. Another exciting part is Ang Forever Ko'y Ikaw takes the timeslot (pre-programming) prior to Eat, Bulaga!
"We trust the abilities of my colleagues and the creative team," Ayra said of the competition AFKI is facing. "Yung worries namin (ay ang) nag-pu-push sa amin to work hard and we just have to enjoy working on the show. Our objective is to entertain the audience. Whatever it takes to entertain them, (we will do)... The characters are relatable and the story is very simple."
With Ang Forever Ko'y Ikaw, Ayra has time to immerse in rom-com -— understanding every facet of it and giving the genre another try as well as her team-up with Bruno.