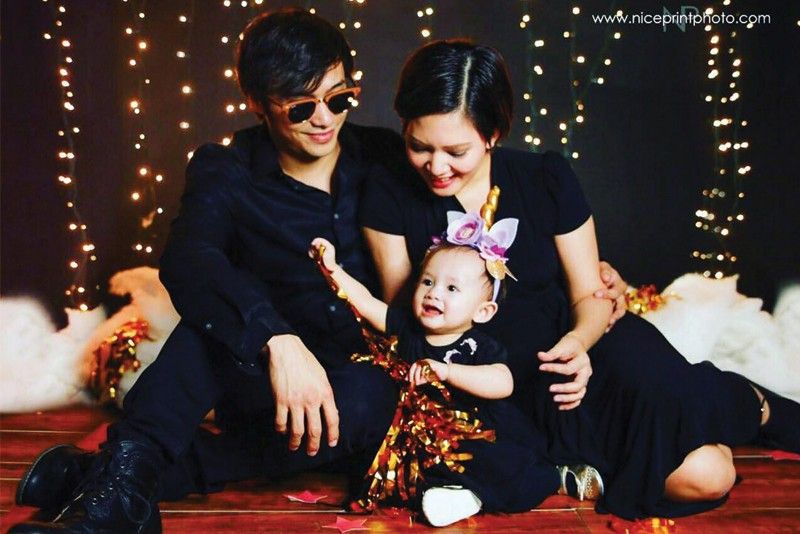 Chynna Ortaleza with husband Kean Cipriano and their daughter Stellar
Chynna's anchors of happiness
Chynna Ortaleza-Cipriano was merely a teen when she entered the spotlight. With her radiant smile and pixie cut, her first break was becoming one of the regular hosts of GMA Network's educational program for and by pre-teens, 5 and Up. This was an opportunity she held on to, leading her to discover her passion for acting and eventually, landing one of the lead roles in Click, where she starred alongside Richard Gutierrez.
Almost two decades later, Chynna is already one of the prime actresses in the entertainment industry, and her achievements are anchored on the values she learned along the way and the people who guided her through her journey.
After recently renewing her contract with GMA Network, Chynna looks back on her beginnings and shares the anatomy of the success she shared with the network she calls home.
Chynna's essentials. Stellar, her two-year-old daughter, is the first person who comes to mind when she thinks about anything essential. "There's a different kind of purpose that comes with having a child because you're given somebody to help grow and guide. It's a different kind of dynamic, so it has become very important to me," the new mom shares.
Chynna's journey to motherhood has been fruitful and although the big shift was challenging, it opened her eyes to a lot of new things. For one, giving birth isn't as dramatic as soap operas would play it to be and her experience was a comical one. "When one of the doctors asked, 'Sino pong magka-cut ng umbilical cord?,' palapit pa lang si Kean, biglang ginupit na nung doktor. 'Yon na nga lang yung gagawin niya, tapos it was taken away pa from him."
Motherhood taught her a lot of things and the most important takeaway is that if all mothers can survive it, she can, too.
Chynna's safe place. "I'm not the type of person who gets attached to anything material, but if ever I had worldly things na nahihirapan ako to let go of, they are probably my books."
One of the many beautiful things about Chynna is that she is a well-rounded person. She has a good head on her shoulders and she has her parents to thank for that. "My father is the one who instilled the value of reading in me. So, ever since I was a kid, he'd write me notes on books, and would give them to me for special occasions. Everything he gave me is still with me."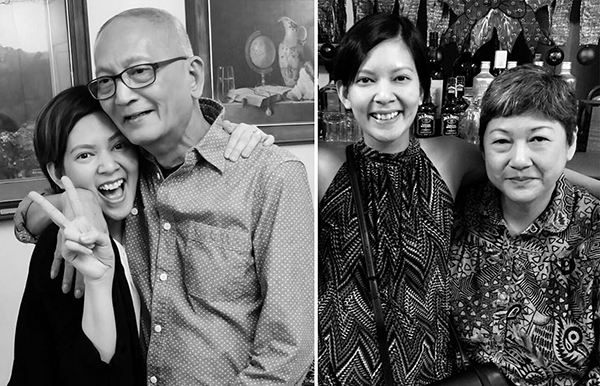 The actress with her dad Gryk… and mom Leah.
Meanwhile, her mother knows that it's best to keep her room as how she had left it because it is the only place where she can find her inner peace. "If you ask me what my treasured place is, it's my room in our old place in New Manila. Everything is there. If I need to be creative, if I need to be quiet, that's my safe place. So up to now, my mom doesn't touch that, she knows that when Chynna has to think about some things in her life, she will go up to that room."
Chynna's treasures as a Kapuso. Chynna opens up her heart and admits that her life in GMA wasn't always a bed of roses. She recalls a time six years ago when she had to dig deep in her heart and find out what matters most.
"I'm a very pessimistic person. So it was my father who told me to shift perspectives. My dad told me, 'Chynna, you're looking at the label of a successful career in a different way. You're thinking you should always be given the plum roles, but the thing is there are no small roles for actors." It was one piece of advice in her career that she took seriously. She then paused and realized, "Oo nga naman I've been in the industry for 12 years, so it must have been a fruitful journey, I must be doing something right."
All of a sudden, she got an answered prayer and got Magic Palayok — her favorite Kapuso show where she played Natasha Ledesma, a sister to Cherie Gil's role. It shares the same importance as The Rich Man's Daughter and My Husband's Lover, where her roles gave her a lot of valuable lessons as an actor and as a person.
Chynna's continuing journey. If she were to share her life's motto for the world to embrace, it would be to keep creating. As a deep-rooted artist, she advises to conquer the fear of making jumps. "My life decisions were major scary, malalang jumps. I'll tell you that along the road it gets confusing, but eventually you have to jump in order to find a better situation in your life."
Right now, Chynna is making another jump from being in front of the camera to being behind it as she is taking classes in creative writing. She sets on a new challenge and that is something we should all look forward to.