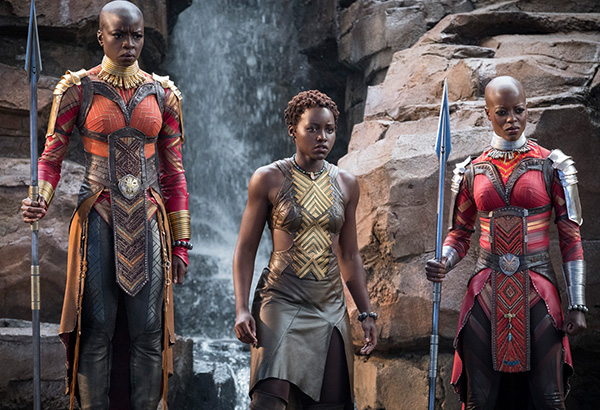 Scene from 'Black Panther' showing members of Dora Milaje wearing red and gold costumes inspired by Filipino tribal elements. Marvel Studios/Released
Marvel illustrator confirms: Filipino elements are in 'Black Panther' costumes
MANILA, Philippines — One of Marvel's illustrators, who grew up in the Philippines, confirmed in an interview with Buzzfeed that some costumes in Marvel Studio's latest hit maker, "Black Panther," have been inspired by Filipino artifacts.
Anthony Francisco, who is among Marvel's senior visual development illustrators, said in the interview that as he was growing up in the Philippines, their house was replete with many Filipino tribal decorations, which later on inspired the costumes he co-designed for the Dora Milaje, a group of female special forces in "Black Panther."
The red and gold costumes were also inspired by African regalia, ninja shoes, samurai armor, and even friendship bracelets.
In his Instagram account, Francisco describes himself as "best-known for for designing one of Marvels cutest characters, Baby Groot! and Loki for Thor3, and the Dora Milaje for Black Panther film."
A petition on Change.org demanded Marvel Studios and its parent company Walt Disney Studios Motion Pictures to contribute 25 percent of the "Black Panther" movie's profits worldwide to black communities to fund their programs.
Petitioned by a certain Chaz Gormley, the appeal now has lots of support on social media, as seen through the hashtag #BreakBreadMarvel. The "Black Panther" movie marks a milestone in black culture in Hollywood as almost 90 percent of the cast is composed of black people.
"As black communities across the United States continue to grapple with issues such as gentrification, police brutality, and substandard living conditions, we cannot continue to recklessly support these conglomerates, allowing them to profit off of us without demanding something more than just their products in return," Gormley wrote in the petition.
"We have the ability to change the conditions our communities and us as a people face, by leveraging the strongest resources we have: our strength in numbers, and our combined 'spending power.' Income inequality is real, and the continued decline of black wealth is something that need not only be addressed, but solved. Underprivileged communities that are only seen as contributors to profit margins must wield their collective power, and become more than just consumers of products; whether that be in the realm of material goods or the arts," Gormley added.
Starring Chadwick Boseman as T'Challa / Black Panther, alongside Michael B. Jordan, Lupita Nyong'o, Danai Gurira, Martin Freeman, Daniel Kaluuya, Letitia Wright, Winston Duke, Angela Bassett, Forest Whitaker and Andy Serkis, the movie is still showing nationwide.
To celebrate the theatrical release of "Black Panther," SM Cinema gives Marvel fans a sneak peek into the kingdom of the Black Panther, Wakanda. Visitors can check out an immersive experience, "The Secrets of Wakanda" in select SM malls.
"The Secrets of Wakanda" arrives at SM City Fairview on February 22 and SM City San Lazaro on March 8. There will also be retail areas for fans to purchase Wakanda-inspired apparel.