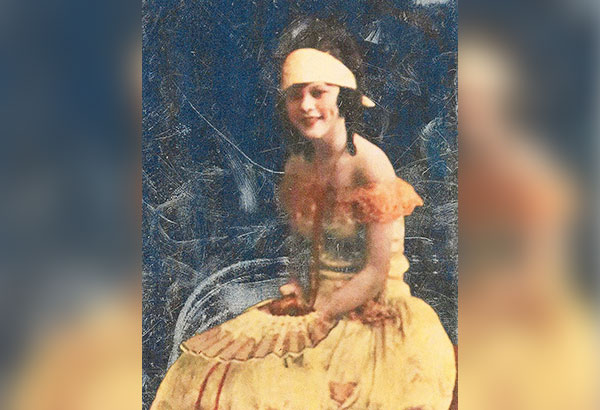 Elizabeth 'Dimples' Cooper at the peak of her beauty
Colorful, tragic life of Dimples Cooper
On June 29, 1960, Elizabeth 'Dimples' Cooper committed suicide in Los Angeles, California, putting an end to her colorful and tragic life. She was 46 years old, Dimples (Isabel Rosario Cooper) was born in Manila on Jan. 15, 1914. Her father was Scottish and mother Chinese-Filipina from Vallehermoso, Negros Oriental.
She is best remembered in local cinema for performing the very first kissing scene with Luis Tuason in Ang Tatlong Hambug (1926). She was 12 years old at that time. Dimples did two other films, Miracles of Love (1915) and Fate or Consequence (1927).
As a teenager, the bedimpled beauty traveled in Southeast Asia as a torch singer. In 1930, at the age of 16, Dimples met Gen. Douglas MacArthur, 50, then commander of American troops in the Philippines. In no time, Dimples was the mistress of the general.
Five months later, MacArthur returned to the US. He bought her a ticket on a ship to arrive after him in Washington. She was ensconced in an apartment in Georgetown, later moving her to Chastleton Hotel.
Biographer William Manchester wrote that the general 'showered (Cooper) with presents and bought her many lacy lean gowns, but no raincoat. She didn't need one, he told her; her duty is to lay in bed.'
MacArthur filed a libel case against Drew Pearson of The Washington Post, but dropped the suit when the journalist named Cooper as one of his witnesses. MacArthur paid Dimples $15,000 to leave Washington and return to the Philippines. She did not use the ticket and never ever returned home. In 1934, the 20-year-old Dimples moved to the Midwest, where she put up a hairdressing salon. She relocated to Los Angeles several years later.
Dimples tried her luck in Hollywood, but she could only get bit roles.
Overdose of barbiturates led to her death.— RKC