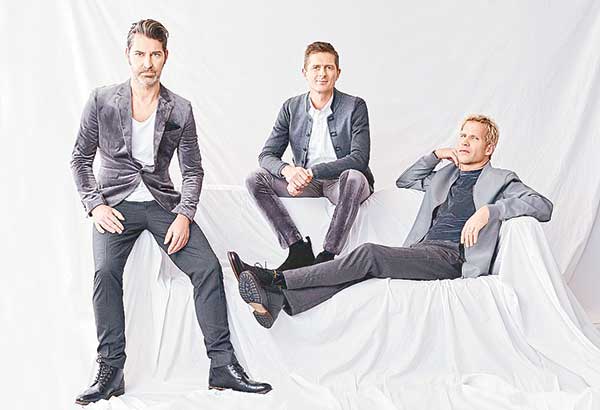 Michael Learns To Rock — made up of Jascha Richter, Mikkel Lentz and Kare Wanscher — will return to Manila on Aug. 31 at 8 p.m. for a show at the Kia Theater of Araneta Center
MANILA, Philippines - When I met my wife over a decade ago, I told her I wrote a song called 20 Minutes. She replied that's a Michael Learns To Rock (MLTR) song. I said really? I asked her to sing the song and she sang a different but lovely song. Turns out the title of the song was 25 Minutes. Out of curiosity, I bought the MLTR CD Colours that featured 25 Minutes and listened intently. That very moment I got turned on to their music and purchased a few of their CDs being sold at the record shop.
Upon research, I found out they hailed from Denmark — the home of my favorite breakfast fuel, Danish pastries, and one of the heavyweights in the world of rock, Lars Ulrich, the drummer of Metallica.
MLTR is immensely popular not only in their homeland region of Scandinavia and Europe but in the Asian region likewise. In fact, I would hazard to say that their biggest following is in Asia as evidenced by the bumper crop of awards and Gold/Platinum certifications in Indonesia, Taiwan, Singapore, Malaysia, Thailand, Hong Kong, South Korea, India, Japan and the Philippines, which they have received throughout the '90s and into the new millennium.
Currently composed of three members (originally four), MLTR has remained original for close to three decades with founding members Jascha Richter, Mikkel Lentz and Kare Wanscher. The name Michael Learns To Rock was inspired by pop idol Michael Jackson. Although the group has admitted a few times that they regretted using the name, it has actually worked to their advantage as being unique and easy to remember thus they are sticking to it.
MLTR has performed to sold-out audiences in Manila several times in the past. They look forward to seeing their ever-loyal fans come Aug. 31 at the Kia Theater at Araneta Center. The group's concert set list includes the biggest hits The Actor, Sleeping Child, 25 Minutes, Nothing To Lose, Paint My Love, Take Me To Your Heart, You Took My Heart Away, Someday, That's Why, Complicated Heart, Something You Should Know, Love Will Never Lie and many more.
(Michael Learns To Rock Eternal Asia Manila is at 8 p.m. on Aug. 31 at the Kia Theater of Araneta Center. Tickets are available at Ticketnet Online, SM Malls and the box-office at Araneta Center. The concert is proudly presented by Grand Leisure Corporation, Steve O' Neal Productions and Unusual Singapore.)