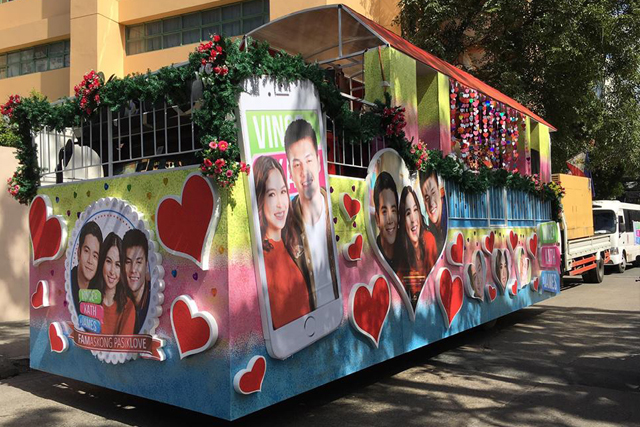 Star Cinema's "Vince Kath and James" directed by Ted Borobol was the first day top grosser for the Metro Manila Film Festival with P17 million in earnings. MMFF/Released
'Vince and Kath and James' tops MMFF first-day earnings
MANILA, Philippines — The Metro Manila Film Festival (MMFF) executive committee on Monday bared the top grossing entries on their Christmas premiere date.
Among the four films which emerged as first-day top grossing films were "Ang Babae Sa Septic Tank 2," "Die Beautiful," "Seklusyon" and "Vince and Kath and James."
A post from ABS-CBN promoter Nhoie Gurrobat reported that the films earned most, with "Vince Kath and James" directed by Ted Borobol topping the list with P17 million in earnings on its first day.
Jun Lana's "Die Beautiful" was on the second spot with P10.5-million ticket sales while Marlon Rivera's "Ang Babae sa Septic Tank 2" place third earning P9.4 million.
The post did not include the earnings of Erik Matti's "Seklusyon" but it indicated the order of top five to eight film grosser, which appear below:
5th – Saving Sally
6th – Oro
7th – Kabisera
8th – Sunday Beauty
Despite this year's deviation of MMFF entries from mainstream films to independently produced films, the MMFF executive committee said it is happy to report that the festival reached its first-day target ticket sales.
"We have re-assessed and set a new benchmark for this festival, we nevertheless look at the financial sales for the 1st day as a real bonus as we have already achieved what we started out to in the first place which is the cultural advancement through our Filipino films," the body said in a statement.
"You cannot put a price at something which the future generations of Filipinos will find priceless and ageless," it added.
READ: MMFF 2016 entries selection reveals change has come
The MMFF executive committee said it will continue promoting and supporting all eight MMFF entries, which they say all deserve to be supported by Filipino audiences.
"Rest assured that the MMFF execom will always serve to our best effort all our stakeholders and serve the greater purpose of not only commerce but also of audience education and development Mabuhay ang Pelikulang Pilipino," the statement read.
The MMFF is also holding an online poll to gauge the top favorite films of Filipino audiences. The public can vote online via http://mmff.com.ph/MyMostFavoriteFilm2016/
The film to get the most votes will be announced at the MMFF Red Carpet Awards Night on December 29 at the Kia Theatre in Quezon City.