Kris fumes: I never wore Imelda's jewelry!
FUNFARE
-
Ricky Lo
(The Philippine Star) - October 12, 2016 - 12:00am
Curtain-raiser:
Will the 2017 Miss Universe pageant be held in Manila (on Jan. 30, 2017) or not? Some quarters say yes, definitely! While others claim no, it will not be. A group has been collecting signatures for a petition not to hold the pageant here, not even if the reigning title-holder, Pia Wurtzbach, is from the Philippines who is working hard, pushing all the buttons for the pageant to be held here for the third time (after 1974 where the crown was won by the late Amparo Muñoz of Spain and in 1994, won by India's Sushmita Sen).
Everybody should wait for as early as next week for the real score when an official announcement will be jointly made by Miss U representatives and government officials concerned. Meanwhile, just keep on guessing.
* * *
Just when Kris Aquino was being silent (read: conspicuously unheard of on social media), guess what provoked her back into action (!) but some trolls digging up something that occurred in November last year during the APEC dinner.
I asked the fuming Kris for clarification and she directed me to just quote (yes, verbatim, not even a punctuation mark changed) what she posted on her Instagram. Here it is, addressed to trolls:
It seems you don't want me to stay quiet and your trolls want to keep perpetuating lies about me. My friend JC Buendia & my sister Viel both showed me this paulit ulit na FB post. The necklaces supposedly belonged to Mrs. Marcos & I was brazen enough to wear them for the APEC DINNER. Duh? The necklace I wore was made from cubic zirconia & silver — hindi po DIAMONDS, in other words fake sila although Bottega Veneta naman. ENOUGH! And the TRUTH is on my side — including credit card receipts. P.S. I have a long standing event for #ARIEL on Tuesday, even if my necklaces aren't appropriate for showing how you can remove more than 100 different types of stains — what the heck, isusuot ko na sila, after all I paid for them w/ hard-earned, tax paid income, and hindi ko na problema kung yung pagnanakaw ng iba trip nilang ibintang/pagtakpan using me — and to be perfectly clear, I'm not referring to Mrs. Marcos. So this is FAIR WARNING ­— stop lying about me if you don't want your rotting skeletons unearthed. #IAMBACK
There you are, Kris in a fighting mood, so beware!
As an addendum, Kris texted me this:
I was 14 years old and my Mom and I didn't enter Malacañang until nearly a week after because it needed to be swept of all possible bombs, etc. I just got fed up with the lies being perpetuated about me and indirectly my Mom.
There. Loud and clear?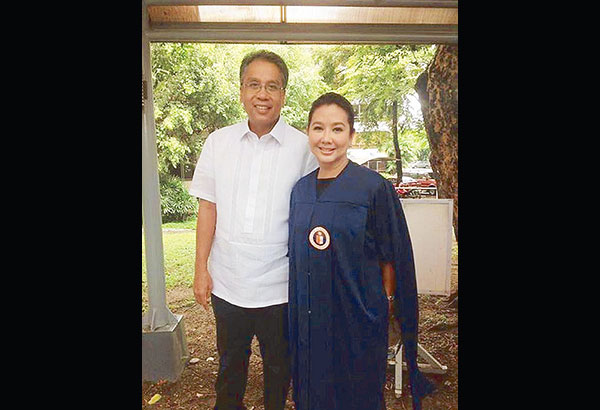 Former DILG Sec. Mar Roxas and wife Korina Sanchez (shown during her graduation from Ateneo with M.A. in Journalism).
Mar, Korina lead standing ovation for Jersey Boys
Those who have watched Jersey Boys at the Meralco Theater have been endorsing the musical to those who still haven't. Their last chance is this weekend during the musical's last performance (3 p.m. matinee and 8 p.m. last show). My friend Raoul Tidalgo and I watched Jersey Boys on Broadway a few years ago and we were pleasantly surprised that most of the songs we were familiar with were by Frankie Valli and The Four Seasons (a.k.a. Jersey Boys), so we couldn't help humming along with them in a tone that we made sure didn't bother the sensitive Broadway audiences who would throw a piercing glance at you if you as much as cough or sneeze. Yes, there's a scene in the musical that made us cry (quietly now!) but I won't tell you what it is and just let you find out for yourself (don't tell me we didn't tell you!).
Last Sunday, former presidential candidate/DILG Secretary Mar Roxas and his wife Korina Sanchez led the standing ovation of the full-house crowd at Meralco Theater. Also spotted in the audience were Karla "Queen Mom" Estrada who also stood up on the second row, proudly smiling, cheering and clapping obviously for her fellow Your Face Sounds Familiar (YFSF) celebrity juror Nyoy Volante (in the cast with Christian Bautista, Nino Alejandro and Markki Stroem). With Karla was Tutti Caringal, also an YFSF singer.
Jackielou Blanco casually slipped in, hardly creating any attention yet inevitably made heads turn with her distinctly mestiza face, so beautiful even without make-up.
Incidentally, the guitar-festooned stage is the impressive work of Faust Penyera. Take a bow, Bobby Garcia, you need not prove anything anymore, what with this brilliant work. There should be repeats, don't you think?
(Note: For tickets, call Ticketworld at 891-9999 or visit www.ticketworld.com.ph.)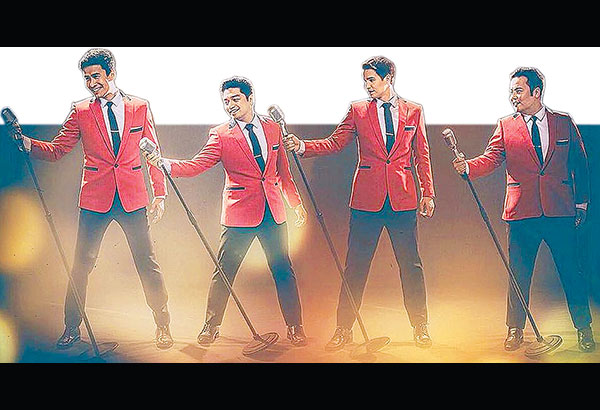 The cast of Jersey Boys, from left: Christian Bautista, Nyoy Volante, Markki Stroem and Nino Alejandro
(E-mail reactions at entphilstar@yahoo.com. You may also send your questions to askrickylo@gmail.com. For more updates, photos and videos visit www.philstar.com/funfare or follow me on www.twitter/therealrickylo.)