Is Lani here to stay?
February 5, 2016 | 9:00am
MANILA, Philippines – Expect Lani Misalucha to be more visible with successive projects in the country. One of them is a new musical show (details still under wraps) on ABS-CBN, plus another album featuring original songs to be produced by Star Records.
"Yes, you will be seeing more of me this year," the Las Vegas-based songstress tells The STAR.
But first, she is starting her 2016 with back-to-back Valentine's Day shows titled Love Catcher come Feb. 14 and Feb. 15 (8 p.m.) at the Newport Performing Arts Theater of Resorts World Manila.
Joining her on stage are the jazzy trio Baihana and the multi-awarded Philippine Madrigal Singers, both of whom she personally handpicked as her guest performers.
Lani welcomes the "competition" she's up against this season of concerts, saying each singer and show have their own market and audience.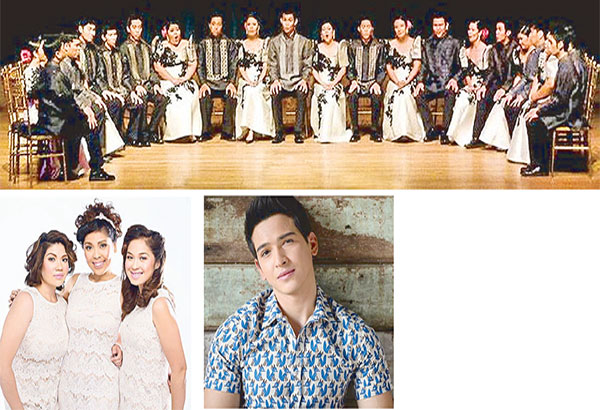 Among the guest performers in Lani's concert are (clockwise, from above) the Philippine Madrigal Singers, Edward Benosa and Baihana
"It's a simple Valentine's show filled with love songs. Our goal is, we just want our audience to fall in love, to feel that 'kilig' when they listen to the songs," she says, referring to Love Catcher the concert.
According to concert producer Gus Apostol of Great Trends, "In terms of production values, (audiences will see that) after a few songs, another stage set-up will emerge. We have one gimmick wherein I said it should be very memorable so that when the audience would leave the venue, they could say, 'Ah, we really celebrated Valentine's Day.'" He adds that early birds to the show can expect some special treats.
Because of her frequent visits to the country, Lani who became the first Asian to headline a main showroom in the Las Vegas strip is often asked whether or not she's coming home to Manila for good. Lani with her husband Noli and their two daughters migrated to the US more than a decade ago. "A lot of people have been asking me already if we're moving back here for good, or if me and my husband are going to retire here. We've been coming here so often, almost every month we're here, most especially last year."
"But as of now, we really can't say (if that's going to happen)," says Lani, adding that they're content with the back-and-forth-flying set-up. "Since umuuwi na kami lagi dito, at nakikita namin lagi ang Pilipinas at mga kamag-anak namin, okay na kami sa ganung set-up."
What's also keeping her from leaving the States are her two daughters who are already settled there as well as her first grandchild. "Both my daughters are grown-up and they have a life of their own. So, yes, you might think, ah okey na (that I'm good), kaya napapadalas ako dito. But I think it's more difficult now only because mas nadagdagan yung iiwanan ko, with my grandson. All the more I have reasons to stay there. I don't know, but what they say is true, iba talaga yung joy and affection you give to a grandchild. Now, I'm able to prove that."
But even if her kids are all adults, retiring or giving up singing isn't an option for her. Apart from her projects in the country, she's scheduled for a series of shows in Europe and Middle East this year. "I love my work, I still love to sing, I still love to perform." And how! Asia's Nightingale can stake a claim to the term, "walang ka-kupas kupas," with her voice and performances.
Nevertheless, Lani is candid enough to admit that as the years progress, like her other contemporaries, she has had met some challenges. "You can't avoid it, iba ka mag-perform when you were still in your early 20s. And now I'm 46. You can't bring that back. There will always be changes. In your physical body, you see changes, what more (with your voice)? I've also noticed that it's not as powerful probably as when I was in my 20s or 30s, because hello, I was performing every day in Las Vegas, complete with dancing," she says. "I remember the same thing happened with my mom. She was a coloratura soprano. There are five of us kids, but when she gave birth to the fifth via caesarian (after four normal deliveries), nawala yung boses niya after that. I don't know why it happened, but she thought maybe it had something to do with it."
Lani adds, "(With my voice) at least it's still there. I don't know if it will deteriorate, which I don't want to happen. It's one of the greatest fears for all of us singers. Nakaka-depress yan sa totoo lang... But I'm very thankful to God because I still have it."
In-keeping with the love season, Lani gets asked about a few romantic things:
Favorite love song: "Our theme song as a couple, which is (sings) All my life, without a doubt I give you. We think All My Life by America is a really nice song. All my life, without a doubt, parang you won't ever think twice of giving a relationship or marriage your all. Then, there's this another song, (sings) If I'm not in love with you…"
Favorite song for the heartbroken: "I think a lot of people can relate to this (sings) Di ba ang pangako mo sa akin/Ako lang ang iibigin from Tunay Na Mahal."
Most romantic thing done to you, and you've done for your husband:
"Wala akong maalala (hahaha)! Oh my gosh! Because whenever we have our wedding anniversary, we celebrate it with our kids. It's always a family thing. Then, even with me and my husband, we're okay already greeting each other, 'Happy anniversary!'
"And honestly, I'm not a romantic person. I'm not even a sweet person. Maybe it's something I'm not used to doing and it was what I had observed while I was growing up. Both my parents are also not like that so maybe I adopted that.
"But with my husband and I, as much as possible, we go out on dates. We've been married for 25 years. We just had our silver anniversary last year. So, for me, it's important that the longer you are together, the more you should keep doing the things you did when you were just starting."
(With the direction and musical direction of Frank Mamaril and Mel Villena, respectively, Love Catcher is mounted for the benefit of the Cancer Alleviation Network on Care, Education & Rehabilitation. For tickets and other details, call Ticketworld at 891-9999 or log on to www.ticketworld.com.ph.)