Regine going 'full-blast' this year
MANILA, Philippines – Regine Velasquez-Alcasid is marking her 20th year with GMA 7 this year. She has just renewed a two-year guaranteed contract with the network last Monday.
Asked why she has remained a Kapuso all these years considering there were also some offers in the past from other TV networks, the singer-actress said, "Because they've been really, really good to me."
"We are also loyal to her. We are glad that she chose us," said GMA chairman and CEO lawyer Felipe Gozon who led the GMA executives present during the contract-signing.
Regine particularly cited the time she got pregnant while doing the teleserye, I Heart You, Pare, four years ago. "When I got pregnant in the middle of the soap, they were the ones who even told me, 'OK, take a break.' I was shocked at that time because it was such an inconvenience for them."
The soap had to get another actress to replace Regine and "that's not easy to do because it's like you're ruining the show."
"But they gave me that break because it was important for me to rest as I was 40 years old when I got pregnant," Regine added, referring to her delicate pregnancy. "They understood my situation and I'm very, very grateful for that."
Another thing she was thankful for was the light workload given to her in the last four years, allowing her "all the time in the world" to be with her son Nate in his critical formative years.
"Even after I gave birth, I was given the time to be a mom. They gave me projects but they made sure I still have time with Nate," Regine, who presently hosts the cooking show Sarap Diva, said. "I was given a very relaxed schedule which I really appreciate. Even coming back, there was no pressure."
This year, however, Regine sees it as the right time to resume her showbiz career full-time. "So, actually, this is (the year) I'm going full-blast in my work. At least, Nate is now four years old and he understands my job."
Projects in the pipeline are a musical-comedy show and a teleserye, which she is taping as soon as possible. She described her role as "very interesting because the character is cold, like a robot. That much I can say. It's a different character for me to play, different from my personality. I think I'm more effective in character-driven roles. Sometimes, it's harder to play a character that's near to your personality."
Regine is also set to do a Valentine concert with Martin Nievera, Angeline Quinto and Erik Santos.
Does her contract prohibit her from endorsing a political candidate in the forthcoming May elections?
"No, but I'd rather not. I only endorsed one actually in my entire career. Even in my younger years, I never endorsed one. It's hard to endorse one politician... I usually endorse people I know, and I don't get paid for it. Hindi ako kumikita sa elections. Although napakalaking raket (if it were the case) for me and my husband, to be honest," she said.
"Malaki!" she replied when asked if she has any idea on how much do some artists get paid when endorsing politicians. "Some of them are being paid by the billions depending on the name of the stars. That's what I know."
"But we don't believe in it," she added, "I learned that from my father (the late Mang Gerry, to showbiz folks). Even nung panahon na mahirap pa kami, hindi yun tumatanggap ng bayad. He would only let me sing for a politician whom he knows very well. I got that from him. I just want to be more careful."
Nevertheless, she didn't rule out the possibility that she might be sighted in someone's campaign sortie. "It depends. My husband is for Grace Poe. But they're having a hard time right now," she said of the presidentiable who's facing disqualification cases. "If ever... maybe her. And we still won't earn from that."
Meanwhile, Regine was asked about the video that trended on social media showing her gatecrashing a wedding in Boracay, where she vacationed with her family over the holidays. She related that they were heading back to their hotel when she noticed a wedding party winding down, with the bride and groom nowhere in sight. She decided to enliven the mood a little bit on a dare from Ogie. "It was enjoyable. You know, I've never done that before. Because it scares me, as people might say no, you can't do that, because the area was cordoned off. I didn't want to assume that they would recognize me. I had no make-up on, I was wearing shorts and even had a bag with me."
But when she went up the stage, the band immediately recognized her. Regine took over the mic and the rest is now a viral video. The "free" concert lasted for over an hour, bringing the guests as well as the newlyweds back to the party. "Tapos nung umalis na kami," she recalled with a laugh, "parang ang saya-saya na nila ulit."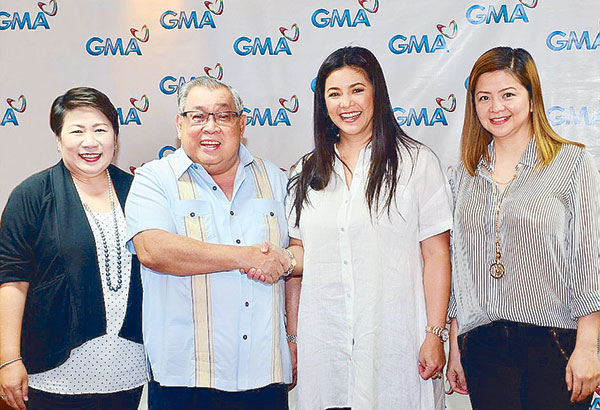 Regine with (from left) Lilybeth Rasonable, GMA SVP for Entertainment TV; lawyer Felipe Gozon, GMA chairman and CEO; and Cacai Mitra, Regine's sister and manager