Some kind of wonderful finds a new home on TV5
Our little girl started getting hooked on Hi-5 when she was just two years old. She religiously watches this Australian children's program and knows all songs by heart. When she turned six, she convinced me to watch the concert and, boy, I was surprised to see all those kids singing their lungs out, stomping their feet and swaying to every song during the concert! It was like being in a rock concert, only this time, the mosh pit was filled with little boys and girls.
So it is with much anticipation, especially for our little girl, that Australia's highly popular and well-loved children's show, Hi-5, will now have its local version and has found a new home with the happy network, TV5.
In a recent contract signing with Hi-5 World Global sales and operations head Jaenani Netra and Hub Media chief Kevin Balhetchet, TV5 president and CEO Emmanuel C. Lorenzana (ECL) referred to the highly popular Australian children's show as "one of the best children's show in the world." And that's all the justification TV5 needs in its recent acquisition of the show's Philippine rights. Also with ECL at the contract signing were TV5 Chief Finance Officer Anna Bengzon and TV5 chief entertainment content officer Wilma Galvante.
ECL said the network will adhere to the "style guide" set by the original Hi-5 that includes colorful sets, energetic song-and-dance numbers and lovable puppet characters Jup Jup and Chatterbox, or simply Chats. "Hi-5 is already a strong, successful brand that has been built through the years. So what do you do with strong brands? You capture its essence and don't go against it. So it will generally include the same familiar feel as well the same popular songs," ECL shared.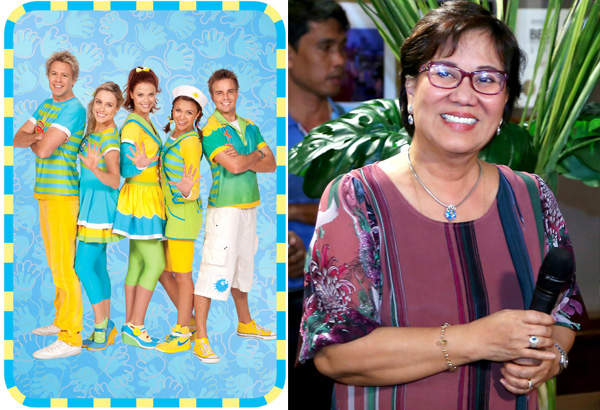 The cast of Hi-5(left) Head of Entertainment Wilma Galvante(right) STAR
Speaking on behalf of Hi-5, Netra said, "We will allow some elements of localization in Hi-5 Philippines. There are two reasons for that – the main reason is I think TV5 knows its audience better that Hi-5 so we are allowing them to customize. We are trying to go with the call of the show but if there's anything that we can include to enhance the show, we will work with TV5 to make that happen."
For now, the localization of Hi-5 starts with the casting of five Filipino hosts that TV5 and Hi-5 World representatives hope to find in its upcoming auditions, scheduled this Feb. 21 at TV5 Novaliches, Quezon City and at TV5 Media Center in Reliance, Mandaluyong. "We would be looking for boys and girls ages 16 to 24 years old and the auditions are open to everyone who meets the age requirements," Galvante announced. Of course, those who will audition should have an innate love and instant connection with little kids. Also, because they will be Hi-5 hosts, they need to be able to act, sing and dance and should be charming and bubbly.
Asked if this is the start of future collaborations with TV5, Netra replied, "There are a lot of things that we want to do with TV5 and we will continue to talk about it. For now, we need to run the auditions really extensively." Netra added that she believes that the new members of Hi-5 will be the "the next stars of TV5" and that "they will be the network's iconic ambassadors for children."
So for the young and the not-so-young fans of this hit international children's show, TV5 promises to bring a localized albeit equally world-class Hi-5 to Philippine TV soon to deliver the same quality program you enjoy, this time with a distinct Filipino version and flavor. And this good news sits very well with our own little girl, Michaella.