IN PHOTOS: David Blaine astounds Manila in 'Real or Magic' show
Chuck Smith
(The Philippine Star) - September 13, 2014 - 4:42pm
MANILA, Philippines - "Make the traffic disappear," shouts one member of the audience during the Manila leg of musician-illusionist David Blaine's "Real or Magic" world tour at the Araneta Coliseum in Quezon City on Friday, September 12.
The 41-year-old performer didn't do anything as extraordinary as the audience member's request, but Blaine managed to surprise and entertain viewers with a number of signature stage illusions and an endurance stunt.
The performer began the night by downing three liters of water and then putting out a fire by spouting the water he drank.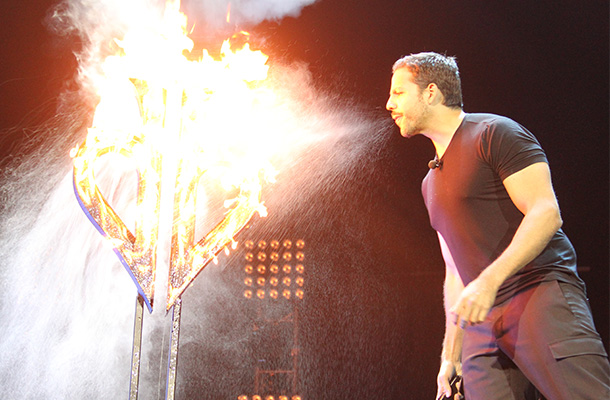 "I didn't bring what we typically assume magicians use," Blaine said before his water trick. "I don't have strings, I don't have smoke and mirrors. I don't have velvet curtains or boxes hiding anything."
"My props are very simple—as a matter of fact, I would say something as simple as water."
For majority of the show, Blaine utilized the simplest tools—bottles of water, a deck of cards, a jigsaw puzzle, and an ice pick.
He did a number of card tricks—similar to the ones that made him famous in the 90s TV show "Street Magic."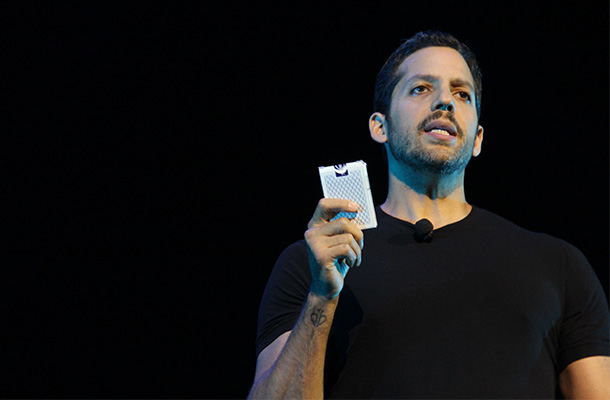 Blaine also asked a member of the audience to pick out a random pieces of puzzle from a jar containing, as he claimed, 2,000 jigsaw puzzle pieces.
From six, Blaine asked the audience member to narrow his six puzzle pieces to just a piece—which turned out to be the missing piece of the pre-assembled puzzle on stage.
Perhaps his most intriguing trick was when he asked another audience member to help him push an ice pick through the back of his hand.
Blaine's piece de resistance is his water-holding stunt, wherein he held his breath inside a tank filled with water. To prove Blaine is indeed under water, a member of the audience was asked to submerge herself in the tank as well.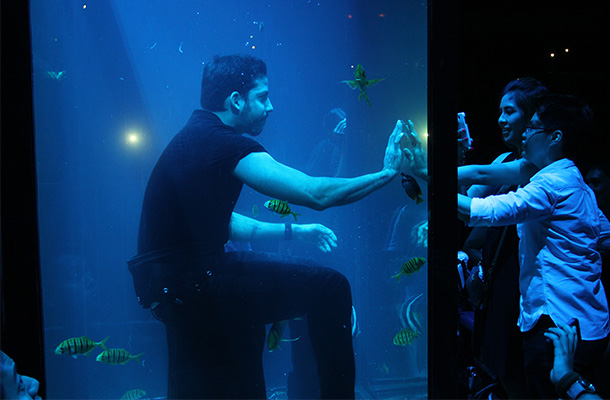 "I wanna thank you all for being the best audience that we had. Love you all! See you soon," he told the audience at the Araneta Coliseum after his water-holding stunt.
Here are more photos from the Manila leg of David Blaine's "Real or Magic" world tour (All photos by Philstar.com/RP Ocampo):