Gemma Cruz 50 years later; Nicco's time will soon come
FUNFARE
-
Ricky Lo
(The Philippine Star) - August 14, 2014 - 12:00am
Fifty years ago today, Gemma Cruz bagged the country's first Miss International crown, an honor replicated four times since then by Aurora Pijuan (1970), Melanie Marquez (1979), Precious Lara Quigaman (2005) and Bea Rose Santiago (2013).
Recalled Funfare's "other beauty expert" Celso de Guzman Caparas, "Gemma almost didn't join the pageant in Long Beach, California. All her relatives, including her uncle, Leon Ma. Guerrero (then the Philippine Ambassador to Spain), were against Gemma's joining the Miss Philippines contest that sent the winner abroad. Gemma's mom, Carmen Guerrero Nakpil, even offered her P2,000 to back out."
The rest is "herstory."
Gemma beat 40 other aspirants, screaming "Mabuhay!" when host Hugh O'Brian stopped in front of her after he walked back and forth in front of the semi-finalists and told her, "It's you!" Or words to that effect. Gemma donated her $10,000 cash prize to build homes for children sleeping on the streets of Manila.
Besides beauty, it was Gemma's wit and intelligence that easily won the nod of the judges. In one of the media events, Gemma said that, among other items, she collected as a hobby beetles (salagubang was her favorite) and a reporter was surprised to learn that there were beetles in the Philippines. "Yes, we do have beetles," answered Gemma, "only they don't play guitars," referring to the Beatles who were very popular at that time.
"After the coronation ball and banquet," reported Celso, "Gemma went to bed with her crown and scepter despite appeals from pageant officials. The crown, trimmed with rhinestones, and scepter were only on loan from a costume company and due to be returned the next day. In jest, Gemma told them, 'You gave them to me and they are mine, I refuse to return them.' The morning after, Gemma was besieged with tempting offers to star in Hollywood pictures which she politely all turned down."
Thirty-seven days after she relinquished her Miss International crown, Gemma exchanged marriage vows with Antonio "Tonypet" Araneta at the St. Teresa Church in Avila, Spain, on Sept. 19, 1965. They have two children, Fatima and Leon.
In 2010, she was named one of the Board of Regents of Pamantasan ng Lungsod ng Maynila. Concurrently, she's a member of the National Historical Institute. Gemma was Vice-Chairperson of Manila Historical and Heritage Commission and Executive Assistant during the term of Manila Mayor Alfredo Lim. She also hosted a daily radio program, Krus na Daan on DZRJ, 810 khz and a weekly television show, Only Gemma! She resumed her writing career in 2001 and presently has a bi-weekly editorial column, Landscape, in Manila Bulletin.
"Fifty years after," Celso concluded his report, Gemma is still as queenly and as beautiful as she was when she was crowned 1964 Miss International.
***
When Nicco Manalo showed up for this interview, he was wearing a statement T-shirt that revealed his current goal: Balang araw sisikat din ako, tapos sasabihin mo idol mo ko…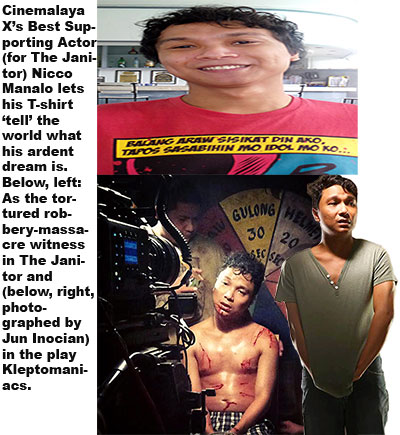 Well, Nicco may have a long way to go but he's getting there for sure, especially after he won Best Supporting Actor (for The Janitor) in the Directors Showcase section of the just-concluded Cinemalaya X, beating other heavyweights.
In Janitor (directed by Mike Tuviera who won Best Director), his 11th indie appearance, Nicco plays a witness to a robbery-massacre, arrested by the cops and tortured (water treatment, wire inserted into his penis, roleta ng kapalaran, etc.) into revealing the names of the suspects.
Undaunted even if he kept on auditioning for roles, Nicco did it again during the cattle call (dozens of auditionees queueing up) conducted by those behind Cinemalaya.
"They pick you first for your looks then they ask you to act," said Nicco (who is being managed by indie producer and STAR contributor Ferdinand Lapuz), "at suwerte ko naman, nakapasa ako. Before I knew it, I was shooting for Janitor, for four days. Nakakapagod especially the torture scene. It was shot from 8 a.m. to 4 p.m. and I was subjected to five stages of torture."
Playing safe during the awards night, Nicco delivered a spontaneous thank-you speech (he didn't prepare one because he wasn't expecting to win), careful not to mention the names of his parents but saying only "to my family."
You see, according to Nicco, he didn't want to create any intrigue in the family because his parents (Eat, Bulaga! co-host Jose Manalo is his father) have long been separated.
"Besides," confessed Nicco (eldest among the Manalo children), "I haven't been in touch with my father for a long time, although may contact ako with my mom. My parents broke up when I was four years old," continued Nicco who has opted to live alone. "My mom remarried but after my stepfather died, she reconciled with my dad and then they broke up again. I decided not to side with any of them, kaya nag-solo ako."
When he was just starting in showbiz, Nicco was offered a lead role in an indie but his dad advised him not to be in a hurry.
"He told me to start at the bottom and take one step at a time," said Nicco. "I bear that in mind."
Nicco took up a course in Technical Theater at La Salle Saint Benilde.
"I was afraid to audition at Dulaang UP because I thought I couldn't act. There was no drama group at that time at St. Benilde. I wanted to be in theater so even if I couldn't be in a play, I would still be part of the production (technical) staff. Pero talagang acting is my passion. At the Malate Catholic School, where I finished high school, I did plays."
After graduation, Nicco briefly joined Tanghalang Pilipino and then turned freelancer, auditioning for other theater groups such (PETA). Then, Cinemalaya beckoned.
Nicco isn't bitter about coming from a broken family.
"I draw inspiration from my experience in life," admitted Nicco (who's in the cast of Barber's Tales, now showing at SM Cinemas). "I'm practical. I know that I have to work harder to achieve my goal. I'm keeping my fingers crossed that my time will soon come."
(E-mail reactions at entphilstar@yahoo.com. You may also send your questions to askrickylo@gmail.com. For more updates, photos and videos visit www.philstar.com/funfare or follow me on www.twitter/therealrickylo.)