Brace yourselves and get your ears ready. TV, movie and concert box-office star and leading brand endorser Anne Curtis is threatening to sing opera. I admit that the thought of seeing a geisha Anne on stage in Madame Butterfly is quite interesting. What about Anne in a 19th-century ball gown surrounded by admirers as Violetta in La Traviata? I am sure she would be a pretty sight.
But will she be able to sing? And opera at that? If you have doubts, note that as far as her work is concerned, this girl has never allowed anything to stand in her way. If we are to go by the facts, then we will soon see the birth of Anne Curtis the opera singer. Remember, she had her share of flops early in her career. But she persevered and has now been acting for nearly 15 years.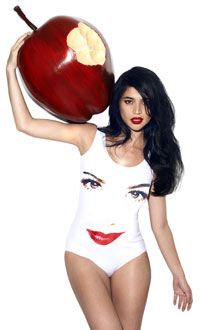 Also when the ratings of her TV shows and the box-office take of her films later improved, there were still people who said she was just a pretty face who couldn't act. So she just went ahead and learned, and is now winning awards. She made Best Actress for her work in No Other Woman. Then they also said she couldn't sing but she wanted to very much. So she recorded an album titled Annebisyosa.
You know, Annebisyosa was a title so apt for the said to be overly ambitious Anne. But the album became a huge hit and earned her a Gold Record award. So she next broke the box-office with her very first concert, ambitiously staged at the Big Dome and also titled Annebisyosa, No Other Concert, two years ago. The show has since then done a repeat, also packed, due to insistent public demand and gone on tour here and abroad. Effortlessly she has transcended her singing dreams, Anne is now a full-fledged entertainer.
There are two things I find truly amazing about Anne. One is that she looks great and so at home in a bikini. Most Pinoy girls only manage to look either cheap or uncomfortable. The other one is her fearlessness. The words, no, you can't do not exist for Anne. She is not only Annebisyosa, she is also walang takot.
I guess being born beautiful and growing up in Australia, where the sea is second home to most, took care of the first. As for the second, I guess, it was having to work hard to attain stardom from such a young age. This was what ingrained in her an I can do anything attitude. Anne has been acting since she was only 13 years old. Her first movie was Peque Gallaga's Magic Kingdom where she was a pretty princess.
Just think, barely a few days after a near fatal jellyfish attack, she was back in the water, smiles, fishtail and all, to shoot her fantasy soap series Dyesebel. Then in spite of all the brickbats she had been getting for her singing efforts, she will be back at the Smart Araneta Coliseum on May 16 in The Forbidden Concert: AnneKapal, the follow-up to Annebisyosa. She is now AnneKapal as in makapal or shameless or as I like to think, fearless.
So if Anne says she will sing opera, I have a mind to believe that she will. And fearlessly, this might just happen in her coming AnneKapal Forbidden Concert stint. It might not sound good. Maybe. But I have heard worst singing from among local celebs. Besides, in case you haven't noticed, please be informed that because she continues to work hard at it, Anne's singing has now improved tremendously. In fact, the joke going around town is what would happen if her fans find out that she has become a good singer.
No matter. Aside from doing Dyesebel and an occasional Showtime, Anne is now in the midst of getting her show ready with director Georcelle Dapat-Sy and musical director Marvin Querido and production by Viva Live and Annebisyosa Productions, Inc. There will be lots of new songs and each one will be a grand production number. Anne promises to be in the most dazzling of costumes in eye-popping sets and to hit all the high notes. Will it also be ear-splitting? You will not know until you find out for yourselves. Not to forget, watch out for that aria.
Tickets are now available at Ticketnet, 911-5555 and www.ticketnet.com.ph nationwide and at Viva Concerts 687-7236. Ticket prices are Patron A P5,500; Patron B P4,500; Patron C P4,500; Upper Box A P3,000; Upper Box B P1,000; and General Admission P500.
P.S. Anne is now also working on her second album. I do not know if she will also call it AnneKapal but watch out for its coming release. The first single titled Made In The Philippines is already getting very good airplay.