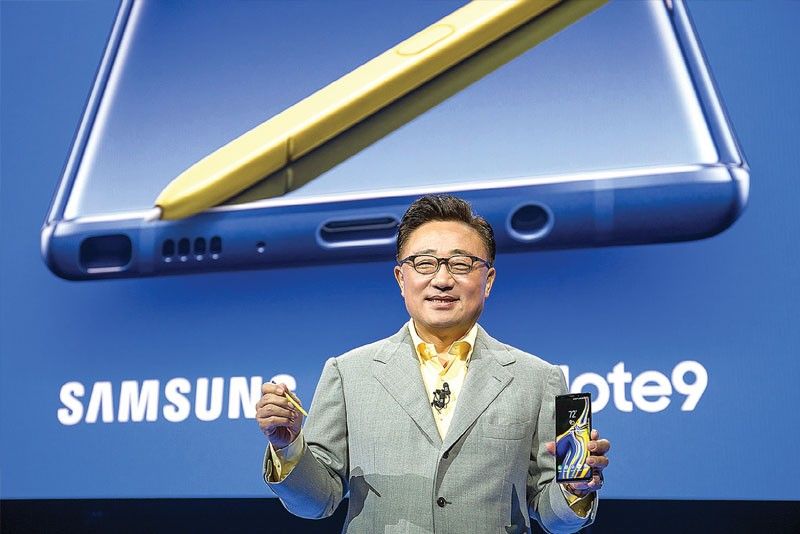 DJ Koh, president and CEO of IT and Mobile Communications Division, Samsung Electronics
Galaxy Note 9: First impressions
MANILA, Philippines — Samsung recently unveiled its newest addition to the Note series – the Galaxy Note 9, which sports a bigger screen, heftier battery pack, and a more sophisticated S Pen.
Although the Galaxy Note 9 shares a nearly identical architectural façade to its predecessor, Samsung made it a point that the new iteration of the Note series packs a serious punch with a number of hardware and software improvements.
First off, Samsung revamped the Galaxy Note 9's rear design so that the fingerprint sensor is directly below the camera, resolving a Note 8 issue.
In terms of size, the Galaxy Note 9 is slightly bigger than the Note 8, boasting a 6.4-inch Super AMOLED Infinity Display with a 2960x1440 resolution. Obviously, Samsung believes that when it comes to phones, bigger is better.
Meanwhile, the Galaxy Note 9 shares similar feats with that of Samsung's S9 Plus. The rear camera has a dual aperture (F1.5/F2.4) 12-megapixel camera with optical image stabilization while the front features an 8-megapixel AF (F1.7) camera.
Apart from the decent camera specs, Samsung also added some cool tricks on Note 9's shooters with its new intelligent camera system dubbed as Flaw Detection, which instantly notifies the user for blinks, blurs, or even smudges on the camera's surface while taking a picture.
Also, the Galaxy Note 9 has a Scene Optimizer mode, which intelligently enhances the quality of an image by identifying the elements of the subject and classifying it into one of 20 popular categories (i.e. flower, food, pets) to deliver a stunning life-like image.
But aside from the sleek design and performance upgrades, Note 9's loyal fans will all agree that the major selling point of the Samsung's newest flagship smartphone is its massive internal storage.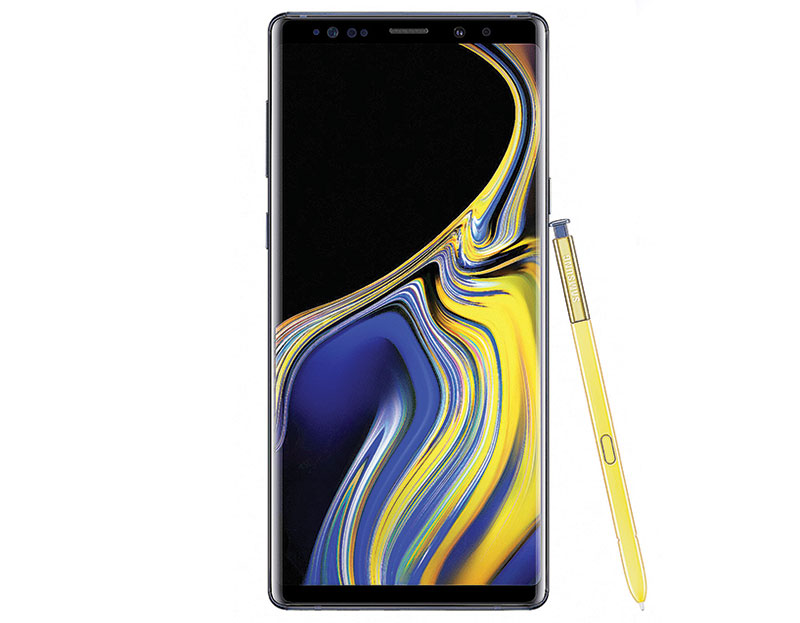 Make no mistake about it, the Samsung Galaxy Note 9 is a workhorse.
It comes in two variants: a 128GB model that has 6GB of RAM, while the top-tier version of the Note 9 comes with an 8GB RAM and, get this: a massive 512GB of internal storage. Both have an expandable MicroSD slot of up to 512GB. That means users who opt for the top-tier Note 9 version get to enjoy as much space as 1 terabyte – or basically the average storage space of an external hard drive!
Meanwhile, the Galaxy Note 9 is powered by a Qualcomm Snapdragon 845 processor and also has an impressive built-in Water Carbon Cooling System that guarantees a smooth gameplay while enjoying some popular mobile games such as Fortnite.
Apart from refinements made on the 2018 iteration of its flagship smartphone, the South Korean tech giant claimed that the Note 9 can also withstand an entire day of usage with its impressive 4,000mAh battery pack, which is by far the largest that's ever been made on a Note smartphone.
The highlight of the Note 9's feature does not end with a bigger battery pack, a larger Infinity Display, or even a massive internal storage, because the newest version of the Note series also has an improved S Pen with Bluetooth connectivity that enables its users to utilize the Note's stylus in entirely different ways.
With the iconic S Pen stylus' new feat, users can now take selfies or group photos, present slides, pause and play videos and a whole lot more!
During the event, Samsung also introduced a new DeX software that can now be accessed by simply connecting the Galaxy Note 9 to an external display using an HDMI adapter – bringing a PC-like experience to users.
The excitement does not stop there because loyal Galaxy Note fans in the Philippines can take advantage of exclusive freebies worth P17,800 by simply pre-ordering the Galaxy Note 9 until Aug. 19.
By pre-ordering the 512GB model of the Note 9, users get to receive a free 2018 Samsung 32" Smart HD TV, or enjoy Samsung products such as the Gear Fit2 Pro, Gear IconX, or Galaxy Tab A 7" when they pre-order the 128GB model.
The new Galaxy Note 9 comes in three colors: Ocean Blue, Midnight Black, and Metallic Copper. It will be available later this month at a suggested retail price of P55,990 (128GB). The 512GB variant – a pre-order exclusive - is priced at P75,990.
For information, visit Samsung's Facebook page or samsung.com/ph.