Solar Philippines NEC releases prospectus for its mini-SRO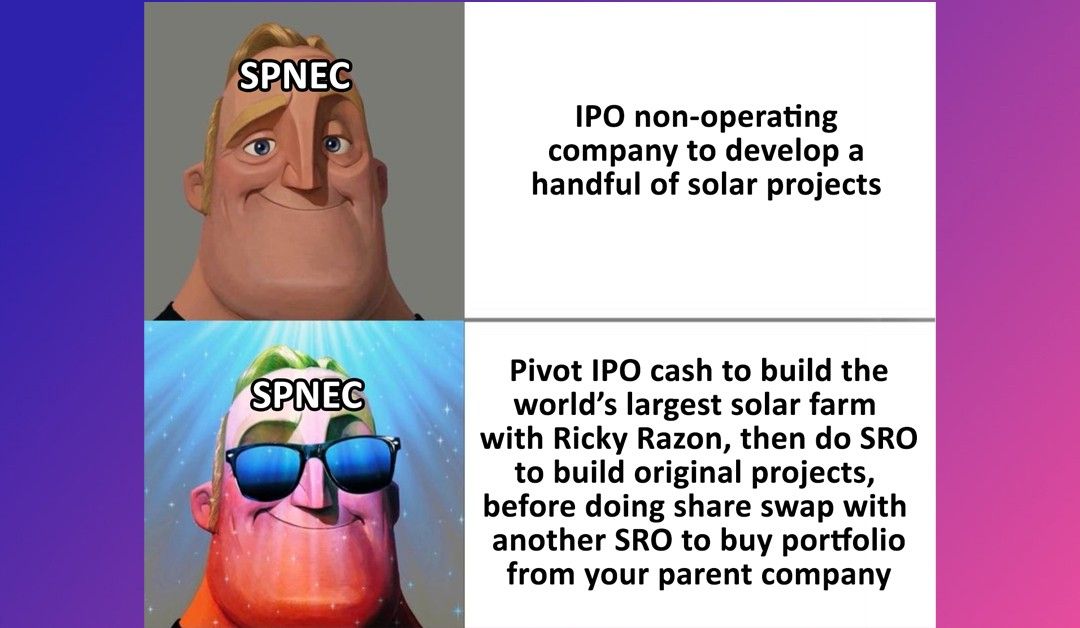 Solar Philippines NEC [SPNEC 1.69 2.42%] [link], the solar power development company owned by Leandro Leviste, released a preliminary prospectus for the stock-rights offering (SRO) that it will conduct to finance land acquisition and project development costs related to planned joint ventures with Enrique Razon's Prime Infra.
This SRO offering involves 1,875,649,995 shares of SPNEC, taken from its unissued authorized capital stock, to be sold to existing shareholders at a price of between P1.60 and P1.76 per share, based on an entitlement ratio of 1 SRO share for every 1.28 SPNEC shares that are already owned as of the Record Date.
SPNEC will release the final pricing for this SRO on July 11, with the Ex-Date on July 12, the Record Date on July 15, the offer between July 20 and July 26, and the listing of the SRO shares on August 5.
The SRO will increase SPNEC's public float from 29.53% to 40.67%.
SPNEC's parent company, Solar Philippines Power Projects Holdings Inc (SPPPHI), will not participate in the 1st or 2nd rounds of the SRO, but will purchase any shares that the SRO's joint underwriters, Abacus Capital and China Bank Capital, are not able to sell to "qualified buyers".
The underwriters provided a firm commitment to buy any shares that SPPPHI can't purchase.

MB BOTTOM-LINE
This is just the mini-SRO that SPNEC announced back in March to buy some assets off of its parent company to accelerate the development of some projects with Prime Infra.
While the SRO bumps public ownership up to 40.67% and increases SPNEC's outstanding shares to 10 billion common shares, it's important for investors to remember that SPNEC's share-swap with SPPPHI will happen after this transaction completes.
As part of the share swap, SPNEC will issue SPPPHI 24,373,050,000 new common shares; this will increase SPNEC's outstanding shares to 34.3 billion, and, at the same time, decrease the public float to just 11%.
SPNEC needs to maintain at least a 20% public float to remain tradable on the PSE, so it will need to conduct another SRO to sell another 3.5 billion shares around the time of the share-swap completion to maintain compliance.
I'm not saying any of this to scare investors off of SPNEC or participating in the SRO, just to remind everyone of where we are in the sequence of steps that SPNEC has planned.
It's similar (though not exactly on-point) to how AC Energy [ACEN 7.54 0.67%] conducted its expansion in 2020, and similar (though not exactly on-point) to how Lucio Co spun off his liquor business into The Keepers [KEEPR 1.23 2.50%].
SPNEC is just starting to get traction on its business plan of being the land-holding middle-man to a huge portfolio of development in concert with our leading solar power developers.
It takes money to make money.
The key (for investors) will be in the terms of the agreements and when SPNEC will be able to recognize the revenue.
--
Merkado Barkada's opinions are provided for informational purposes only, and should not be considered a recommendation to buy or sell any particular stock. These daily articles are not updated with new information, so each investor must do his or her own due diligence before trading, as the facts and figures in each particular article may have changed.