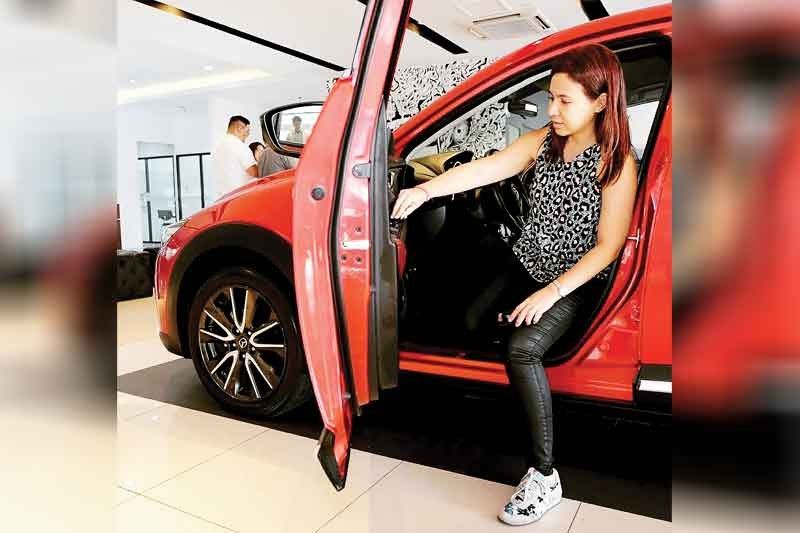 The author checking out a new car during the BPI press conference
BPI Family Bank beckons with All-out Auto Loan Deals
Angel Rivero
(The Philippine Star) - September 12, 2018 - 12:00am
MANILA, Philippines — There may have been a general increase in new automobile purchase prices since the implementation of the TRAIN (Tax Reform for Acceleration and Inclusion) Law starting this 2018, but BPI Family Savings Bank has got a hefty new offer to sweeten an otherwise semi-bitter pill.
In case you haven't heard, the bank has announced that it is waiving fees and bringing down its rates for its auto and housing loan clients. Additionally, approved auto loan customers will get the benefit of free chattel mortgage fees (which add significant amounts to be paid by the customer), and get their first year of comprehensive car insurance for free.
On top of all that, the bank is also giving a P10,000 discount on the car's down payment. It is quite an attractive deal that has so far been unmatched in the local market; though it is on offer within a limited timeline.
"We would like to address the need for financing to help make car and home ownership more affordable for Filipino families," expressed BPI Family Savings Bank head of retail lending group Qit Abola during a media briefing. Furthering that, "With these offers, we are able to lighten the financial burden of car and home ownership through our limited offer."
Dubbed as the BPI Family Bank Auto Loan All-out Promo, the offer will be available to all clients nationwide, both new and existing. The parameters for applicant qualification are that: the application has to be made not later than Oct. 31, 2018; and the loan application has to be approved and booked by Dec. 31, 2018.
Moreover, the loan amount should fall within P500,000 and P5,000,000 and it is fixed with this promo that the loan term should be set at five years.
For more information about the ongoing promo, interested parties may visit www.bpiautoloans.com.