Government scrambles to fulfill promise of better EDSA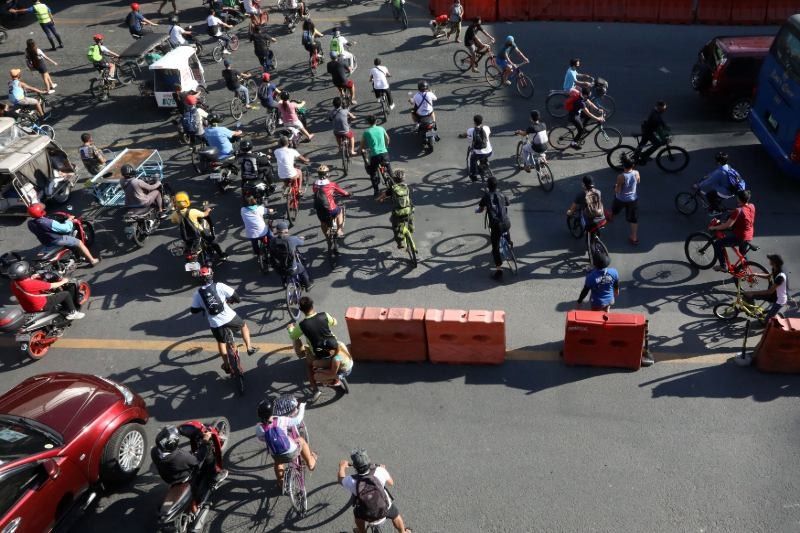 MANILA, Philippines — The government is scrambling to fulfill the promise of a better EDSA, beginning to allocate funds and finalizing an enforcement plan a day after motorists were greeted by same old traffic problems two and a half months after Metro Manila's lockdown.
So far, P933 million is being allocated to the entire program, Transport Assistant Secretary Goddes Hope Libiran said in a phone interview on Tuesday. The bulk of the funding— P900 million— will come from the public works department, with P33 million going to the Metropolitan Manila Development Authority (MMDA) from the transport department by virtue of the Bayanihan to Heal As One Act.
But all funding requirements would need approval from the budget department, which as of Tuesday has not processed any funding requests whether from MMDA, Department of Transportation (DOTr) and Department of Public Works and Highways (DPWH).
Budget Undersecretary Laura Pascua said it is likely that the agencies in charge of the EDSA plan "have excess" allocations already on hand, which means there would be no need to request for additional funds.
"They have funds whose objectives are broad enough to include this EDSA transport program," she said in a Viber message.
Apart from funding, the government is also trying to finalize the tasks of each agencies that will rebuild EDSA as promised— one that restructures the 23.8-kilometer highway into bus and bike lanes, complete with 26 bus stops and pedestrian lanes. Libiran said agencies are crafting a joint administrative order to implement the plan.
"We are already finalizing it. It's just difficult to say when we it will come out," Libiran said in a phone interview.
The budget and the enforcement guidelines are crucial to the success of the EDSA reform, one which was anticipated, to their disappointment, by returning workers who were stuck at home since March 17 when the community quarantine to control the coronavirus was imposed in the entire Luzon.
Since President Duterte loosened quarantine controls starting June 1, it also meant enterprises and their workers going back to business, with hopes that at least some of Transport Secretary Arthur Tugade's EDSA plan released last Friday would be awaiting them. Instead, a familiar scenario of people unable to find rides was all over social media on Monday.
MMDA traffic chief Bong Nebrija said Tuesday was "better than yesterday" in terms of the traffic scenario, but admitted problems still existed particularly cars "with government plates" and those carrying front-liners using lanes dedicated for buses. "They know that those are for buses. We were not remised on making reminders," he said in a phone interview.
As for bike lanes, Nebrija and Libiran separately said the project would depend on DPWH's executive. But Anna Marie Lamentillo, head of DPWH's Build, Build, Build committee, said the plan is still being evaluated.
"DOTr submitted to us a proposal on bicycle lanes. An interagency group will be formed. DPWH also has formed a technical working group specific to pedestrian infrastructure," Lamentillo said in a Viber message.
To be fair, the transport department divided the EDSA project into two phases, although which projects will be completed for each phase are unclear. What has been provided so far is that for Phase 1 running from June 1-21, 11 bus stations should be built. Another 15 should be constructed from June 22-30.
"We are still awaiting for final guidelines as to who is the implementing authority," Lamentillo said. — with Prinz Magtulis