Why Duterte vetoed the anti-endo bill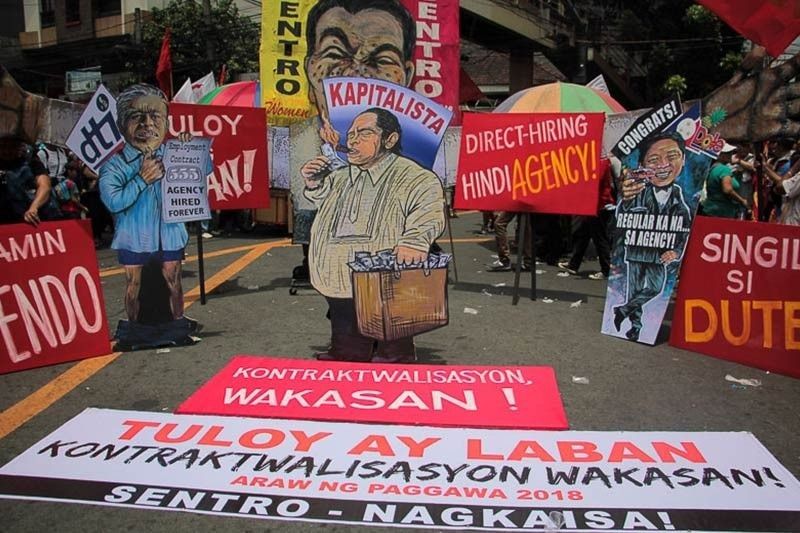 MANILA, Philippines — President Rodrigo Duterte has vetoed a proposed legislation seeking to ensure job security, a move that will surely upset labor groups demanding that he fulfill his campaign promise of ending short-term hiring.
READ: Upsetting key campaign promise, Duterte vetoes anti-endo bill
Popularly known as the "End Endo bill," the measure seeks to prohibit the practice of labor-only contracting or the so-called "endo," a Filipino-coined term for "end of contract."
Endo is an abusive labor practice where a worker is hired for up to five months to skirt a labor law granting permanent tenure on the sixth month of service. The practice leaves many Filipino workers unprotected and without benefits.
"I stand by my firm commitment to protect the workers' right to security of tenure by eradicating all forms of abusive employment practices," read a copy of Duterte's veto message that was reported by the media.
"Our goal, however, has always been to target the abuse, while leaving business free to engage in those practices beneficial to both management and workforce," he added.
Under the Constitution, bills sent to Malacañang will lapse into law if the president does not approve or veto them 30 days after transmittal. The Security of Tenure bill was sent to the Palace for Duterte's signature on June 27.
The anti-endo bill was passed by the previous Congress. The measure has to be refiled in the 18th Congress in order for it to be amended.
In rejecting the Security of Tenure bill, Duterte gave Congress the following reasons:
The bill 'unduly broadens the scope and definition' of endo
While the proposed legislation codifies existing labor laws and regulations, Duterte argued that the bill effectively banned other forms of contractualization that do not particularly harm employees.
"Indeed, while labor-only contracting must be prohibited, legitimate job-contracting should be allowed, provided that the contractor is well capitalized," the president told lawmakers.
'Businesses should be allowed to determine whether they should outsource certain activities or not'
Duterte said employers must be free to farm out jobs to a third-party contractor, especially when such an action will result in efficiency in their operations and is not unfavourable to workers.
"This is especially critical since empirical data shows that the Philippines is currently at a disadvantage already in terms of cost and flexibility of labor use compared to its peers in the region," he said.
Constitutional policy to protect workers should not 'oppress or destroy' capital
Citing previous Supreme Court rulings, Duterte stressed that the government should balance the interest of the workers and employers.
"I believe the sweeping expansion of the definition of labor-only contracting destroys the delicate balance and will place capital and management at an impossibly difficult predicament with adverse consequences to the Filipino workers in the long-term," the president said.
What chief socioeconomic planner, business groups say
Socioeconomic Planning Secretary Ernesto Pernia last Wednesday said the Security of Tenure bill should be tweaked to ensure that it would benefit both the business and labor sectors.
Pernia also noted that the measure would not be good for workers if it deters investments and results in fewer job opportunities.
"If the president feels that the observation of Secretary Pernia is a good reason to veto the bill, he (would)," presidential spokesman Salvador Panelo said.
READ: Duterte to consider NEDA misgivings on tenure bill
Last week, a coalition of business groups urged Duterte to veto the anti-endo bill, arguing that there are existing laws that protect workers from illegal contractualization.
They also warned that the bill may prod employers to remove low-skilled work through automation and artificial intelligence.
"Job contracting as an exercise of management prerogative and business judgment is anchored on two constitutional rights: right and freedom to contract and right to property," the groups said.