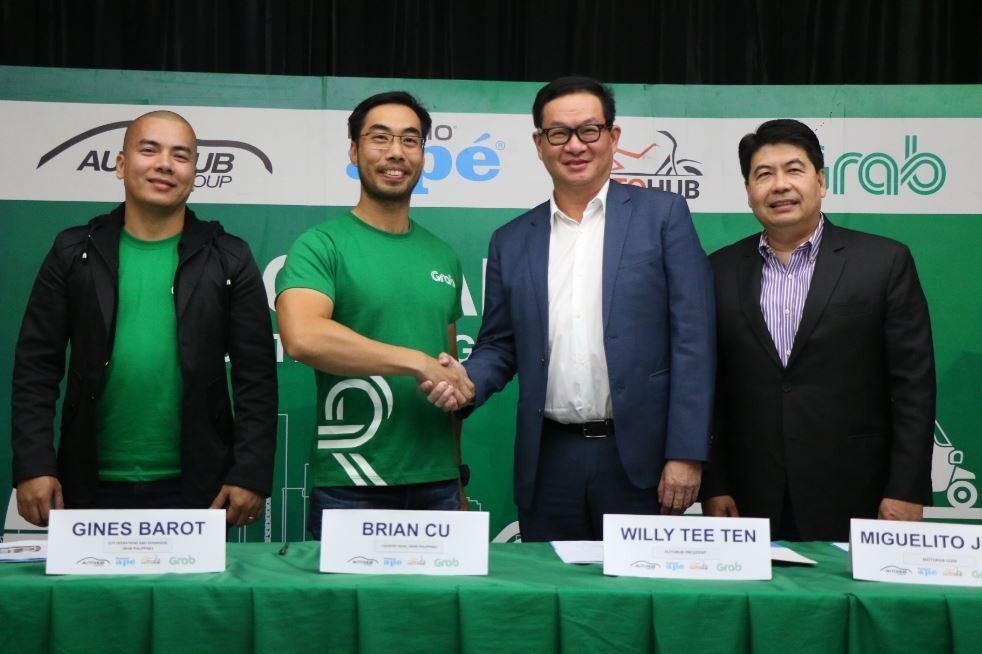 (L-R) Gines Barot, Grab PH City Operations and Expansion Lead; Brian Cu, Grab PH Country Head; Willy Tee Ten, Autohub President; and Miguelito Jose, Motohub General Manager
Grab handout photo
Grab launches 'premium' tricycle service in Pangasinan
MANILA, Philippines — Grab announced the launch of GrabTrike Premium in Binalonan, Pangasinan on Monday. The service is in partnership with Piaggio — an Italian scooter manufactuer — to provide a more premium tricycle service for commuters in the province.
Since launching in 2013, Grab has expanded its presence across Luzon, the Visayas and Mindanao, through its private car service Grab and GrabTaxi.
Binalonan is their first test site for the premium trike service, which uses the Apé — a three-wheeled vehicle named after the Italian word for bee.
"As an upgrade to GrabTrike and as an additional short-distance commuting option, GrabTrike Premium will use Piaggio Apé City Fi units, a three-wheeled light commercial vehicle based on the Vespa-brand scooter," Grab said in a press statement.
The Italian-manufactured scooters are Euro-IV compliant and "promises a safer commute with better mileage, transmission with reverse and maximum climb of 20.5 percent gradient performance."
GrabTrike, which uses the traditional tricycle, is currently available in Angeles City, Pampanga, and in Balanga, Bataan. It was also on a limited run in March last year in Mandaluyong City.
Krhizzy Pasigan, Grab spokesperson, told Philstar.com that passengers will only be charged a P10 booking fee plus the standard tricycle fare stipulated by the municipality. "Specific to Binalonan, the booking fee of P10 will go directly to the driver partners as a way of added income," she said.
Grab's version of the habal-habal was available in Metro Manila only until 2016 before the Land Transportation Regulatory and Franchising Board shut them down for alleged illegal operations.

While Grab's private car and taxi service is subject to the regulatory powers of the LTFRB, tricycle franchises and licenses are regulated by local government units directly.
"Transport modernization has always been in Grab's core. Our goal is to provide a full spectrum of transportation solutions with localized and modernized services for everyday needs, no matter what vehicle they prefer or how short their journey is," Brian Cu, country head of Grab Philippines', said in a statement.
"Through our combined efforts with AutoItalia Philippines, we hope to work with LGUs to improve short-distance commutes in more cities in the Philippines while improving driver welfare and passenger experience," added Cu.
According to Grab, there are currently 24 GrabTrike Premium units active in Binalonan — the 12th city in the Philippines where the ride-hailing service is present.