Philippine startup wins at biggest tech summit in the country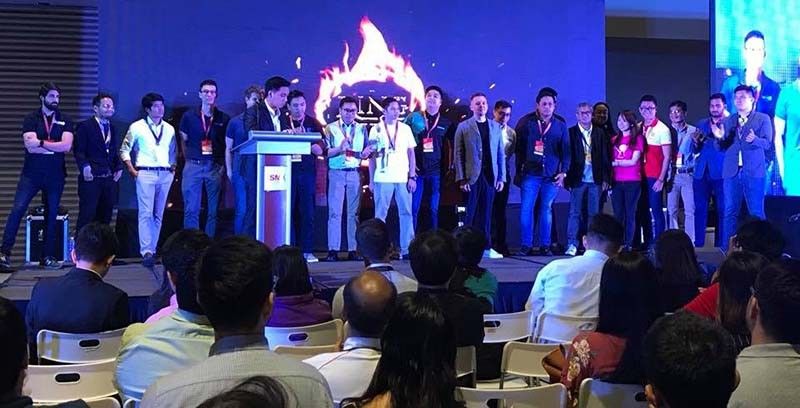 MANILA, Philippines (As released) — Exora Technologies, an online bidding platform that allows big enterprise and industrial electricity end users to choose their electricity suppliers, topped a talented field of 20 startups from all over Asia to win the $10,000 prize in the Ring of Fire competition at Techtonic Summit, the biggest tech summit in the Philippines held over the weekend at the SMX convention center.
Techtonic Summit 2018 was organized by QBO Innovation Hub – a public private partnership backed by the Department of Science and Technology, Department of Trade and Industry, JP Morgan and IdeaSpace Foundation – and Original Pitch Ventures, PMCM Events Management, XS by XS, and LiquidMinds.
It featured Sen. Loren Legarda; Sen. Bam Aquino; DOST Undersecretary Rowena Guevara; DTI Undersecretary Nora Terrado; Department of Information and Communications Technology Undersecretary Mon Ibrahim.
Speakers included the likes of Marcus Tan, the founder of Carousell, a Singapore centaur, rumored to be the next unicorn; Jeffrey Paine, Managing Partner of Golden Gate Ventures, a Southeast Asian venture capital firm; Paul Meyers of muru-D, a venture capital firm owned by Telstra of Australia and many more notable figures in the local startup industry like Minette Navarrete of Kickstart Ventures; Diane Eustaquio of IdeaSpace Foundation; Katrina Chan and Natasha Bautista of QBO Innovation Hub.
"It was great to see the startup ecosystem converge," says Francis Simisim, Managing Partner at Original Pitch Venture Capital. "The goal of summits like Techtonic is to empower startups and get them to showcase their business to a wider audience. I think this year, with the amount of traction we got, I would consider that a success."
"It was exciting to see the progress of Philippine startups. What was clear though is that they need to be more ambitious and daring and move faster to go after overseas markets as well as local customers," said IdeaSpace and QBO President Butch Meily.
Exora is focusing on the fact that, currently, end users who want to procure their own electricity suppliers will have to wait three to six months just to finalize a contract. They also miss out on the opportunity for cheaper prices from other suppliers. Exora's platform matches end users to electricity suppliers who can meet their desired price range and contract details.
Exora's founder, John Michael Bernil, is a 21-year-old entrepreneur who is no stranger to winning pitch competitions. He competed at the Ring of Fire against 19 other formidable startups and emerged the winner, taking home $10,000.
"It was an honor to be able to compete on this stage in front of this crowd," says Bernil. "Big tech summits like Techtonic are really important, not just because of the significant cash prizes, but also because it highlights all these amazing Filipino startups."
Although there were also competitors from China, Indonesia and such, the top three winners of the Techtonic Summit were all Filipino startups.
The first-runner up is OneWatt, a hardware startup that o?ers EARS, or Embedded Acoustic Recognition Sensors, a non-invasive sensor that uses machine learning algorithms to literally listen to industrial motors. These sensors monitor the condition of motors through sound. When it sounds like it's about to breakdown, EARS can tell when a fault will occur as well as what and where it is on the machine.
And second-runner up is Antipara Exploration, a startup for marine environment protection and conservation. They provide underwater coastal mapping, assessment, and 3D visualization services. Where the traditional manual method usually takes two to three months of tedious data gathering, Antipara can cover 25 kilometers of coastline in a day. Such data has the potential to open up opportunities for environmental conservation and protection.
The Ring of Fire competition also invited the audience to vote for their favorite startup using a chatbot provided by another Filipino startup, ChatbotPH. The People's Choice Award was given to AIDE, the first home medical care app in the Philippines. They received a Redfox laptop and Skull Candy earphones.
The Ring of Fire pitching competition had a rigorous selection process. Other than the $10,000 cash prize, startups got massive exposure to top investors, public and private partners and international media as well.
Techtonic Summit 2018 is an annual two-day convergence of Asia's most disruptive ideas, technologies, and innovations that featured the best startups from all over Asia, investors, corporates, and government representatives, and local and foreign startup enablers.