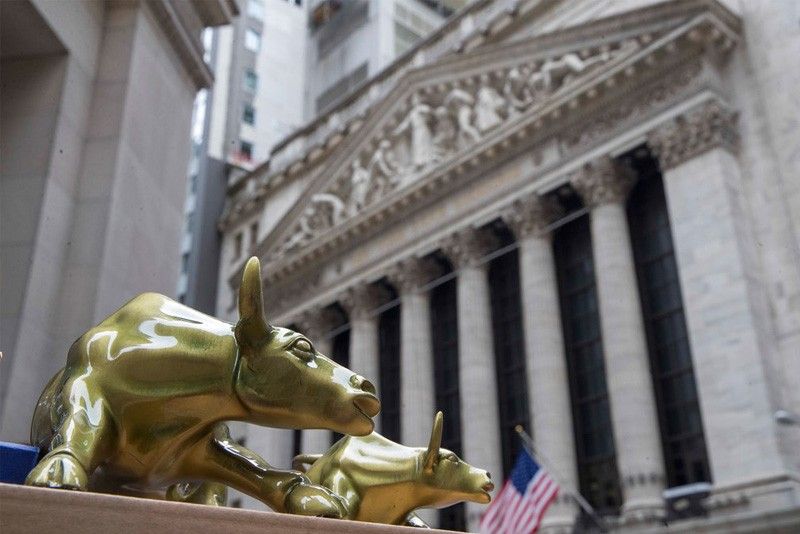 In this April 24, 2018, file photo, replicas of Arturo Di Modica's "Charging Bull" are for sale on a street vendor's table outside the New York Stock Exchange. The U.S. stock market opens at 9:30 a.m. EDT on Wednesday, June 13.
AP Photo/Mary Altaffer, File
Asian stocks slump after Fed signals faster rate hikes
SEOUL, South Korea — Asian stocks slumped Thursday after the U.S. Federal Reserve raised its key interest rate and said it would pick up the pace of future increases. South Korea's market benchmark tumbled 1.6 percent on the first trading day after a meeting of U.S. and North Korean leaders.
KEEPING SCORE: Japan's Nikkei 225 fell 0.4 percent to 22,886.15 while South Korea's Kospi sank to 2,430.15. Hong Kong's Hang Seng index dropped 0.6 percent to 30,541.22. China's Shanghai Composite Index was down 0.3 percent to 3,041.22. Australia's S&P-ASX 200 slipped 0.2 percent to 6,012.80. Stocks in Taiwan, Singapore and other Southeast Asian markets also were lower.
FED: The Fed's rate hike was its second this year. The American central bank raised its outlook for increases this year from three to four. Chairman Jerome Powell said the U.S. economy is in great shape but investors worry faster rate hikes could stifle growth.
ANALYST'S TAKE: Expectations for further Fed tightening and U.S.-Chinese trade tensions "provide Asian markets with poor intraday leads," said Jingyi Pan of IG in a report.
KOREA TALKS: South Korean investors sold after President Donald Trump's meeting North Korean leader Kim Jong Un. Trump boasted the meeting ended any nuclear threat from North Korea and South Korean President Moon Jae-in tried to put a positive spin on the outcome, but the meeting produced no details on how or when North Korea's nuclear weapons might be eliminated or even reduced.
WALL STREET: The Standard & Poor's 500 index fell 0.4 percent to 2,775.63. The Dow Jones industrial average lost 0.5 percent to 25,201.20. The Nasdaq composite slipped 0.1 percent to 7,695.70. The Russell 2000 index of smaller-company stocks shed 0.3 percent to 1,676.54.points.
CURRENCIES: The dollar slipped to 110.23 yen from 110.33 yen. The euro rose to $1.1802 from $1.1793.
OIL: Benchmark U.S. crude fell 2 cents to $66.62 per barrel in electronic trading on the New York Mercantile Exchange. The contract rose 0.4 percent to $66.64 a barrel in New York on Wednesday. Brent crude, used to price international oils, lost 23 cents to $76.51 per barrel in London. It gained 1.1 percent to $76.74 per barrel on Wednesday.