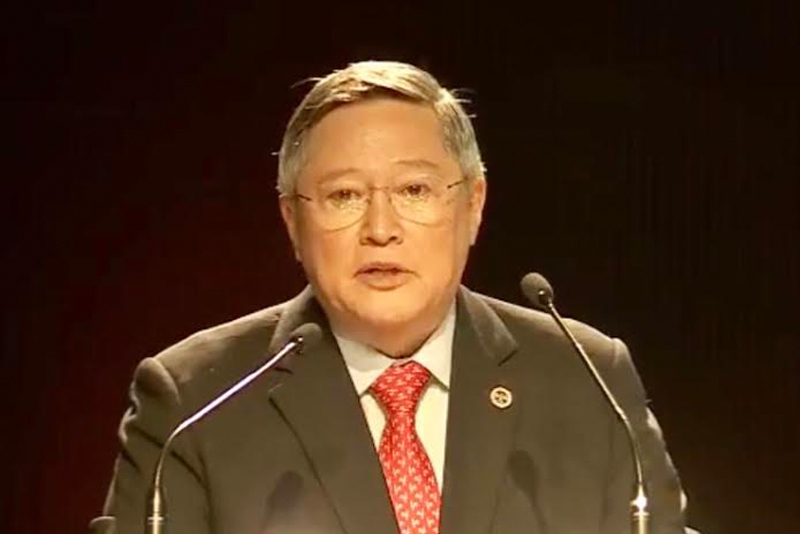 In an interview, Finance Secretary Carlos Dominguez said the DOF and the Bureau of the Treasury (BTr) are studying the possibility of issuing Samurai-bonds as part of the government's financing program next year. Released/File
DOF eyes Samurai bond issuance in 2018
MANILA, Philippines — The government is planning to issue Samurai-bonds or yen-denominated securities in 2018, the Department of Finance (DOF) said over the weekend.
In an interview, Finance Secretary Carlos Dominguez said the DOF and the Bureau of the Treasury (BTr) are studying the possibility of issuing Samurai-bonds as part of the government's financing program next year.
"We discussed the possibility of Samurai bonds and I told (National Treasurer) Rosalia de Leon she should make a position on that. I suppose the direction I am thinking – but we have to confirm it – is we'll probably do a Samurai bond (issuance) sometime next year," Dominguez said.
The finance chief said the plan would diversify the borrowing portfolio of the government.
"First, it will diversify our sources. We haven't done a Samurai bond in a long time. But we have to get the indication on interest rates, authority, appetite, what the exchange risks are going to be. So (De Leon) is making that study," he said.
Meanwhile, Dominguez said the DOF and the BTr are keen on issuing renminbi-denominated bonds and global bonds "sooner than later" to prepare for the administration's spending program in 2018.
"We decided it was the right move to bonds earlier than later, in preparation for our expenditure program next year," he said.
Earlier, Dominguez said the Philippines is seeking the approval of China for the possible sale of $200 million in panda bonds or renminbi-denominated debt papers with a maturity period of three to five years. He said the government is targeting to conduct the activity before the year ends.
However, he said such borrowing plans would still depend on market conditions, such as the US interest rates.
Dominguez said the government is anticipating developments in the global economy, such as the appointment of new officials into the US Federal Reserve.
"It seems it's clear the global economy is normalizing, and the US Fed has already announced their plan to shake up their balance sheet. But it depends on who President (Donald) Trump is going to appoint because there are quite a lot of vacancies (in the Fed). So who is he going to appoint there, what is their philosophy, we don't know that so it's up in the air," he said.
Earlier, National Treasurer De Leon said the national government is set to borrow P889.72 billion from local and foreign lenders in 2018, up 22.3 percent from the P727.64 billion debt ceiling for this year.
She said the government would be maintaining its 80:20 borrowing mix next year, with P711.78 billion set to be borrowed from domestic sources, and P177.94 billion from
The amount is expected to trim the country's fiscal deficit, and help boost the state coffers in preparation for the administration's massive infrastructure program.